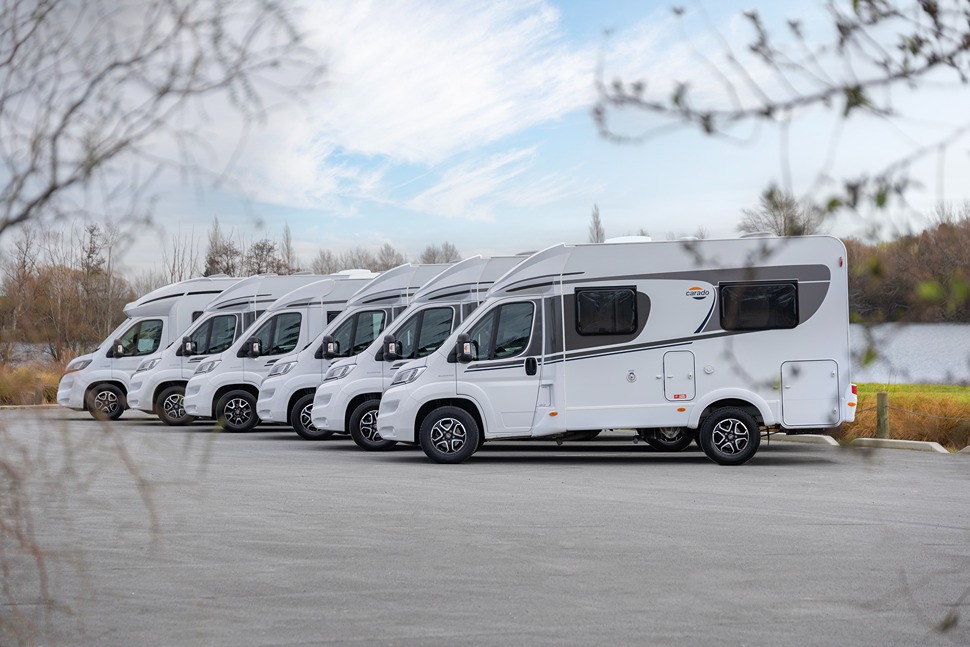 Comfortable and functional, with a touch of luxury, is what you can expect when hiring a motorhome from Wilderness.


All our premium German-made motorhomes carry permanently made-up beds — saving you time and offering daily convenience. Each one also has a full onboard bathroom that's certified self-contained, letting you legally freedom camp in designated areas throughout New Zealand.


In this article, we call out the benefits of each of our six motorhome rental options — highlighting their uniqueness and how they may be the right choice for your adventures.
Compact for 2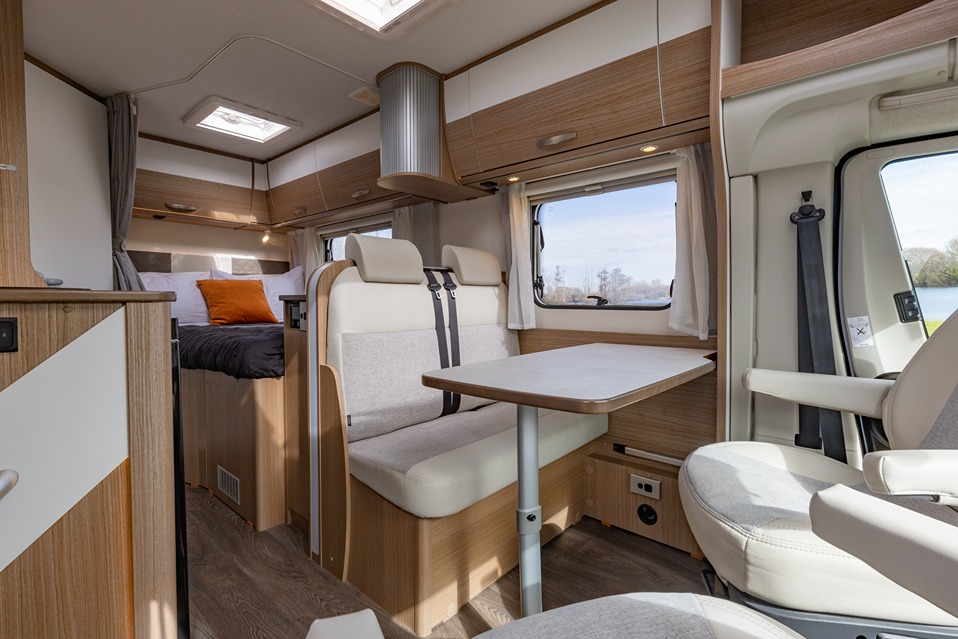 If you and your travelling companion are explorers who want a smaller motorhome that can go almost anywhere without sacrificing comfort, the Compact for 2 is perfect.


Designed for two people, the Compact for 2 has one double bed and a combined shower and toilet. It's your ideal compromise between drivability and space.

Drivable

The Compact for 2 has the shortest length in our motorhome fleet at 6m. You'll be able to drive it just like a car — giving you the confidence to navigate winding roads and to venture off-the-beaten-track.

Accessible
Hiring a 6m motorhome versus a longer 7.4m one gives you a number of advantages. Firstly, you'll be able to travel down narrow roads a lot easier.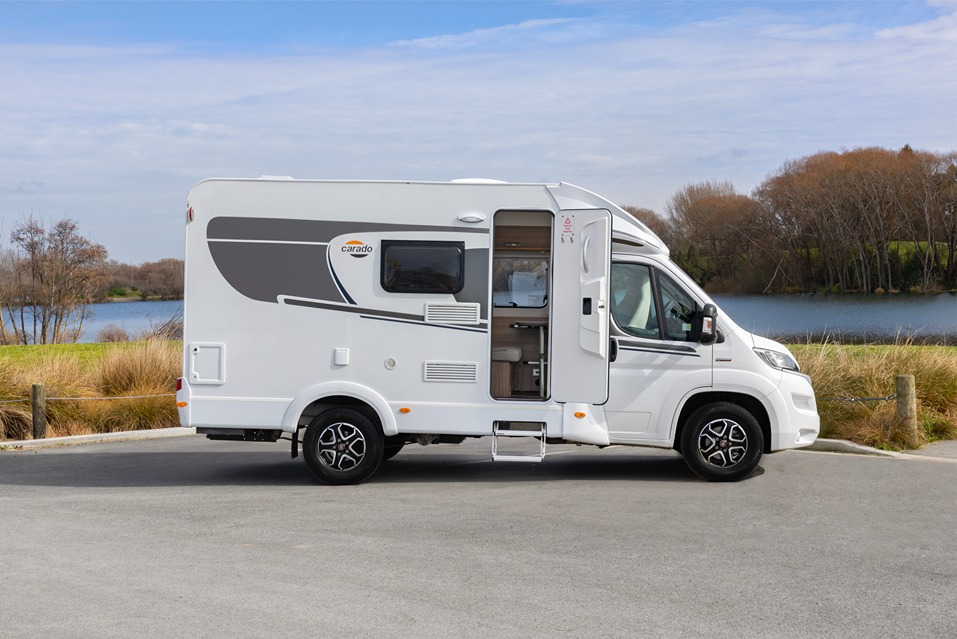 You'll also have a better chance of finding a park where the motorhome will fit — and if you cross Cook Strait on the Interislander ferry, it'll cost less to take this shorter motorhome.


The Compact for 2 motorhome provides these benefits without giving up comfort, functionality and luxe. It will suit you if you're:
An adventurer who wants the ultimate motorhome drivability while retaining comfort.


Compact Plus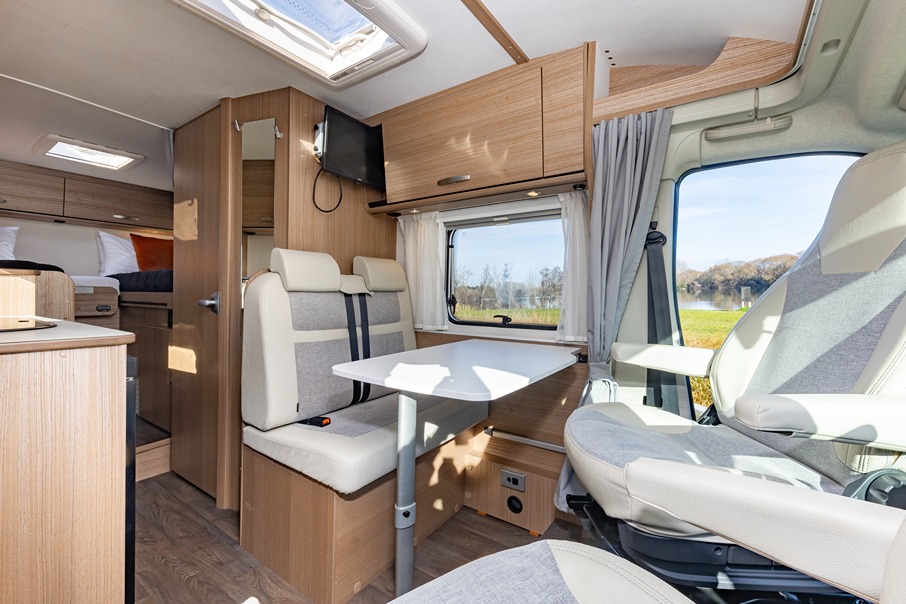 If you don't want to sacrifice having a big bed but prefer the drivability of a smaller motorhome, the Compact Plus may be your best choice.


This two berth motorhome has a combined toilet and shower space. Regardless of how the beds are set up, you won't have to climb over your travel partner to get in and out.


Spacious

This recreational vehicle features an open plan layout and the largest bed in our compact range of motorhomes — when it's configured into a king. The internal garage space is also significantly bigger than the Compact for 2 enabling you to store at least four large suitcases.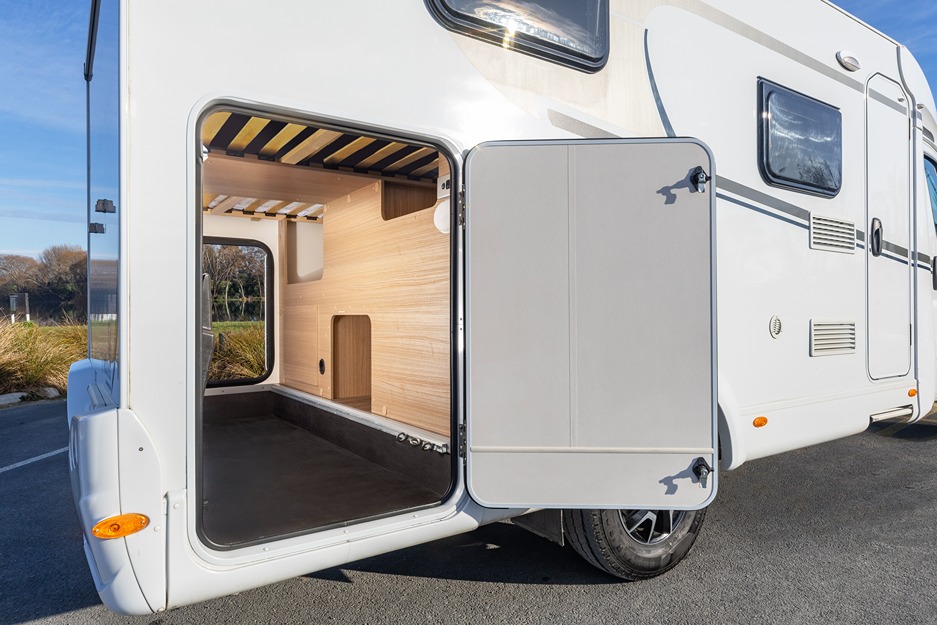 Flexible


Your bedroom can be arranged as two single beds or as a king — whichever you prefer.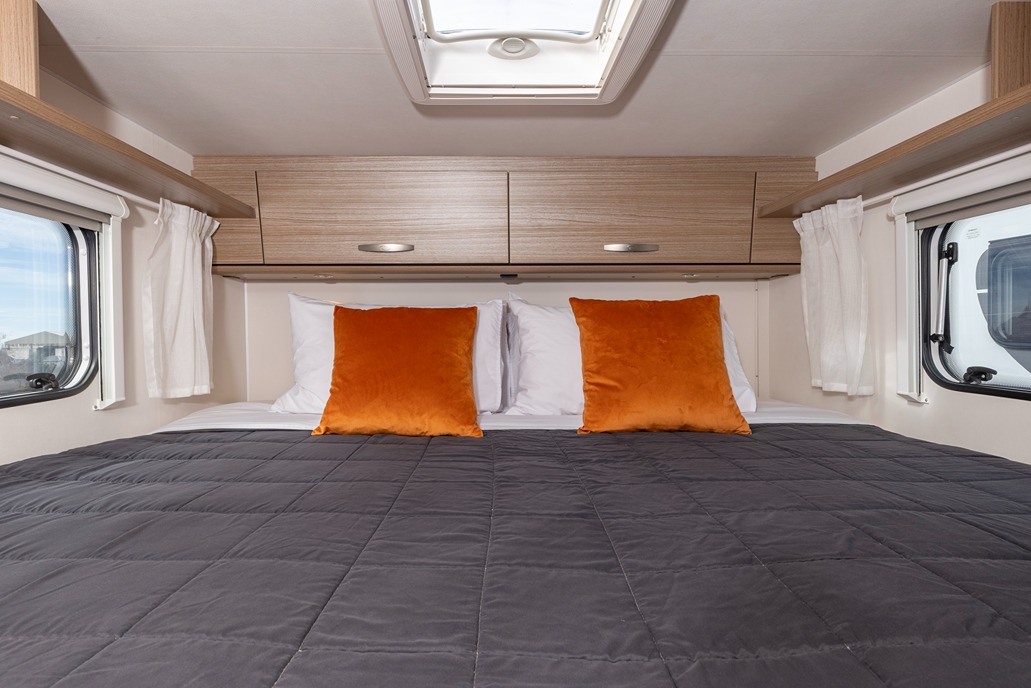 High performing
This motorhome's nine-speed transmission offers better fuel economy and more precise performance — all while handling like a car.


The Compact Plus motorhome may be your ideal option if you're:
Planning to travel with a friend or partner and prefer either a large bed or two singles.


Double for 2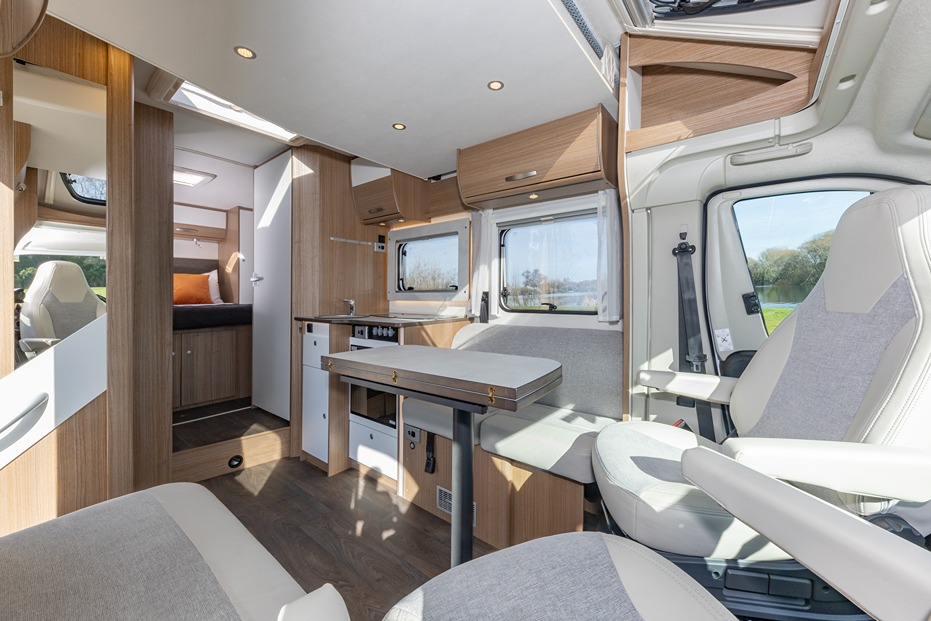 Our most popular two berth motorhome feels like a little hotel on wheels. The Double for 2 features a large permanently made up bed, a spacious living area and a separate toilet and shower. It also has the equal-longest length in our motorhome fleet at 7.4m.


Accessible bed


The convenient double island bed is easy to get in and out of, from both sides — especially if you're an older person.


Spacious

You'll be able to spread out in the roomy wraparound lounge with a couch-couch arrangement. Swivel the cab seats and it's a comfortable party for six in the evening hours.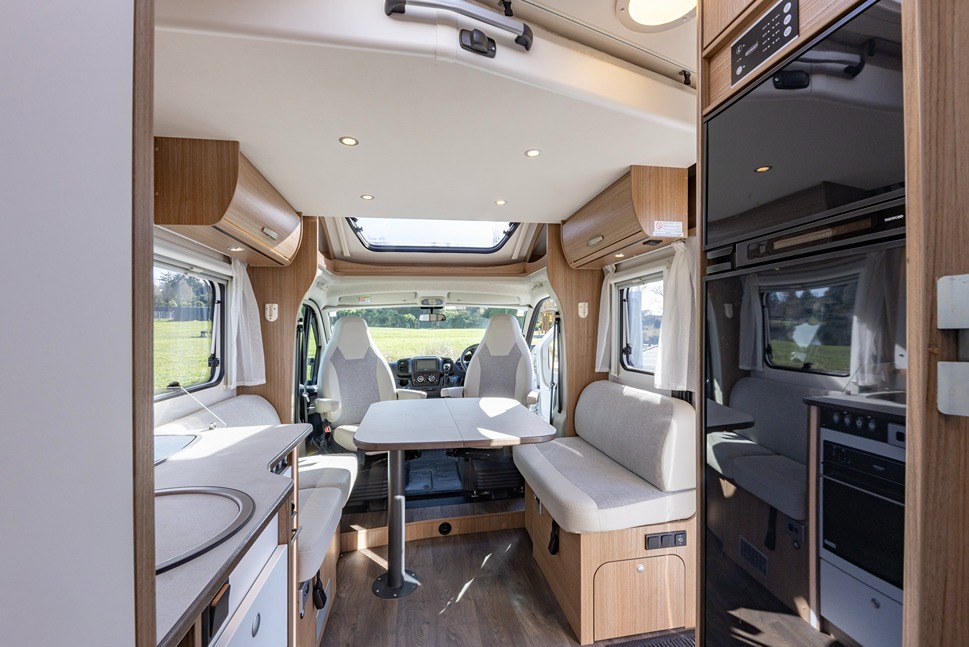 You'll also find our equal-largest size fridge freezer with 196L of capacity — handy if you want to fill it with your favourites before spending a few nights off-the-beaten-track.

Extra privacy


The separate toilet and shower areas allow both to be used at the same time. There's also a sliding door that completely partitions the rear bedroom from the kitchen, toilet and shower spaces — for your extra privacy. This isn't possible in our other two berth motorhomes.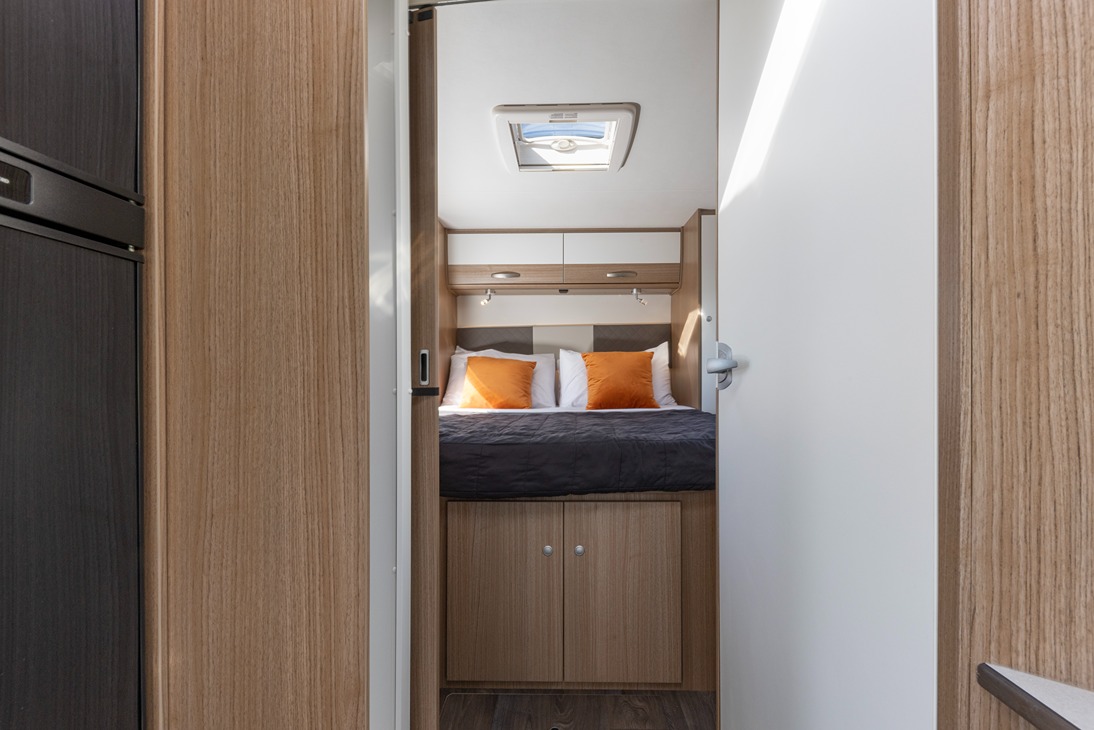 The Double for 2 motorhome will be perfect for you if you're:
A couple who want extra space and the ability to entertain other holidaymakers.
King/Twin for 4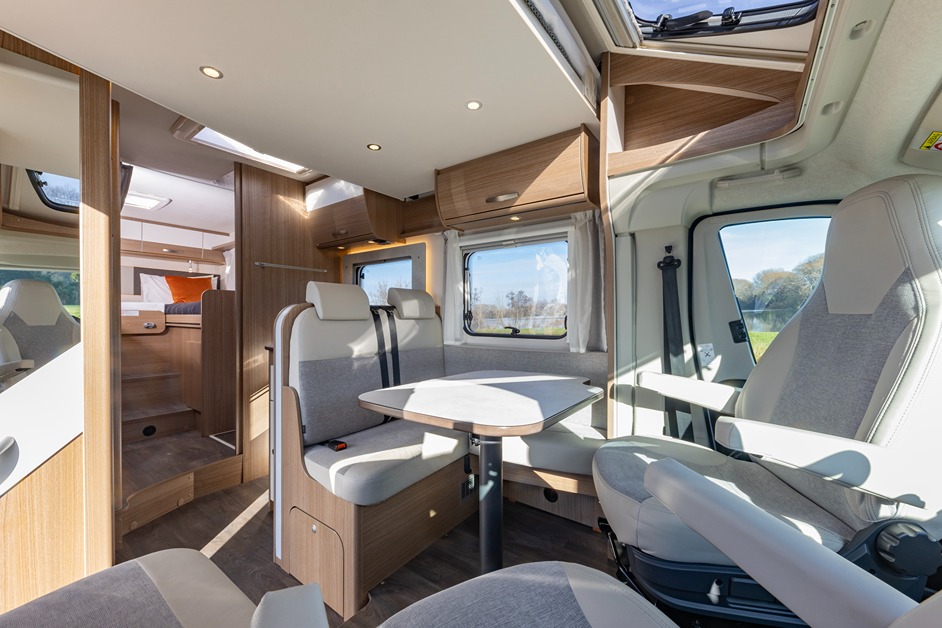 The King/Twin for 4 is an ideal choice if you're a family or a group travelling together. The flexibility of the layout is a huge benefit, giving you options on the road. There's also a separate shower and toilet — and a big garage with enough space to store all of your gear. Plus at 7.4m, the King/Twin for 4 is the equal-longest length motorhome in our range.


Flexible


The rear bedroom can be configured into two single beds or as a king, and the front lounge has a drop down double bed.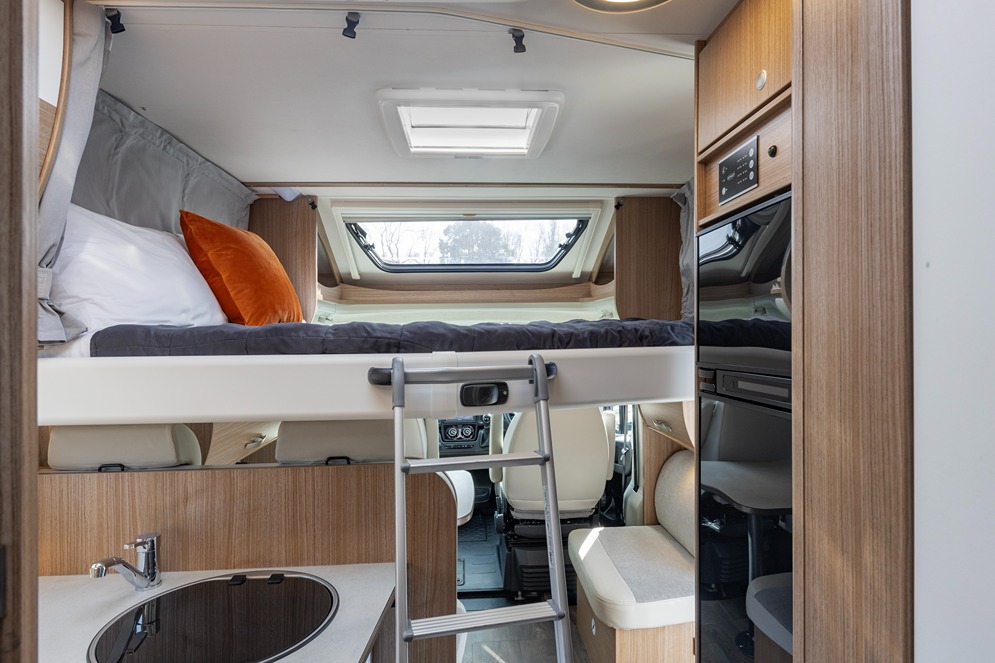 Comfortable
The King/Twin for 4 features the largest bed in our fleet in the rear bedroom, when it's configured into a king size. It works for families with different aged kids — as twin beds if they're older or as a king to share with them if they're very young.


Spacious


The storage compartment in the rear has the most space of any of our motorhomes so you'll be able to easily take your surfboards, bikes or golf clubs with you.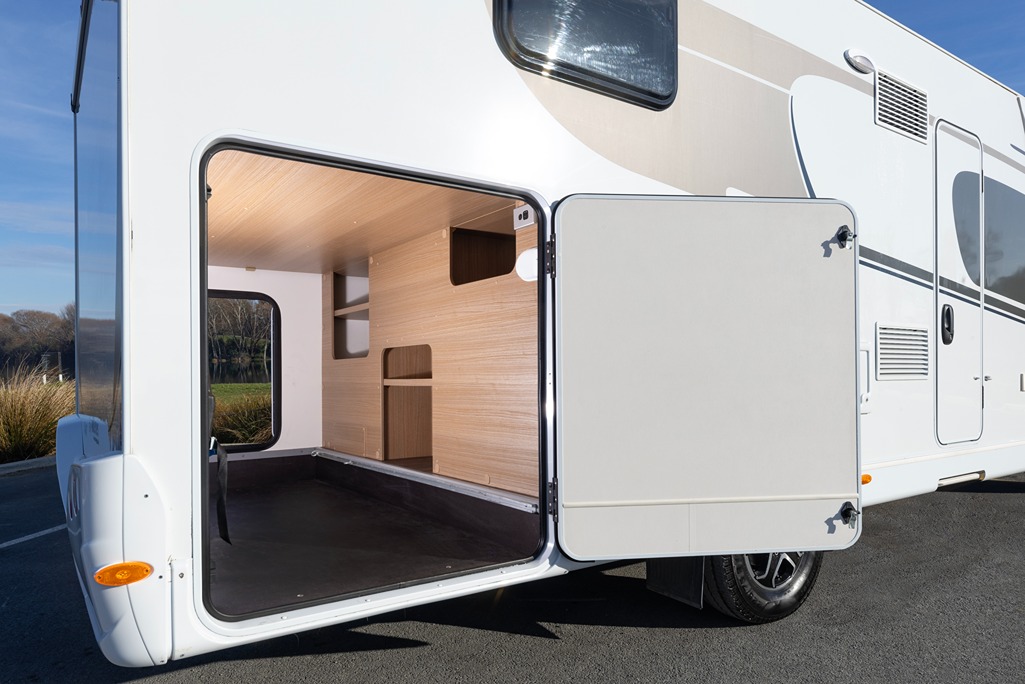 The fridge freezer can store 196L of food and drink — our equal-largest size in terms of available space. If you intend to freedom camp for days on end, this is a huge benefit.
Extra privacy

You can partition the dining area from the back bedroom for extra privacy by using the toilet door. In addition, the shower and toilet can be used at the same time as they're separate.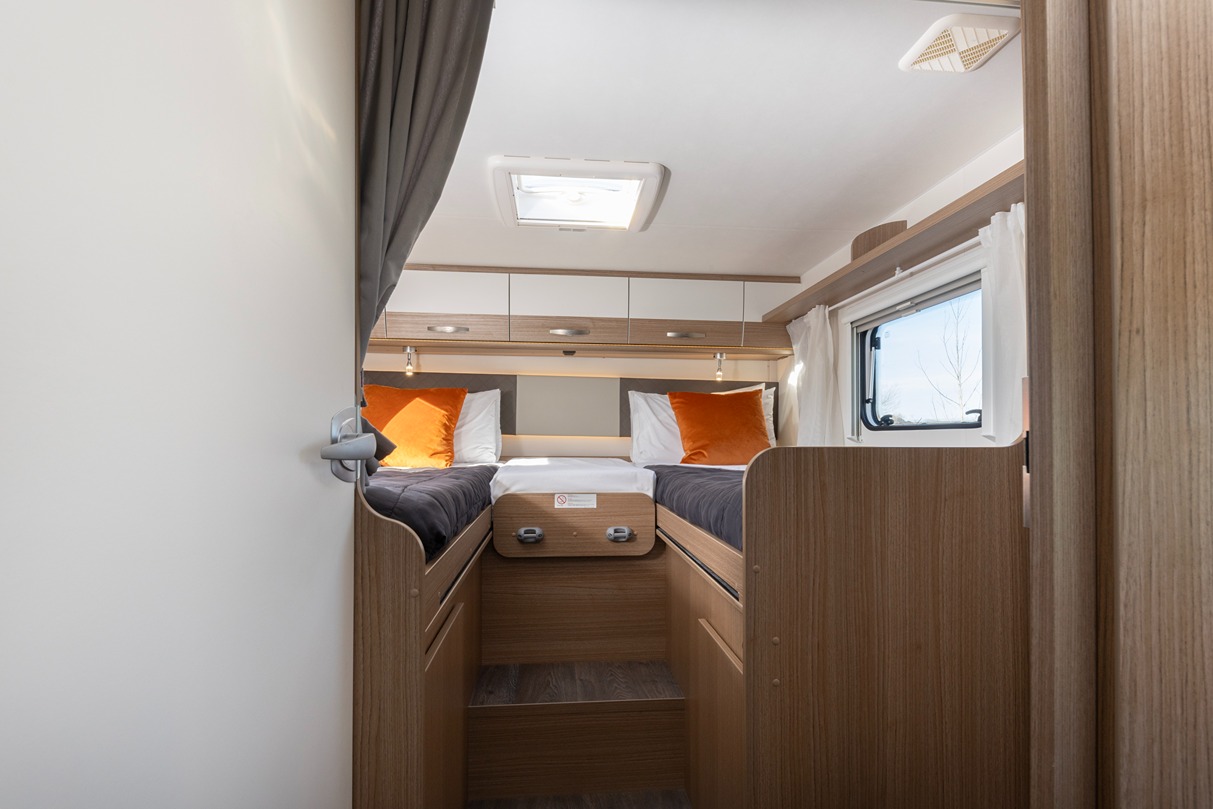 Consider the four berth King/Twin for 4 motorhome if you're:
A family or group that needs flexibility, heaps of storage and bed options.
Double for 4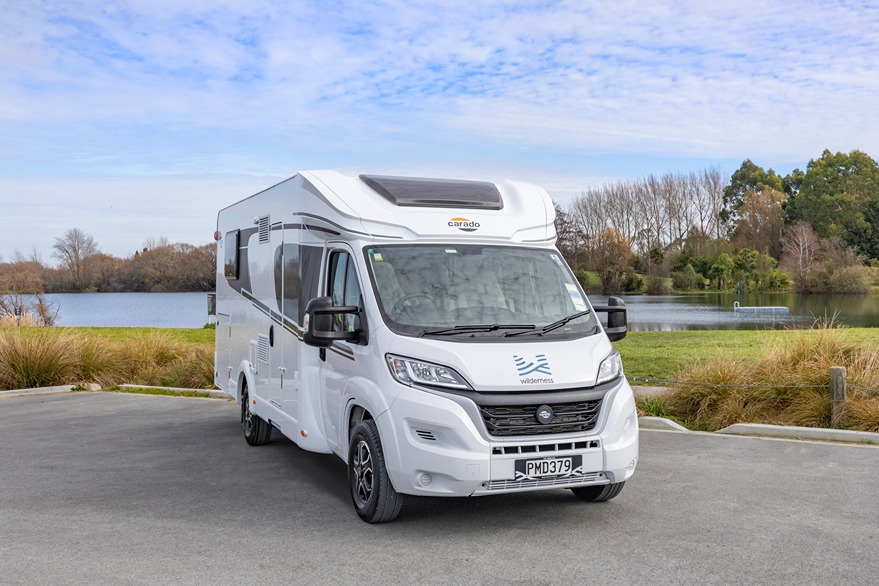 If you're thinking about a motorhome holiday with your close friends or family, and you feel comfortable sharing, the Double for 4 may be your best option. This motorhome is equal-longest in our fleet at 7.4m and features an island bed in the rear and a drop down one up front.
You'll even have 196L of food storage space inside our fleet's equal-largest fridge freezer — something that can't be underestimated when you're off-the-grid.

Extra privacy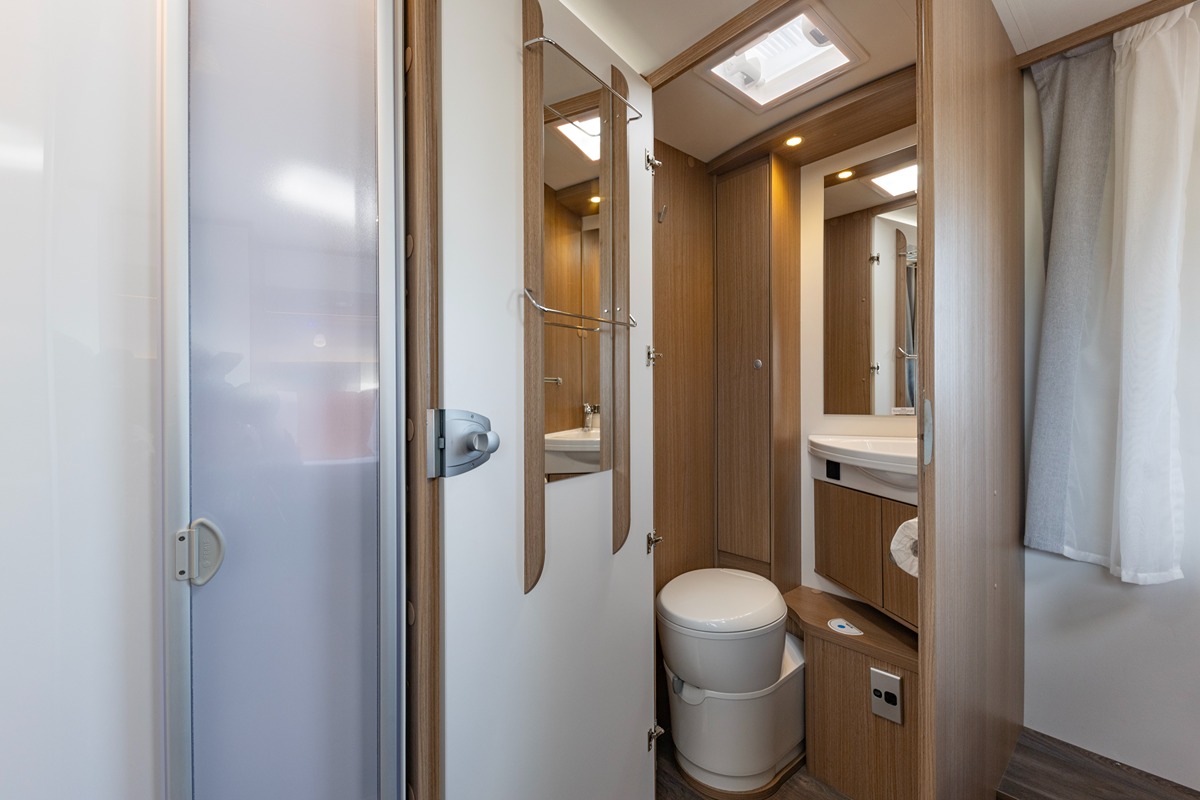 Separate toilet and shower areas are handy as both can be used at the same time. You also have the option to use the toilet door as a divider, providing additional privacy between the kitchen and bedroom.
Flexible

Choose to sleep on the double island rear bed or the double drop down one over the living area.


Accessible Bed


If you want to avoid climbing over your partner to get in and out of bed, the rear island bed is an ideal solution. You and your travel companion will be able to access the bed from both sides without disturbing each other.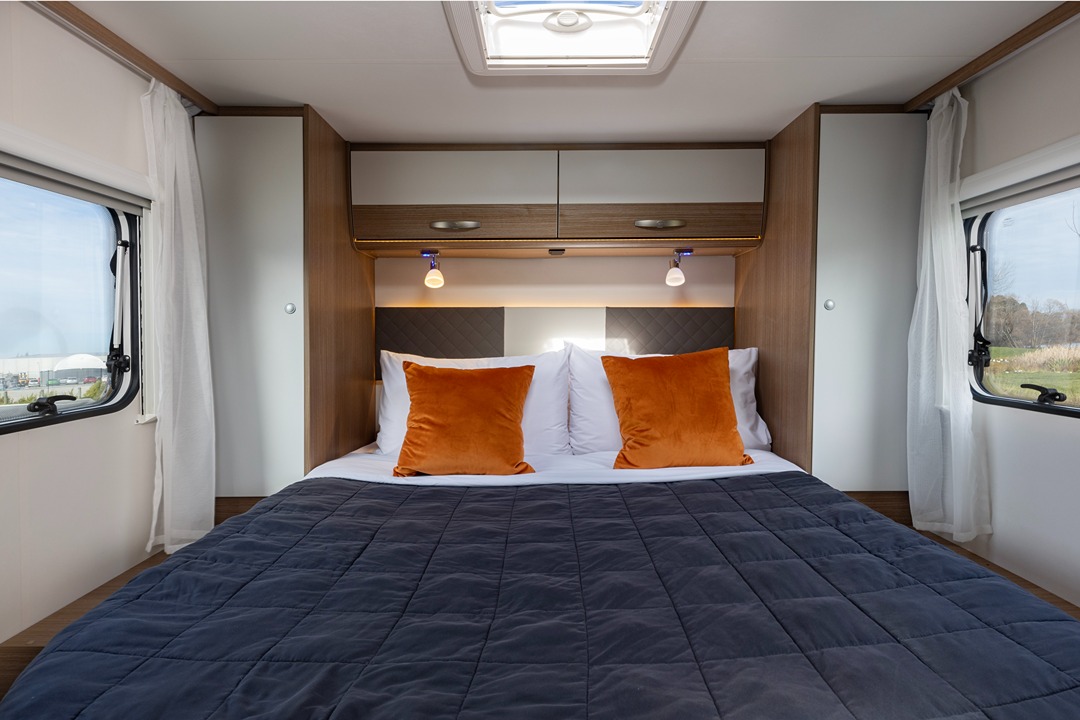 Our four berth Double for 4 motorhome will appeal to you if you're:
Travelling with family or friends who prefer different types of beds.
The Suite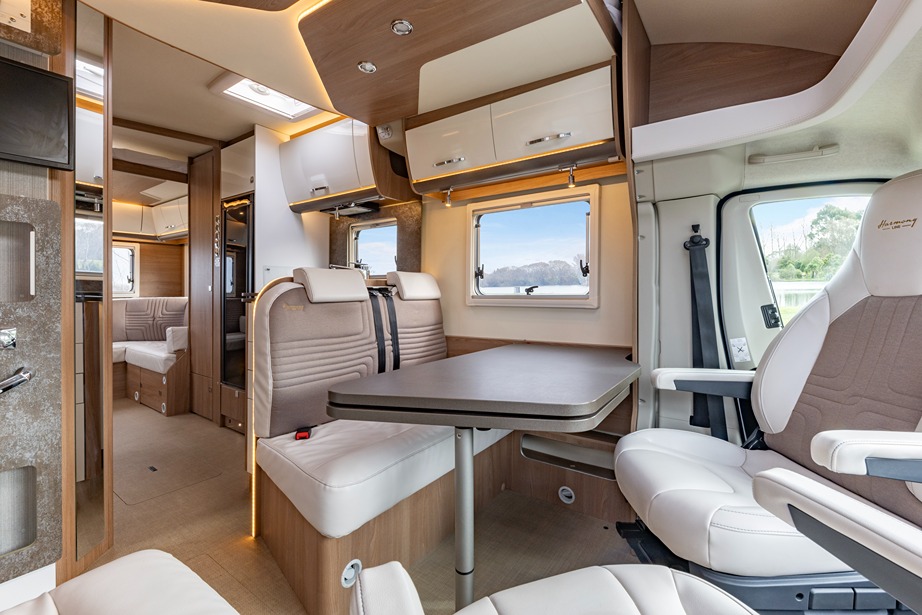 Do you want to enjoy homely comfort and next-level scenic views in a luxury motorhome? The Suite is the ultimate four berth luxury motorhome hire. The dual living areas and two drop down beds set the bar extremely high for space, comfort and versatility.


Roomy
Sit back and enjoy two sizable lounge spaces for dining, socialising and resting after each day's adventures. The interior has the largest amount of usable floor space in a luxury motorhome for hire in New Zealand. Lengthwise, The Suite is the equal-longest in our range at 7.4m.
Luxurious
The partitioned shower and bathroom area gives you ample room to refresh. Then, utilise the sliding door to gain extra privacy in the rear — while the bathroom remains accessible to those in the front of the motorhome.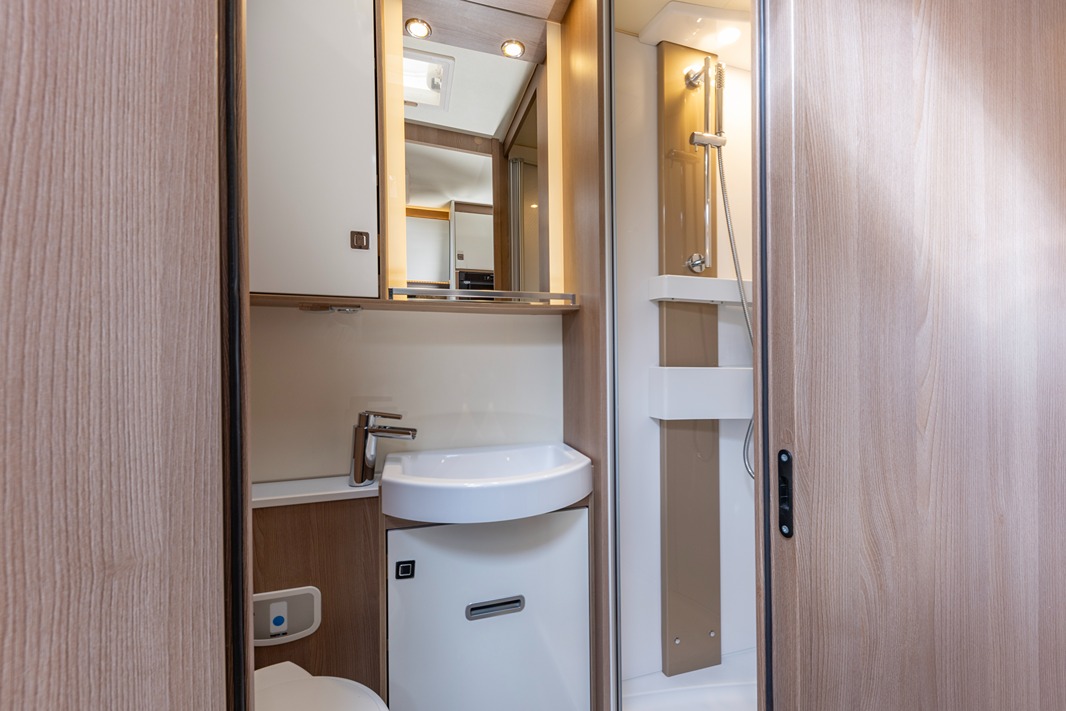 Flexible
Both front and rear living areas transform at the press of a button into sleeping spaces — with your choice of two double drop down beds.


Baby friendly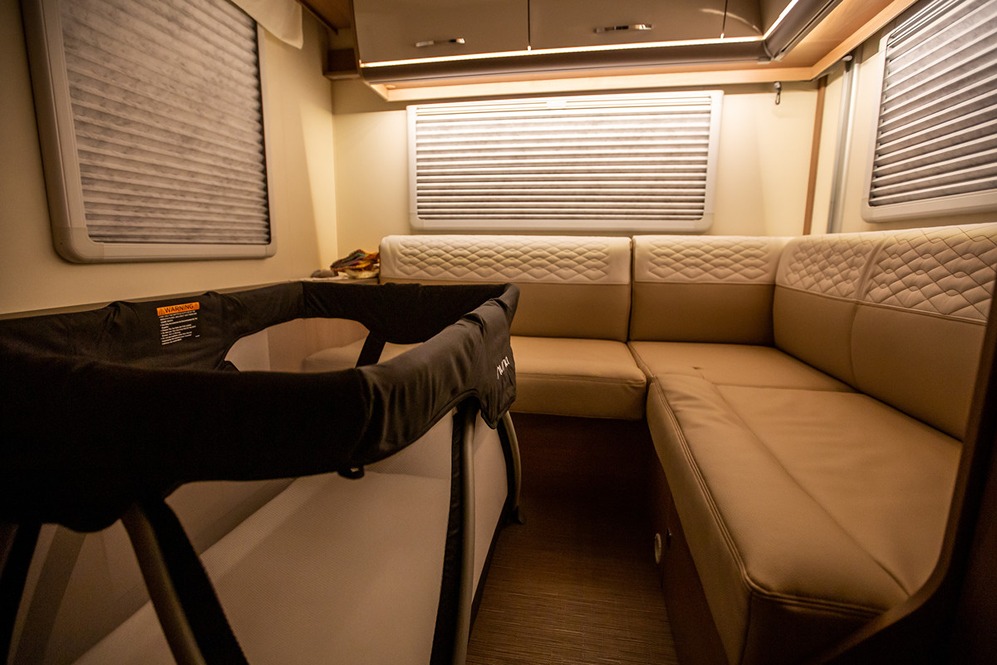 If you need a travel cot for your baby while on the road, The Suite is perfectly designed to accommodate one. The enviable space in the rear can be utilised for your baby to relax and play — or even for board games or Lego with a toddler.
Relaxing
It's a rarity to find a warm, insulated motorhome rental with 180 degree panoramic views like The Suite. Three large windows wraparound the rear offering you unrivalled sightseeing whether you're seated with a glass of wine or lying back preparing to sleep.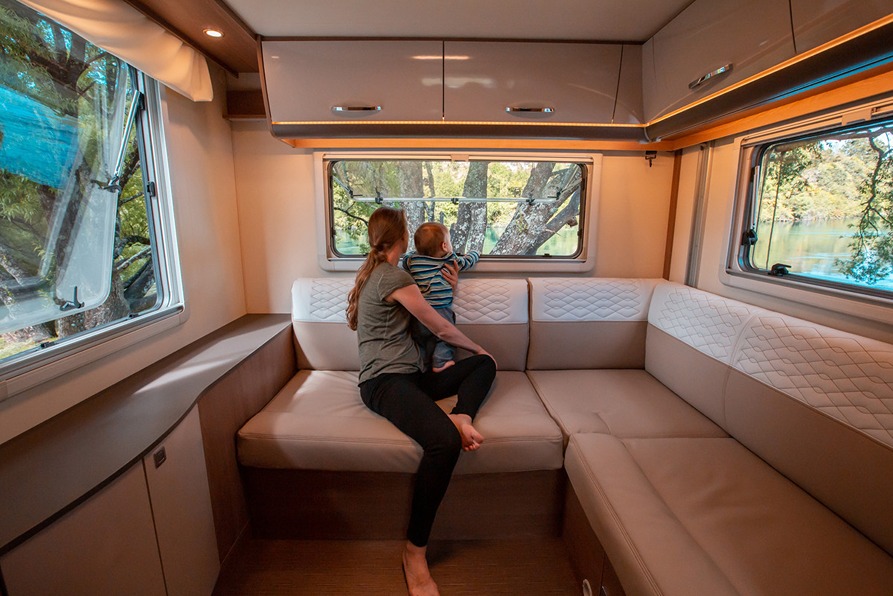 Select The Suite motorhome if you're:
A couple or family that want a spacious and luxurious motorhome with panoramic views.
---
Whether you're looking for an easily drivable motorhome or a roomy one, a flexible layout or one with extra privacy, we have the model to suit you and your travel group.
Find your perfect motorhome using our intuitive RV selector tool.