Planning a motorhome adventure across two geographically different islands seems more adventurous than exploring only one. Thankfully, New Zealand's inter island ferries can move you and your recreational vehicle between Wellington and Picton with ease.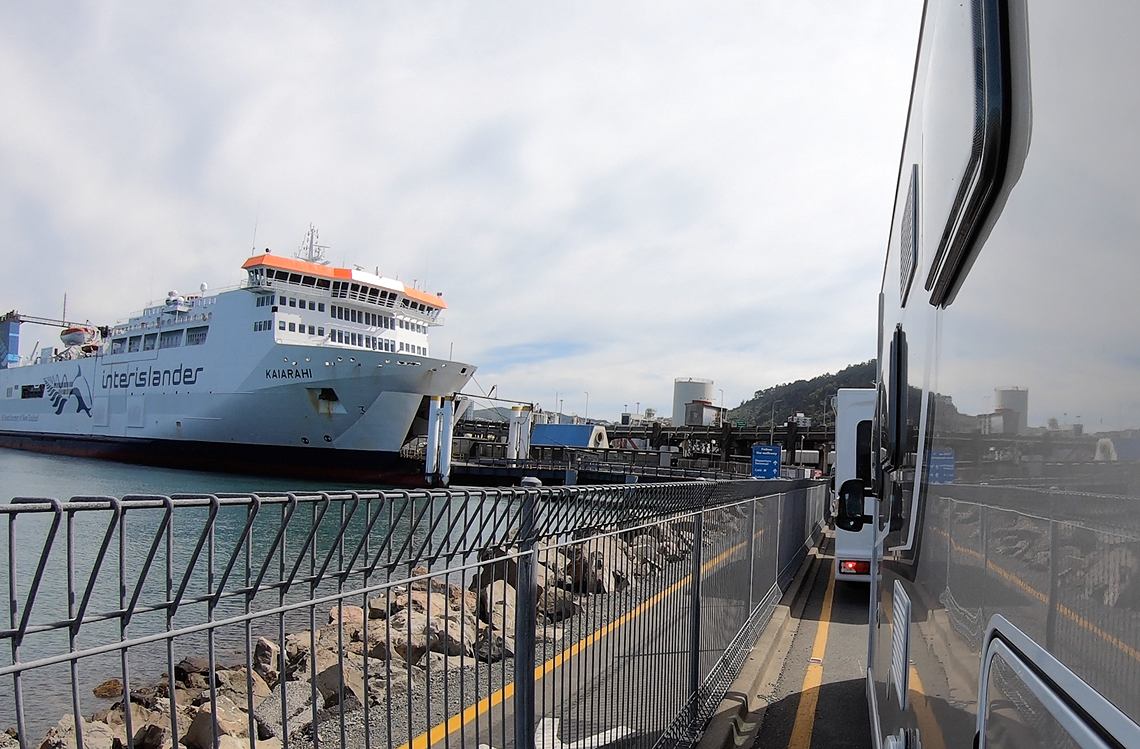 The Interislander, as it's aptly named, will leisurely take you across Cook Strait and likely become a holiday highlight.

In this guide, we talk about everything you need to know to take your motorhome hire from north to south — or south to north.


Find out about the cost of Interislander ferry tickets, how to book them and the process of taking your campervan onboard. Plus, we share scheduling information, amenities details and top tips for crossing the Strait.


How to book Interislander ferry tickets
You have two ways to go about securing tickets for you and your motorhome across the scenic Cook Strait — whether you plan to travel from Wellington to Picton or vice versa.


Booking inter island ferry tickets indirectly

The easiest way for you to book your passage across Cook Strait when hiring a Wilderness motorhome is to let Wilderness book ferry tickets for you.


As an agent for the Interislander, we can:
Organise fully flexible fares for you
Change your tickets at no extra cost — up to 24 hours before sailing
Assist you with rebooking your fare — when services are cancelled due to ferry breakdowns or bad weather.
Booking inter island ferry tickets directly

If you decide to book directly, visit the Interislander website and be sure to book a ticket for your motorhome rental and each passenger. Once you're on their site, follow these steps:
Click on the booking page — and select your preferred route and date
Enter all your passenger details — the number of adults, children, infants, seniors and students
Check the vehicle box — and select motorhome
Type in the length of your motorhome in metres — Wilderness motorhome hires are either 5.9, 6.7, 7 or 7.4 metres long and are easily visible on our product range page
Select whether or not you're travelling with animals and click continue
View the available sailings — choose the ticket type you want and click next - extras
Add any additional items you require during your ferry trip and click continue
Enter your and your passengers' contact details and click continue
Select whether you want insurance cover, choose how to pay, check the terms and conditions and click pay in full
Fill in your payment details — your booking confirmation will come through via email.

Inter island ferry ticket prices
The cost of taking your campervan hire or motorhome rental across Cook Strait depends on a number of factors, including:
The time of year you want to travel — expect to pay more during peak season between December and March
The length of your vehicle — it'll cost you progressively more, the longer your vehicle.


Find out more about New Zealand weather across the seasons.

For the one-way sailing price of a single motorhome and two adults (at the time of writing) you'll be looking at anything from:
$342 to $585 in the off season between April and November
$373 to $770 over those peak summer months.


Note that these prices can change. Check with the Interislander for their most up-to-date pricing information.



Taking your motorhome on the Interislander ferry
Both ferry terminals are easy to find in Wellington and Picton. The signage coming into Wellington on State Highway 1 and State Highway 2 is very clear. Simply follow the directions and you'll arrive at the check-in area.


Both the north and south terminals have specific queues for larger vehicles, including motorhomes. You'll need to be at the ferry terminal at least one hour before your scheduled departure. But consider arriving even slightly earlier for peace of mind and to be able to drive onboard sooner.
Checking in

The check in process is a breeze as you choose the lane that fits your vehicle type, then follow the queue up to the drive-through ticket booth.


Ensure you have your ticket or reference number ready on your mobile device. After you check in, you'll be directed by ferry staff to the correct boarding queue lane.


Be aware that the maximum speed once you're inside the terminal grounds (and on the ferry) is a leisurely 10km/h.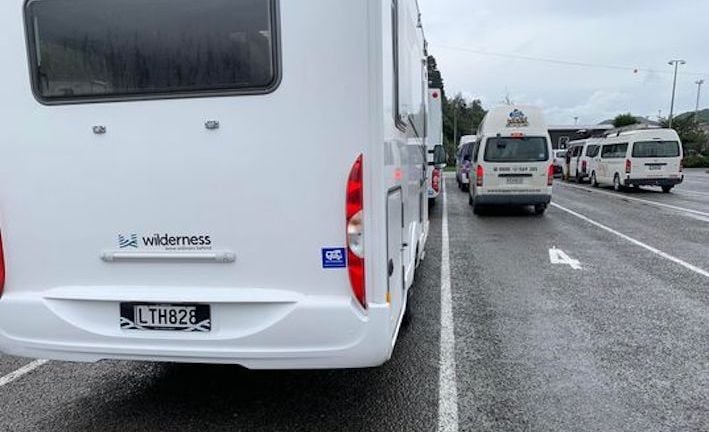 Parking up and preparing to sail

You'll be clearly directed which way to drive onboard and where to turn and park. Don't worry about the linkspan (drawbridge) as it's sufficiently flat to avoid scraping the bottom of your motorhome when embarking or disembarking.

Once parked up, take your time to gather any important items you'll need on the passenger deck, such as your:
Mobile phone, payment cards, cash and your passport or other ID
Laptop — or any work material
Food and any medication
Motorhome keys.

Crossing the Strait
Cook Strait can be a choppy stretch of water and it's sometimes hard to know what conditions will be like. If you're planning to spend time outside on the promenade or top decks, be sure to carry sunscreen, warm clothing, a secure hat, rainwear and even binoculars.
Remember to lock your vehicle as you won't be allowed to return to it until the ferry is docking at its destination. You're then free to head upstairs to the passenger decks to explore what the Interislander has to offer and to enjoy the cruise.


Disembarking

As your ferry reaches its destination, listen for an announcement over the speaker system letting drivers know to get ready to return to their vehicles. Follow the lead of staff and other drivers to make your way back to your motorhome or campervan rental.

Once back on the road, take a look at our best campervan sites to park up in New Zealand.
Inter island ferry schedule and route
Under the Interislander brand, three passenger ferries service the Cook Strait route. Bluebridge is New Zealand's other passenger ferry company with two ships that transport people across the channel.


Scheduling

As with pricing, scheduling of ferry services is dependent on varying demand across low and high seasons.

During low season which typically involves the colder months of the year, there are eight scheduled crossings per day. Over the high season when more people are travelling around the country, you can expect up to ten crossings — with the earliest leaving at 2am.


Your journey time

Depending on the weather conditions, your journey will take approximately three and half hours to cover 50 nautical miles — which is the equivalent of 93km (58 miles) on land.
Smooth sailing conditions could mean your travel time is cut a little while rough sea conditions may see it take longer.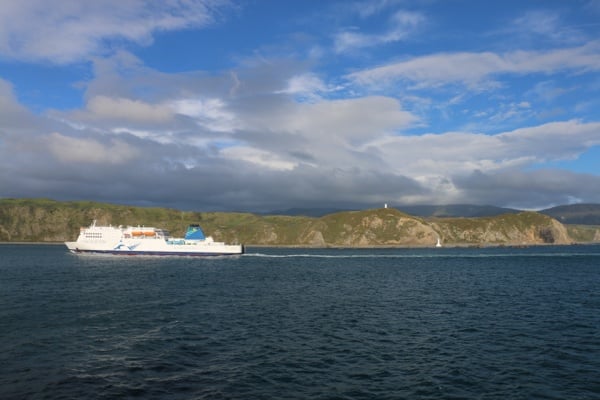 Your route


Taking the Interislander trip from north to south, you'll begin sailing through Wellington Harbour where you can enjoy superb views of the city, Mount Victoria and the eastern bays.


Around an hour into your voyage, the majestic Pencarrow Lighthouse will see you off into Cook Strait. Barrett's Reef may also be visible underwater while Wellington's quintessential seaside suburbs are well worth your viewing time.


It will take another 75 minutes or so to cross Cook Strait — which is obviously the most exposed section of the cruise. Walk up to the top deck and you might see dolphins frolicing in groups, seabirds soaring past or seals basking on rocky outcrops.


Following the crossing, you'll enter the Marlborough Sounds through what seems like an incredibly narrow gap between bays. Expect to sail for a further 75 minutes via Queen Charlotte Sound into Picton with the most picturesque scenery of the entire journey over this part.


Be on the lookout for:
The remains of a whaling station
Mussel farms
Regenerating native bush
Hidden bays — only accessible by sea.
Amenities on the inter island ferries
The Interislander's three ferries on the Cook Strait route are named the Kaiarahi, Kaitaki and Aratere.


Each vessel offers breathtaking landscape scenery from various indoor seating areas and from outside on their decks. Onboard, you'll also be able to enjoy:


Fully licensed food outlets — including food courts, cafés and bars
Bands — a win-win arrangement where Kiwi musicians can cross the Strait for free in exchange for live performances
Movies in the cinema — on the Aratere and Kaitaki ferries
The kid's playground on the Aratere — though there's also a children's TV lounge with a creative space on the Kaiarahi
Free WiFi — to keep yourself entertained or catch up on work
Activities for younger travellers — especially in summer and school holidays with magic shows and face painting common attractions.


It's also possible to book a cabin if you'd like some privacy or a snooze as you cruise. Plus, there's the option to pay extra for the premium lounge — which includes a buffet and a bar.
When you're back on the road, visit some of the country's best farmers' markets.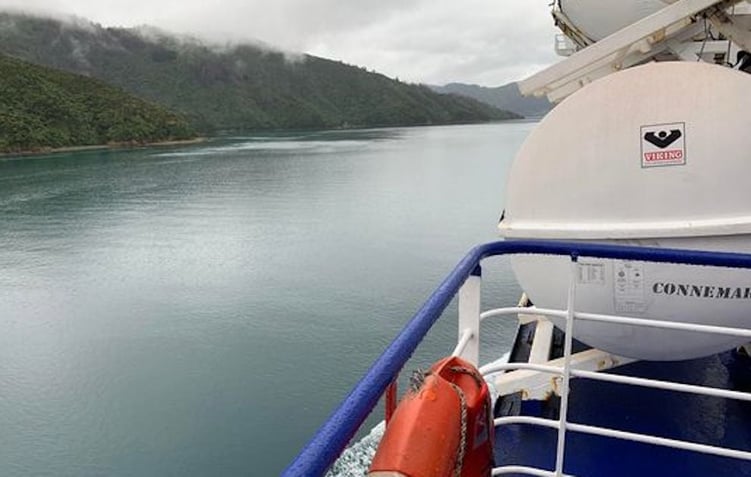 Top tips for crossing Cook Strait on the Interislander
Like any type of travel (by air, road or sea) it's helpful to have the inside word on what can make your journey better. We share our best tips for enhancing your adventure across the body of water that connects New Zealand's two main islands.


Sail by day

To fully appreciate the breathless views, book a daytime sailing for your group. They're a little pricier than cruising by night but the scenery is absolutely worth the extra few dollars — with seabirds, seals, dolphins and sometimes even whales joining the trip.


Book in advance

To be sure you won't miss out on the date and time of sailing you prefer it's best to book well in advance. This is particularly the case if your plans are over summer from December to February, or during New Zealand school holidays.


Drive on and off stress-free

If navigating a large vehicle around sharp turns in confined spaces isn't your idea of a fun time, book your ferry tickets on the Kaitaki or Kaiarahi. Both these vessels allow you to drive your motorhome on one end and exit out the other end.

Take time before continuing your journey

One quirk with the way transport is loaded on and off the InterIslander ferries is the positioning of the big rig trucks to exit first. This can create a bottleneck driving south from the Picton terminal — so if the timing's right, spend an hour or two in town enjoying a meal or playing minigolf. Then continue your road trip on a more tranquil highway.


Wellington doesn't tend to have this issue as the multi lane motorway passes right by the terminal.

Avoid seasickness

On rare occasions the crossing between north and south can get rough so if you're prone to seasickness, consider taking motion sickness tablets before sailing.
Fresh air is best if you're feeling a little nauseous so head to the top deck where you'll be able to breath in the sea breeze and see the horizon.
Remember where you park

It's worth mentioning to make a mental note of exactly where you park your motorhome hire on the Interislander. These are large vessels with multiple floors — and returning to your vehicle only to realise you're not sure where you parked it is never fun.
---
Check out our epic New Zealand campervan itinerary from Te Anau in the south all the way north and across Cook Strait to Auckland.