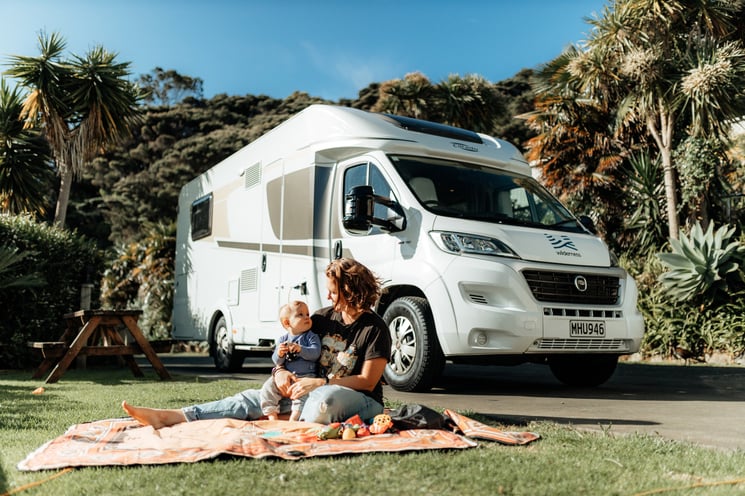 One of the greatest joys of a new addition to the family is the opportunity to create special memories together. And there's no better time to make memories than on a trip, especially one in a campervan.
---
Download our Campervan Itinerary with a Baby
Make some beautiful memories with our 10-day round trip itinerary from Auckland to Northland perfect for you and your little one.
---
Travelling by campervan with a baby allows you to be spontaneous and flexible with where you stop and sleep. It also opens up the world of responsible freedom camping allowing you to share off the beaten track locations with your baby around New Zealand while still having all the creature comforts of a hotel room including kitchen, bathroom and power.

New Zealand is the perfect location to campervan with kids too, with gorgeous locations, friendly people and a thriving motorhoming scene. You'll find yourself with plenty of opportunities to make memories. And who knows, you might even get to experience some of your baby's firsts with a fantastic backdrop!

Check out this video of our recent guest, Ben Journee, exploring New Zealand by motorhome with his one year old in tow.


To help you have an amazing motorhome trip with a baby in tow, we've gathered advice from Ben and other guests who have travelled by campervan with their little ones. We've got you covered on all you need to know about choosing a baby friendly motorhome, packing with your baby in mind, planning a flexible itinerary and choosing suitable camping spots.

Buckle up your baby seats, it's time to get planning.


1. Choose a baby friendly motorhome
Choosing the perfect motorhome is your first step to a stress-free trip campervan trip with your baby. You'll need to consider a campervan that allows a good night's sleep, has generous floor space, safe seating for your baby seat and a few other interior features.


Sleeping comes first
As anyone with kids knows, if your baby isn't sleeping, no one is. Sleeping options that will help you and your baby sleep soundly each night include a portable cot, co-sleeping in a large bed and sleeping in a single bed using a sleep wrap.

It's best to choose the option that is most similar to what your baby is used to at home to avoid upsetting them with a change. A portable cot is likely most similar to what your baby sleeps in at home. It's also a handy option as it can be moved around and used even when fold down beds are in use, however it is also another piece of baby gear to carry with you. Co-sleeping is also an option if you have a large bed with space for your baby in between parents. If you're settling your baby down for sleep on a bed separate from your own, a sleep wrap can be a great option to hold your baby safely in place on your campervan bed. Avoid placing your baby in a cabover bed as these are too high to be safe.

There's a couple of motorhome features that will help your baby sleep. A partition between the living area and where the baby sleeps and indirect LED lighting both reduce the chances of disturbing your sleeping baby. Make sure you also have camping chairs so you can sit outside while the baby is sleeping during the day without disturbing them.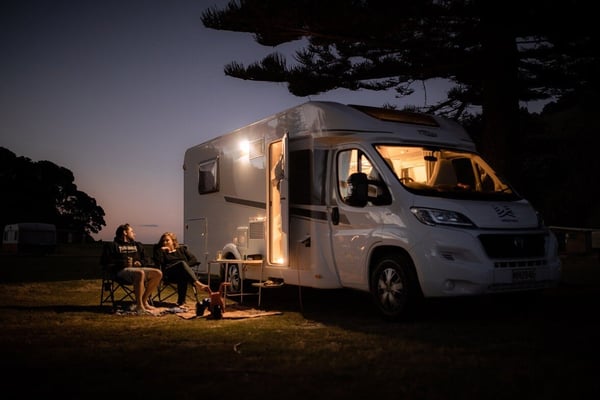 Choosing generous floorspace
When it comes to campervan size, bigger isn't always better. Choosing a well designed motorhome option with generous floor space and storage space is more important.

Lots of floor space means more space for your gear, your baby to play, a cot to be safely placed on and changing to be done. Check the floor plan and interior walkthrough videos of the campervan you're considering to get a good idea of this. A motorhome with a rear lounge and fold down bed gives you the most unencumbered floor space.


Considering the seating
When considering campervan options, you should choose one that allows you to seat your baby for both safety and comfort. In New Zealand, you are required to seat children in an approved child restraint. This means picking a motorhome with rear seats that fit your baby seat securely. If your baby uses a capsule, you'll want to bring the capsule with you. If they use a baby seat, you can rent this. It's important to check the quality of the car seat you rent. Wilderness uses one of the most advanced car seats on the market to ensure that even our smallest explorers are kept safe on the road.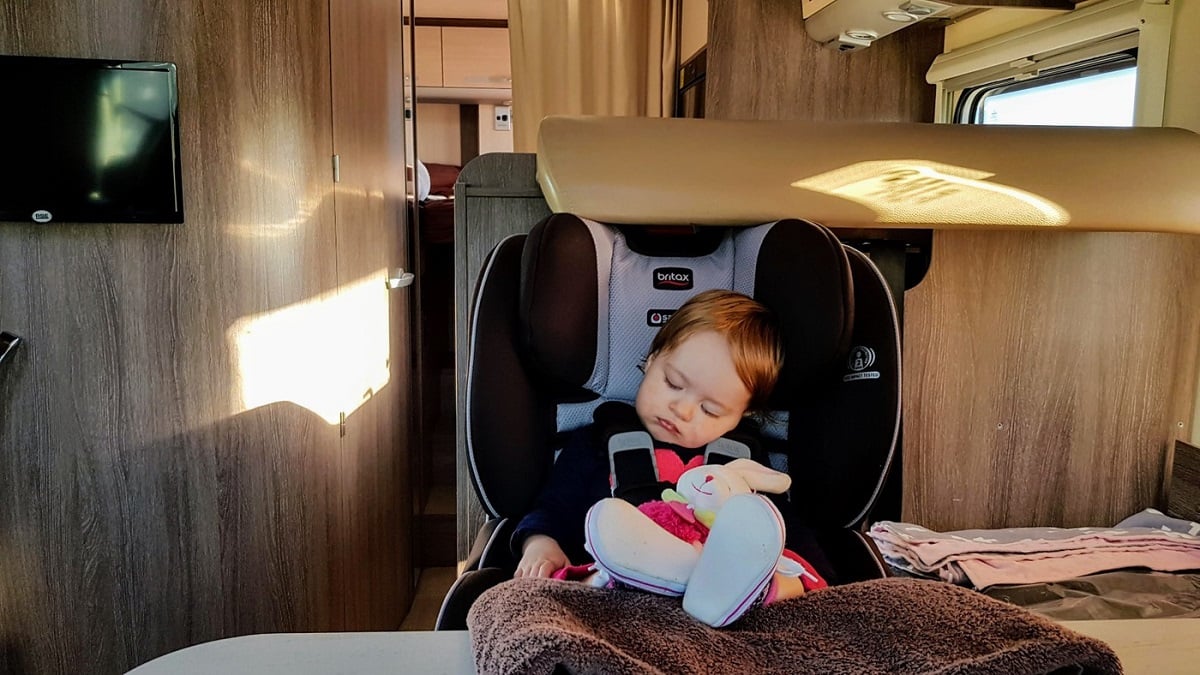 Other recommended interior features
Other nice-to-have features include having a great shower that can fit both you and baby when washing off the day's adventure. You'll also want to look for a quick and reliable water heater so you have easy access to warm water. A baby proof campervan interior is another thing to consider, especially choosing one without steps to reduce the chance of falls. A quality fridge that will keep milk, baby food and your food cold is also a great idea. Finally, choose a motorhome with comfortable seating so you can relax in luxury when you're feeding and holding your baby.
2. Pack with your baby in mind
Travelling with a baby will add a bit to your packing list, but with the right gear you'll be well-equipped to have a more comfortable campervan adventure.


The little things
As well as the small items you would take on weekend trips such as nappies, wipes, painkillers, a thermometer and other first aid, you should also include the sleep wrap or sleeping bag that the baby is used to plus a blankie or comforter and swimmer nappies. New Zealand sun is very strong with a high risk of sunburn, so make sure you pack sunblock and a sun hat.


Bigger baby gear

You can rent some bulky items like baby seats, but you'll likely need to bring your own baby wrap, stroller or backpack. Make sure you don't forget a rain cover for your stroller with the changeable weather in New Zealand. If you're planning to get a bit more adventurous on one of New Zealand's gorgeous hikes, a backpack baby carrier is worth bringing.


Packing for fun

Don't forget to bring a few toys to keep your baby entertained including stroller and baby seat toys and a bucket and spade for the beach.


3. Plan a flexible and safe itinerary
The key to a great journey with your little one in tow is to make sure that your plans are flexible for inevitable changes of plan.


Making flexible plans

Our recommendation for all our guests is to travel no more than two hours a day and with a baby you'll want to do even less. You may find that driving while your baby sleeps is the option that will be most relaxing for everyone. If your baby is miserable while driving, make sure to pull over and take a break outside of the motorhome or even stop entirely for the day. Having two itinerary options - one for a good day, and one for a bad day when your baby is unsettled, can reduce stress for both you and your baby.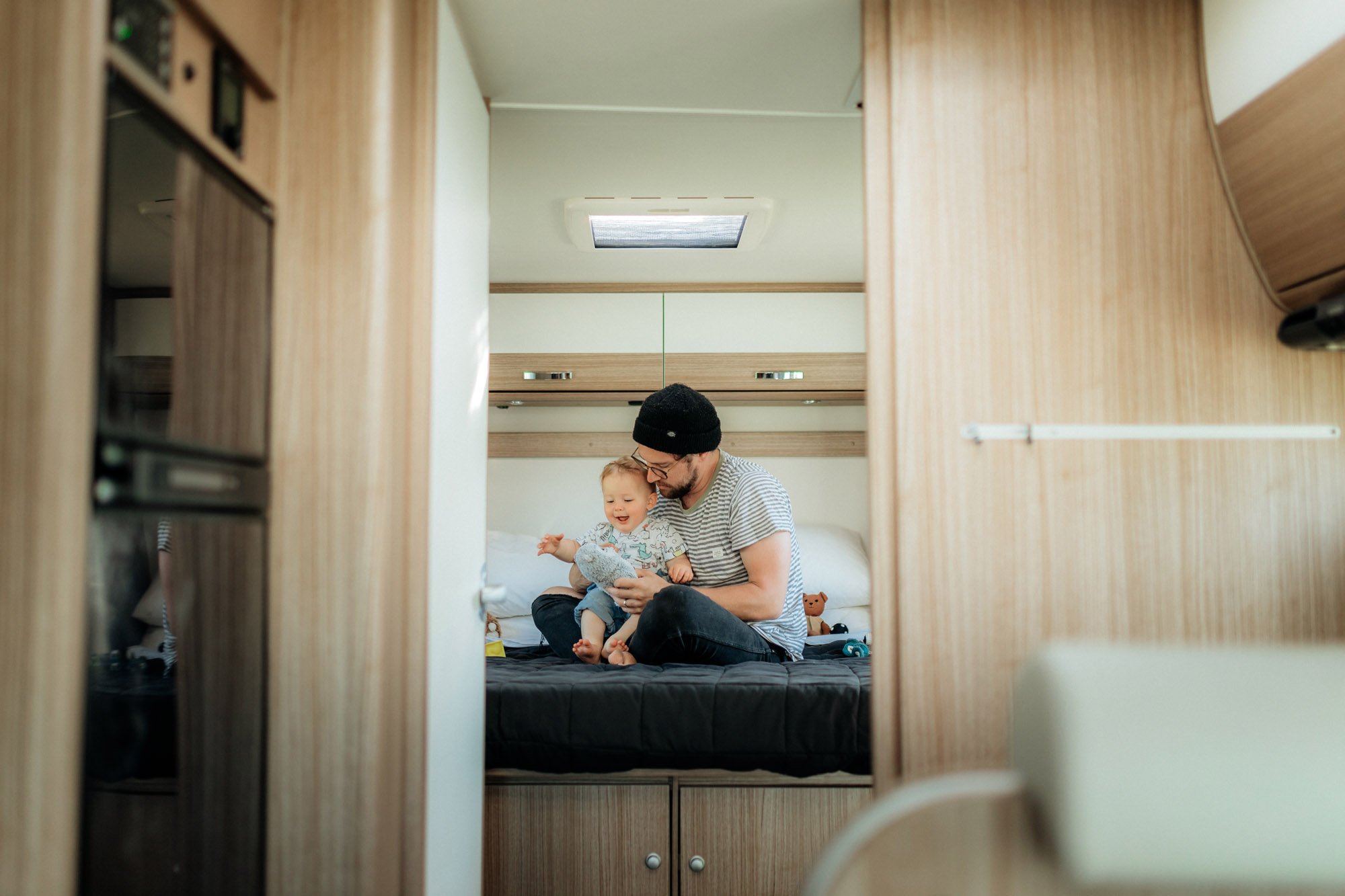 Stress-free driving with your baby

Plan to drive on well-travelled and maintained roads to ensure you can get help if needed.

A GPS, whether on your smartphone or a GPS unit, will help you find the most direct route. Tools like the Camping NZ app and Campermate can help you locate facilities and campsites all around New Zealand which may not be listed on a map.

Schedule regular breaks to stretch your legs, get some fresh air and enjoy a snack to keep everyone feeling alert and refreshed. Keep baby's toys and snacks on hand for when things start to unravel.


We recommend designing your itinerary to include places that your baby will love. These include watery fun - paddling in calm oceans, pools, lakes and relaxing in warm (not hot) thermal pools (make sure to bring swimmer nappies and floaties). Other great places include beaches for playing in the sand, grassy parks and interactive animal centres like zoos and petting zoos.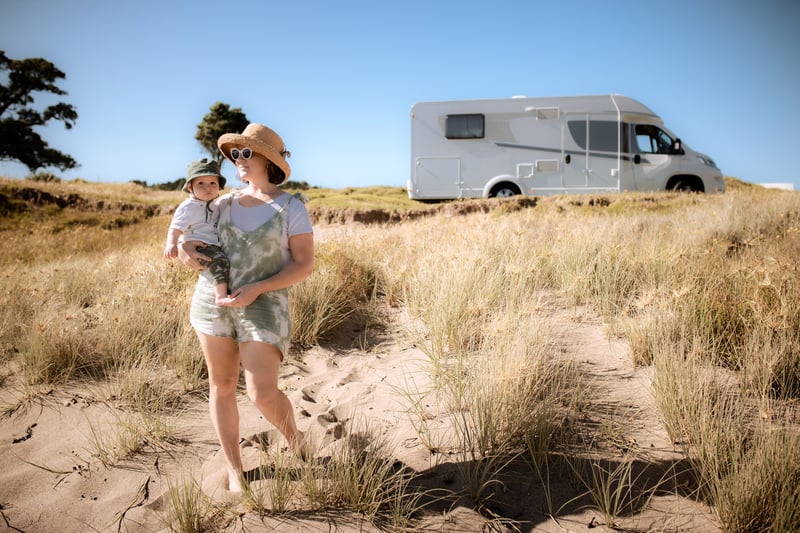 4. Choose suitable camping spots
Having the freedom to choose your campsites each day without booking in advance or stressing about reaching your booked destination is ideal for travelling with a baby. Travelling during off-peak seasons gives you the best chance of finding a site with available spaces. It also means sites will be quieter with more distance between neighbours to avoid disturbance.
Freedom camping with your baby
Camping responsibly at the many designated freedom camping spots will give you the off-the-beaten track experience. With a baby in tow, you may not want to stick to sites that are a bit tamer and closer to developed areas with facilities.



Choosing where to park up
Once you've chosen your campsite, it's time to pick the perfect spot. Look for a site near the campsite facilities which has grass for relaxing on. Make sure you're not too close to other campers so there's less concern of others waking your baby up or your baby's cries waking others.

If you're renting from Wilderness, there's no need to choose a powered site since you don't need to be plugged in to use power to use appliances. One thing that you should note is that many motorhomes don't come with a microwave. While this can be challenging if you're used to microwaving food, there are several easy alternatives within your campervan. You can heat milk bottles in a saucepan of hot water on the gas cooktop and cook or reheat food in a saucepan or fry pan or use the gas oven.


Conclusion
Ultimately, travelling by motorhome with your baby is a rewarding experience for the whole family. Motorhoming is a flexible and fun way to see all that New Zealand has to offer. With a little bit of extra packing and planning, you'll soon be on your way.

Choose a premium campervan with sufficient space and a layout that suits you. Check that the motorhome has baby friendly features such as appropriate seats to attach the child restraint, room partitions, indirect lighting, and a good shower. A baby stroller or child carrier is a must-have but, apart from the things you'd take on a weekend away, there's not much more you'll need for your motorhome trip.

The reality is that you're likely to be able to cover a lot less ground on your family road trip than when you travel as a couple. Build lots of flexibility into your itinerary and make sure you include baby friendly activities like visiting beaches, thermal pools, parks and animal centres.

Travelling off season and choosing freedom camping spots will not only allow you to see the best of New Zealand, you're more likely to find a quiet campsite so the whole family can get a good night's sleep.

We hope that after reading this, you feel more excited about strapping your baby in for an amazing campervan adventure. Let the team here at Wilderness can help you out with a selection of premium, baby-friendly motorhomes that tick all the boxes and a team with expertise on motorhoming with babies.

Ready to make some beautiful memories for the family photo album? Book your motorhome adventure now.

---
Download our Campervan Itinerary with a Baby
Make some beautiful memories with our 10-day round trip itinerary from Auckland to Northland perfect for you and your little one.
---