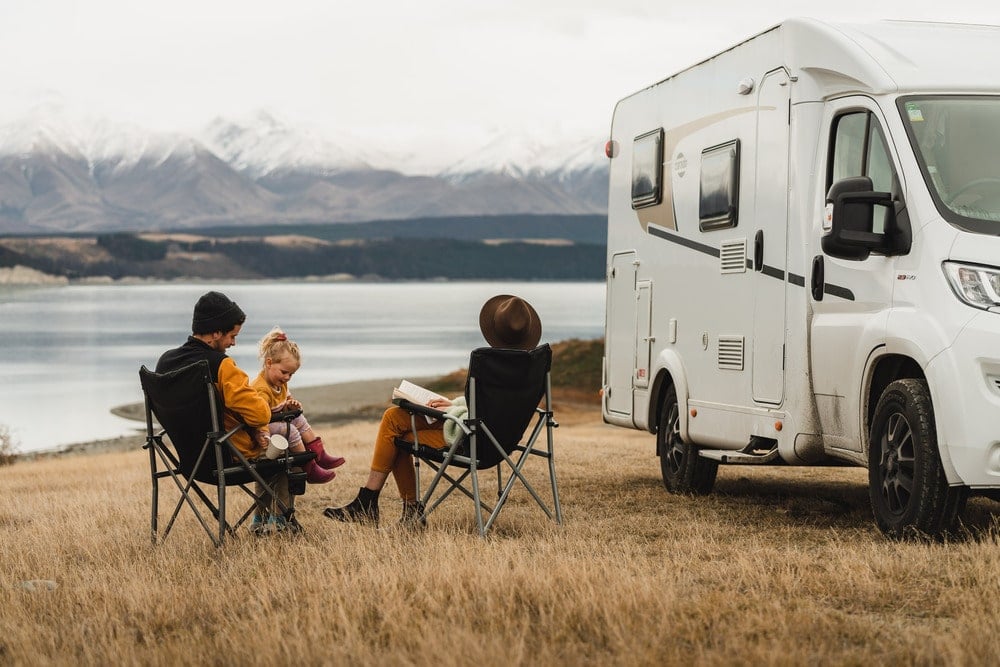 There are two things that always make me happy - exploring new places and sharing these places with my family. That's why I jumped at the opportunity to explore the South Island with my husband and toddler. We absolutely loved the three wonderfully long weeks we spent driving around the South Island in the new Wilderness Compact Plus motorhome visiting new spots and revisiting a few old favourites. The nights were cosy in our well insulated motorhome and the home-cooked meals were incredible (in my humble opinion!) We embraced the open road and we chased the sun for the best weather. It was a trip of a lifetime and one we will never forget. Our daughter is still asking us to go back to the motorhome.

While living in a small space with a toddler may be daunting to some, it's a joy to watch the world through their eyes, to see them grow and learn while travelling and get excited about waking up in a new place each morning. Sure, life on the road with young kids has its challenges - like scheduling naptime, finding alone time and sitting still during the long drives, but exploring New Zealand with your little ones is more than worth it.

During our Wilderness trip, we visited plenty of toddler-friendly locations. In this article, I'll share the best ones as well as a few tips on keeping the family happy while holidaying in a motorhome or campervan.
---
QUIZ: Find the perfect motorhome for your trip
Take our quiz to find the perfect motorhome option for your remarkable family adventure in New Zealand.
---
Tips on keeping the family happy when travelling by motorhome
Even in the most spacious of motorhomes, you'll spend a lot of time in a confined space. To make sure everyone stays relaxed and cheery in close quarters, we've compiled these seven tips for motorhome or campervan travel with toddlers.


Keep driving to a minimum.

We aimed to keep driving time to under two hours each day. On the occasions that we wanted to cover a large distance, we did this all in one day to get it out of the way. We found it handy to wait for our toddler's nap time around midday before setting out so she didn't get fidgety.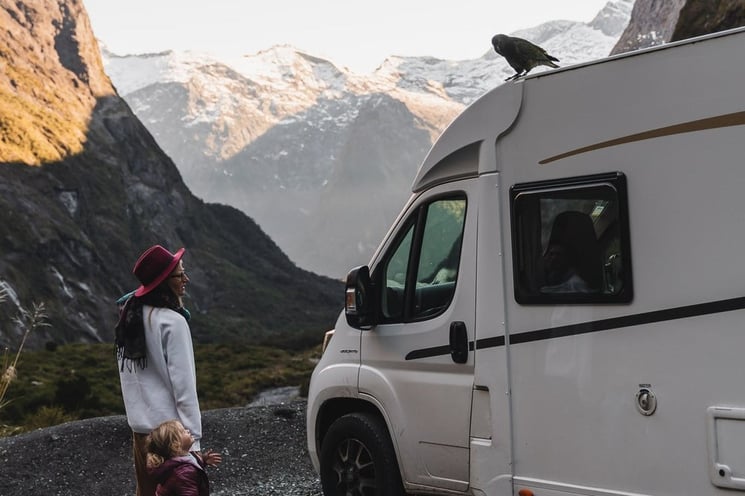 Keep it organised.

My favourite feature of our Wilderness motorhome was the storage! We could pop our suitcases, hiking boots, and anything we weren't using daily in the rear garage accessible from outside the motorhome. Clothing, food, toys, etc were stored in the cupboards dotted throughout the interior. At the end of each day, we dedicated time to putting items back in their places, which reduced the clutter and allowed us to find everything quickly.


Stay warm.

We travelled in the chilly month of May so finding a motorhome with insulation and central heating turned out to be a big win. We were super warm and cosy and slept well every night in our German motorhome. We never worried about being cold, even on the nights when the temperature really dropped.


Take time for yourself.

If you are travelling by yourself with your kids, taking some time for yourself may seem like a challenge - but it's worth it. Try stepping outside after you put them to bed for a bit of alone time. If you are with a partner or friend, give each other the chance to go for a run, walk, or even make a trip to the supermarket while the other one stays with the kids. Everybody needs some "me" time.


Give your toddlers tasks.

Now that our daughter is three, she is excited to help out and finds doing basic chores fun. I got her to put away her own toys and books, sweep the motorhome, and even dry the dishes and. It kept her busy and she felt important.


Embrace screen time on the hard days.

Rain won't stop? Driving all day? We opted for the unlimited WiFi add on which meant our toddler could watch her favourite show and we could get some peace and quiet.


Bring a bit of home.

Bring familiar items like a favourite soft toy, blanket, or colouring sets to help your little ones to feel comfortable in the campervan. We always pack a few books and our daughter's favourite magnetic puzzles on holiday.


Pack a surprise bag.

A few new toys, colouring books and favourite snacks will surprise and delight your toddler and keep her entertained when you're driving. This will give her a bit of excitement when faced with another hour stuck in her car seat.
Try to stick to your home schedule and routine.

This one can be a challenge, especially if you love being spontaneous or the daylight hours stretch long into the evening. Just like at home, routine on holiday makes things go more smoothly. We opted to all sleep together in the comfortable king bed, which was plenty big enough for three. Each night we turned on the white noise machine, put our daughter in her pyjamas, then jumped into bed and read books and sang songs. When she was settled, we closed the curtains and left her to fall asleep. Later, we'd slip into the bed beside her. Having the same routine each day helped us all get a good night's sleep and wake up fresh each morning.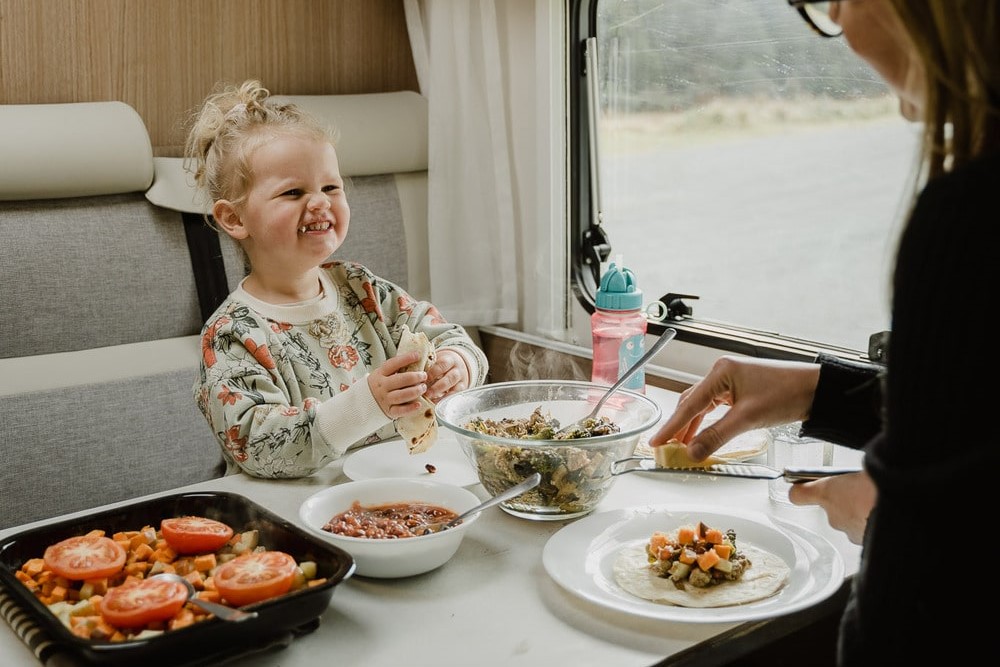 Favourite toddler-friendly freedom camping spots in the South Island
Luckily for us, New Zealand has plenty of freedom camping spots for those with self-contained vehicles like our Wilderness motorhome. Freedom camping is a privilege, not a right so make sure you know your obligations before you camp so you can camp responsibly. We stayed at some great toddler-friendly sites that are worth sharing!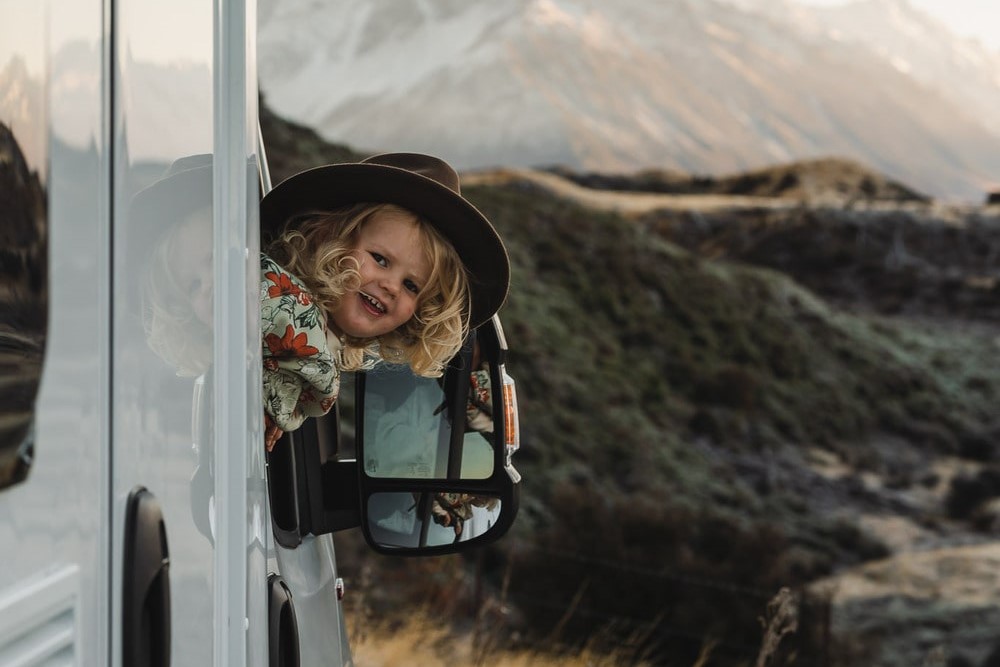 We've been lucky enough to travel through New Zealand by car, plane and campervan, but none compared to our wonderful experience in a Wilderness motorhome. Your motorhome road trip will be an experience that your children will cherish. All the extra planning involved when travelling with a toddler is so worth it for the experiences you'll have together and the memories you'll make.

Now that you're armed with these tips and freedom camping spots, we hope you're excited to set off on a motorhome adventure with your younger kids just like we did. When deciding on the perfect motorhome for your family, we recommend using this handy motorhome selector tool to find the best option. If you have any questions about travelling with toddlers, we found the Wilderness team to be really helpful. Happy travelling!
---
QUIZ: Find the perfect motorhome for your trip
Take our quiz to find the perfect motorhome option for your remarkable family adventure in New Zealand.
---