This week (10-16 September) is Māori Language Week 'Te Wiki o te Reo Māori' in New Zealand. Each year, this time is dedicated to raising awareness of and strengthening 'te reo Māori' (the Māori language) and the aim is for all New Zealanders to use more Māori phrases in everyday life.
While Māori history, culture and traditions are a key part of New Zealand's identity today, census data shows Māori is spoken by only 3-4% of the population, so Māori Language Week is part of efforts to revitalise the language. If you're visiting New Zealand over this time you're likely to hear more Māori spoken on the radio and on television, especially during the nightly news shows.
The most commonly used conversational Māori phrase is 'Kia ora', which can mean 'hello' and 'thank you'. You may also hear people talk about 'Aotearoa', which is the Māori name for New Zealand and translates as 'Land of the Long White Cloud' – a reference to the cloud the first Māori voyagers saw as they approached New Zealand's coastline in their waka (canoes) when they arrived from Polynesia around 1,000 years ago.
You will see Māori place names as you travel throughout New Zealand and you will be able to experience many aspects of Māori culture through organised tours or visits to heritage sites. One of the most famous elements of Māori culture internationally is the haka – an ancient war dance that is today performed by New Zealand's All Blacks rugby team before international games.
If you'd like to learn more about Māori language and culture, the app Te Kete Māori is a great resource and available for both Apple and Android devices. It has useful phrases, guides to pronunciation, cultural information and a map of the iwi (tribes) of New Zealand.
If you wish to experience Māori culture while visiting New Zealand, we recommend you try some of the following experiences.
Northland
Waitangi Treaty Grounds – regarded as the 'birthplace of New Zealand' – this is where the first accord between the Māori people and the British Crown was signed.
Footprints Waipoua – join local Māori guides and discover the beautiful Waipoua Forest and its majestic centuries-old kauri tree Tane Mahuta, known as the 'Lord of the Forest'.
Auckland
Māori Cultural Performance at Auckland War Memorial Museum – a great introduction to Māori culture, interwoven with traditional song and dance.
Tamaki Hikoi – join guides from Auckland tribe Ngāti Whātua for tours offering an insight into their culture and land.
Rotorua

Credit: Graeme Murray
Tamaki Māori Village – step back in time and experience a Māori village as it would have been, set in an ancient forest.
Te Puia – a unique combination of geothermal activity (geysers, mud pools and steam vents), a traditional marae experience and a chance to see traditional Māori arts, crafts and tattooing as well as taste the hāngi, a traditional Māori food.
Wellington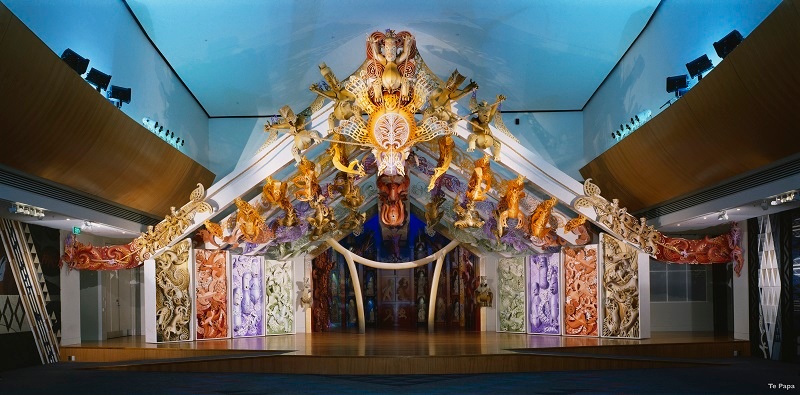 Credit: Te Papa Museum
Te Papa – The Museum of New Zealand is home to an array of very special Māori taonga (artefacts).
Useful links
Introduction to Māori culture
100 Māori words to learn