Lucky me! Four days, a camper van to myself and the world as my oyster. But there was one destination I had in mind!
As I drove north of the Auckland Harbour bridge in my stylish Bürstner motorhome from Wilderness, I recalled last years tour of Northland with my wife and kids. There was one spot that stood out, and this time my plan was to go and get away from it all in that one spot for a few days.
That spot was Matai Bay. As far as camp spots go, they don't come much better. Set underneath magnificent pohutukawa trees overlooking one of two golden sand, crystal clear beaches that make up Matai Bay, this Deparment of Conservation campsite lies at very tip of KariKari Peninsula, in the Far North of New Zealand.
I recalled fondly having our camping table and chairs out on the golden beach there and feasting on the spoils off a productive freedive last year! I made a promise to myself then that I'd return for a longer time and to camp out for a few days.
And so with a conference to speak at in the Bay of Islands, I managed to schedule a few days in advance 'roughing it' at Matai. I had one stop en route, and that was to get the bare essentials, mainly vegetables, as I hoped to live off the sea, and stock up on shellfish and fish for my protein while I was there!
This was my first road trip in a Bürstner motorhome and I was suitably impressed! Not only was the interior very modern, almost as nice as a hotel room on wheels, it was very nice to drive. 'Glamping' at its very best!
I arrived at Matai Bay after dark, parked up and took a stroll on the beach to gaze at an awesome night time sky. Going into winter, things cooled down outside but not inside, the camper was super cosy and warm. I'd picked a sweet little spot overlooking the water and was rewarded in the morning when I woke up to see the sun peeking over the horizon from my motorhome!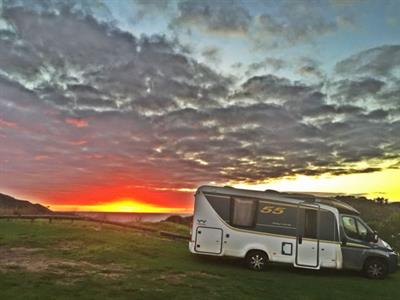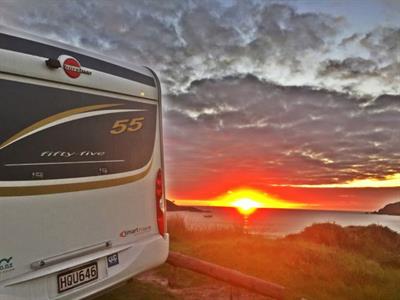 Just awesome! What a site to kick back at enjoy breakfast over! Then, pretty soon it was time to think about lunch - or catching it anyway! Time to get wet!
Despite going into winter the water was still reasonably warm (it is not called the winterless north for nothing), but I still snorkeled with a 5mm wetsuit to keep me nice and toasty, and pretty soon had a nice sized crayfish (lobster) for lunch, and some tuatua (clams) to go with it.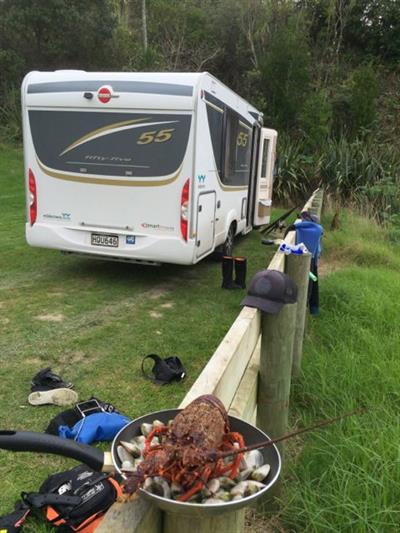 With the windows and doors open and the sun shining through, the laptop was fired up, and I had my mobile office in action for a few days. I can't think of too many better spots to work from!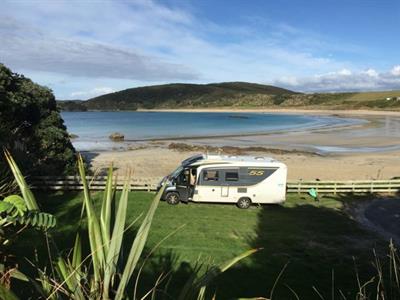 And that pretty much set the scene for the next few days. Not going too far, making the most of an awesome modern campervan in one of New Zealand's best coastal campspots.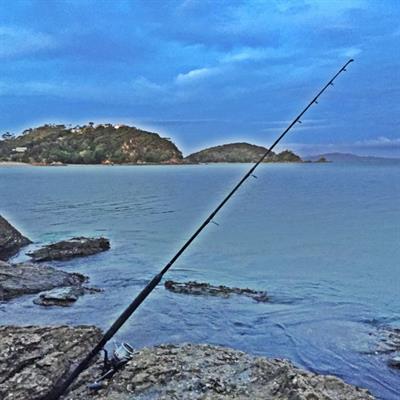 A little fishing at Watuwhiwhi off the rocks at dusk, and checking out Rangiputa, another great option for an overnighter. And a little promise to myself once again – get back to Matai Bay in a Bürstner motorhome from Wilderness once again!