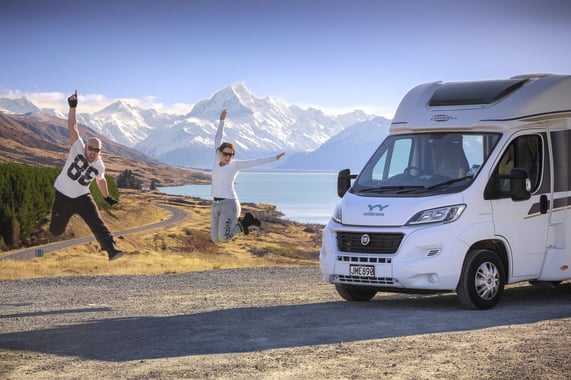 So you've decided to treat the family to a long weekend motorhome trip. You take Friday off and book your perfect motorhome for three days of fun.

But when you sit down to make an itinerary, you suddenly realise just how little time you have to do the fun stuff. Even if you pick up as soon as the rental base opens on Friday morning, driving will use up a big portion of the day, not to mention you'll be navigating morning traffic.

You can also say goodbye to a relaxing Sunday. That has already been allocated for motorhome housekeeping such as emptying waste and water to refilling your LPG tank, drinking water and diesel - all the chores the rental operator requires you to do before you return the motorhome. You'll probably complete these just in time for the frustratingly early afternoon drop off.

What does that leave? A whole lot of driving for just one full day of family fun. Instead of a relaxing, restful trip you'll be returning to work just as stressed as you left it on Thursday.

Here's the rub. New Zealand motorhome rentals are set up for the international visitors who usually visit for at least a week. That's why most motorhome rentals require a minimum five day hire. The visitor picks up their motorhome on the first morning and returns it mid-afternoon on their drop off day a week or so later. But what about us Kiwis who want to do a weekend escape?

Introducing the perfect package for a quick Kiwi trip - The Ultimate Motorhome Mini Break

That's why we at Wilderness have stepped up to create the perfect, hassle-free package for busy Kiwis looking for a lazy long weekend getaway this summer.

Introducing The Ultimate Motorhome Mini Break, designed to maximise your weekend to the fullest all while enjoying the luxury of our premium motorhomes.

Instead of heading off on Friday morning, you pick up after work on Thursday. You can either set off then and reach your destination in time to enjoy the sunset, or set off early on Friday morning before the workday traffic starts.

Drop off is even better, with the extended hours until 8pm on Sunday. Plus, you'll love our no emptying or refilling policy. For this package only, we handle waste and water disposal and refill, as well as LPG refilling. You'll just need to fuel up before you drop off, we handle the rest.

That's three full days of family fun in your motorhome and enough time to relax and enjoy our gorgeous backyard. Plus we're throwing in free VIP Insurance with no excess, no road user charges, free unlimited WiFi, free LPG use, free airport transfers, secure car parking and no extra driver charges for just $949 (that's a whopping saving of $607 off RRP) with no hidden fees.


What does The Ultimate Motorhome Mini Break include?
3 days of premium motorhome rental for 1 - 4 people for $949 (you save $607)


Your choice of travel weekend before 29th March 2021


*dates extended due to popular demand*


(excludes 24th December 2020 - 7th February 2021)


Pick up on Thursday between 5 - 8pm


Drop off on Sunday between 8.30am - 8pm


Free

VIP insurance




Free unlimited WiFi


Free LPG use


Free secure car parking


Free waste and water disposal and refilling on return


No hidden fees or upsells


See our

terms and conditions




How do I book?
You can book on our website here.


Simply fill out the form including your preferred weekend and we'll be in touch about motorhome availability and next steps.

If you have any questions you can get in touch with our friendly Reservations team.

This unique package is booking up fast. We suggest booking your Ultimate Motorhome Mini Break now to avoid disappointment.

We're excited to see you soon!