If you think New Zealand is spectacular above the water, just wait until you see what is down below! Islands, caves, drop offs and walls galore, combined with ocean currents sweeping in from every direction means there is always something amazing for divers to look at!Photo credit: Dive Tutukaka
The icon of scuba diving himself, Jacques Cousteau, rated New Zealand's Poor Knights Islands in the top ten dive sites of the world!
There's no better way to explore the best dive regions New Zealand has to offer than by motorhome.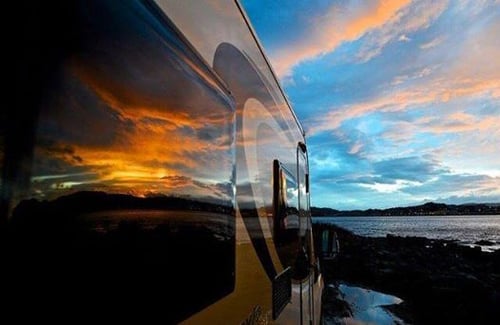 Credit: Jared Smith
A road trip in a stylish Wilderness motorhome will allow you to explore all of the best scuba diving regions in comfort, combining some great offshore boat diving, with touring and even shore-diving some of the amazing coastline at your own pace. A roomy motorhome gives you the storage space for all those underwater cameras and the large assortment of dive gear most bubble blowers bring with them. You can kick back in comfort and scan through all your cool photos after a days diving.
For the keen diver coming from abroad here is what I recommend you simply must do while you are here. To take all of this in you are probably going to want at least 21 days in New Zealand, I've included some extras at the end if you have more time on your hands.
1. Setting the scene – Auckland City! (1 day)
Picking up your motorhome in Auckland City there is one spot you simply have to check out and that is Kelly Tarlton's Sea Life Aquarium. The late Kelly Tarlton was one of New Zealand's earliest scuba divers and wreck/treasurer hunters. A conservationist at heart, he had a vision of bringing the underwater world of New Zealand to life right in the heart of Auckland city.
In 1983 he turned his vision into reality and Kelly Tarlton's Underwater World was opened. This was the first aquarium in the world to have curved acrylic tunnels which give a very real perspective (without refraction) of what it is like to be underwater while staying dry. You will see all of New Zealand's sea life here from snapper and hapuku to sharks and stingrays. It is Auckland's must do for the keen diver and will wet your appetite for what's ahead.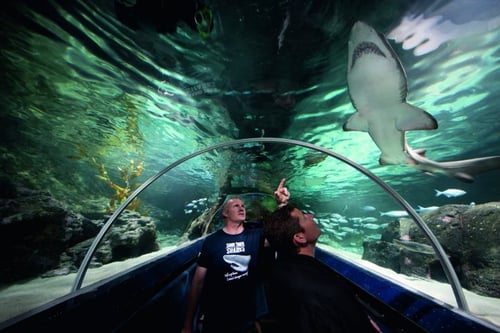 Credit: Kelly Tarltons

There are a number of good dive centres in Auckland where you will be able to hire any equipment tanks, weights and anything else you might need for your adventure. From there, most coastal towns have fill stations, and most boat operators will have hire gear as part of their dive trips.
2. Goat Island Marine Reserve (1 day)
From Auckland head north to Leigh and the marine reserve of Goat Island. This was New Zealand's first marine reserve, established in 1975. This reserve offers a perspective of what New Zealand's coastline once was like before man arrived. You will be greeted with huge schools of blue maomao at your feet as you enter the water. Scuba diving gear really isn't needed here as most of the good marine life is as shallow as 3m of water, though it is always nice to see it by tank as well. Diving or snorkelling at Goat Island is a great introduction to a lot of the species of marine life you will see along the way on your NZ road trip. There are huge (protected) red spiny lobster (crayfish) to be seen while you are diving here as well as big snapper cruising the kelp beds.
3.Tutukaka and the Poor Knights Islands (3 days min.)
The cream of New Zealand's offshore diving can be found at the Poor Knights Islands. New Zealand's volcanic legacy is evident in this craggy group of islands which jut out of the Pacific ocean 25km off the east coast of New Zealand, right near the continental shelf.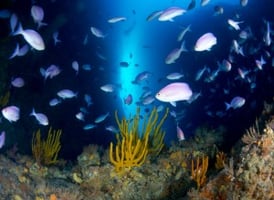 Credit: Dive Tutukaka
The East Auckland current which originates in the tropics sweeps past the Poor Knights island occasionally bringing with it tropical fish not usually found in New Zealand. With its offshore location the visibility is usually superb – 20m-30m is the norm. Add to this a huge amount of caves, swim throughs, walls, tunnels and drop offs and the fact the island group is now a protected marine reserve and you start to realise just how special this place is. Expect to see a huge diversity of fish life, plus kelp forests, nudibranchs, stingrays, sponges, and soft corals on your dive. It is one place your safety stop will never be boring with large snapper, kingfish and pelagics mid water on your safety stops.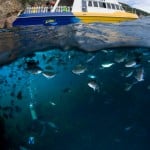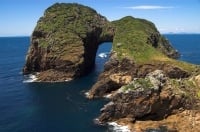 Credit: Dive Tutukaka
Some of the most amazing diving I've done around the world has been at the Poor Knights and I will never forget some of the highlights:
-floating mid water between 100 stingrays stacked in the current from surface to 40m deep in Northern Arch, it was like something out of Star Wars:
-a night dive in Rikoriko Cave, a huge cave both above and below the water with room for several large dive boats to moor overnight
-the safety stops outside Blue MaoMao arch with fish life everywhere and big snapper and kingfish coming in to say hello and tease me
If wrecks are your things then while you are in Tutukaka you could also dive the two ex NZ Navy wrecks which lie close to Tutukaka in coastal waters, the frigate Waikato in 28m and the wreck of the Tui in 32m.
Both have been at rest on the ocean floor for 15 years or more and are encrusted in rich sea life, nudibranchs, big schools of red snapper and make for good wreck dives. If your time is limited though, the Poor Knights win over these wrecks in my opinion, as there are still a couple of other good wrecks to come.
4. The Canterbury Wreck and surrounds (2 days)
Taking in some of the awesome coastline and coastal camp spots along the way like Oakura Bay, make your way to Whangaruru and the eastern Bay of Islands. Here at the clear waters of Cape Brett, Bay of Islands lies the recent wreck of another NZ Navy Frigate, the Canterbury.
Credit: Northland Dive

If you've dived the Waikato on your way North, it is very interesting comparing this wreck as it is still intact and being a recent wreck does not have the same underwater growth. Unlike the other two the wrecks is perfectly upright and intact though and has been opened up more making it a perfect dive site.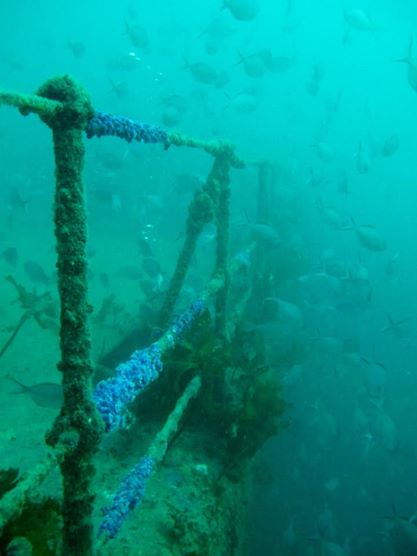 Credit: Northland Dive
The sheltered waters of Deep Water Cove where the 113m long wreck is located are close to the current swept Cape Brett, and so the visibility is usually superb and fish life can be spectacular. I still remember the first dive I did on the Cantebury in its first year at rest, it still looked like it had sunk yesterday and we had an awesome perspective of the wreck with 30m visibility . It is purpose sunk and easy to swim through with depths ranging from 12m to 38m, and we had some interesting encounters including a school of inquisitive squid on our safety stop. I'd rate this as one of the must do dives while in New Zealand.
5. The Rainbow Warrior Bay of Islands and surrounds (2 days)
The towns of Russell and Waitangi in the Bay of Islands are well worth checking out for some of New Zealand's rich early heritage. From Russell you will catch the car ferry over to Paihia and several of the dive centres in Paihia depart daily north to the wreck of the Rainbow Warrior (or alternatively you could dive with an operator closer to the wreck itself further north.) The wreck of the Rainbow Warrior lies off Matauri Bay, close to the Cavalli Islands and is a renowned dive site with a huge variety of sea life.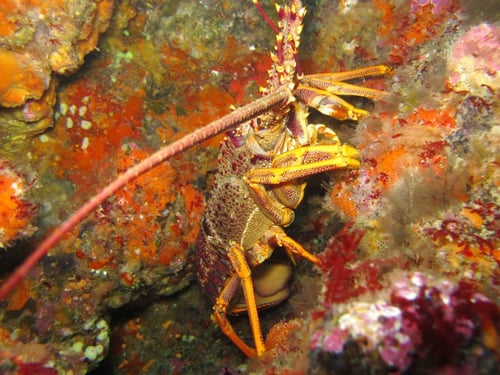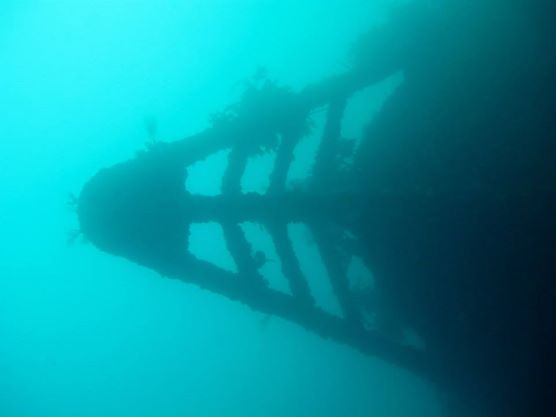 The Rainbow Warrior has the richest history of all the popular dive wrecks in the country. Once a protest vessel for Greenpeace, it was controversially sunk by French Government spies while at dock on the Auckland Waterfront, causing the death of one of the crew. It was refloated for forensic examination before being towed and sunk in its resting place off Matauri Bay as an artificial reef and dive site.
The vessel remains one of the main icons of New Zealand's Anti Nuclear heritage. For this reason it is another must do on a NZ diving road trip.
In saying that as I write this I realise it is the one dive I am writing about here that I have not done! Mental note to myself : go and dive the Rainbow Warrior!
6. Explore the Far North (2 days)
Travelling further north to the Doubtless Bay, the stunning Matai Bay is high recommended for some relaxed snorkelling and exploring, mind you there are deserted beaches like this all through the Far North. Gathering a feed of fresh shellfish or even lobster from the beach in some of these spots makes for a very rewarding dinner! Catching a small feed is all part of the Kiwi lifestyle. Just check the local restrictions of size and numbers of shellfish if you are going to gather some.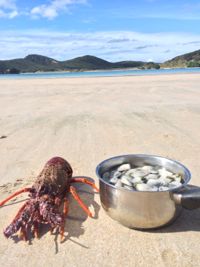 Matai Bay. Credit: Carl Muir
7. The Kauri Coast en route to the Coromandel (2 days)
What goes up must come down, and the best way to travel back down to the next diving mecca, The Coromandel is via Northland's Kauri Coast, taking in Hokianga and the giant living statue of a 2000 year old kauri tree called Tane Mahuta. The Kauri Museum further south tells of the rich pioneering heritage of this region and includes a lot of seafaring history too.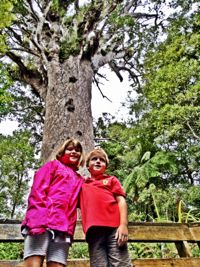 Tane Mahuta. Credit: Carl Muir

8.The Coromandel, Aldermen Islands and Mercury Islands (5 days)
Conveniently located within a couple of hours south east of Auckland is the spectacular Coromandel Peninsula, one of the most popular underwater playgrounds for Aucklanders. With 400km of coastline and a myriad of islands it is rich in an array of dive sites.
No wrecks here, just pure reef diving at its best!
The offshore Aldermen Islands 15km from the coast has very similar terrain and marine life to the Poor Knights Islands, but with its own interesting dives sites, tunnels, pinnacles and pelagics.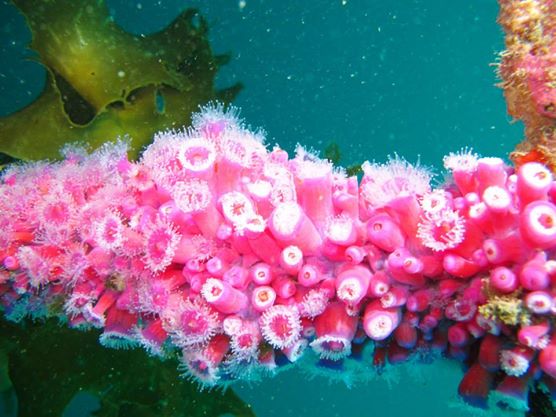 Credit: Dive Zone Whitianga
I may be biased - it is where I learnt to dive! - but I reckon it is right up there with the Poor Knights as some of New Zealand's best diving. Huge schools of mackeral are often seen on the kelp beds being terrorised by giant kingfish, and the colours of the fish and encrusted boulder banks are almost more colourful than a tropical dive.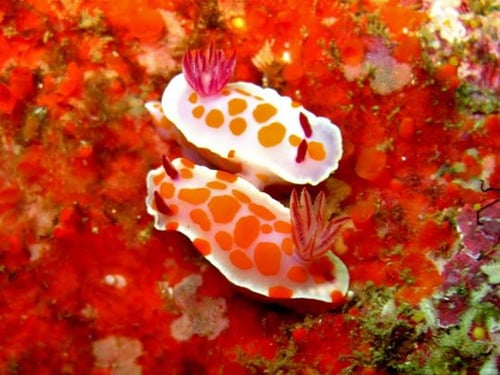 Credit: Dive Zone Whitianga
Hahei Marine Reserve
would have to be one of the most picturesque marine reserves in the country with the much photographed Cathedral Cove at its shoreline. This marine reserve is already teeming with lobster, and snapper which will follow you around the popular snorkel trail.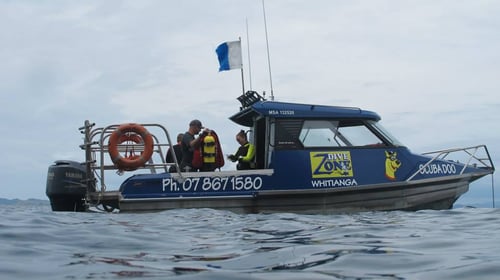 Credit: Dive Zone Whitianga
The Mercury Islands are a hidden gem and lesser known dive spot for the international visitor, but hugely popular for Kiwis who do like to keep a secret to themselves sometimes. Some of the diving here is simply superb like Richards Rock which is teeming with trevally and kingfish and the beautiful Never Fail Rock covered in sponges and soft corals. There are also a lot of cruisy options and one could spend a lifetime diving 'The Mercs' and not explore all the caves, tunnels and gutters that exist for the underwater aquaholic. For those with time, Castle Rock lying 7km off Hot Water Beach is another epic dive, teeming with schools of fish, and walls dropping from the surface into 40m+.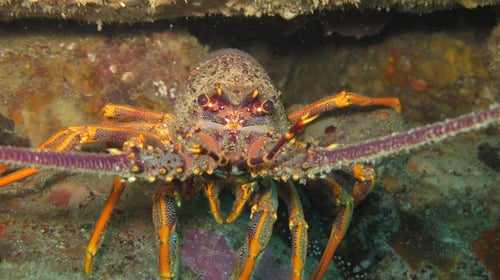 Credit: Dive Zone Whitianga

The Coromandel lends itself to road tripping, stopping off at all the vistas and exploring the hundreds of golden beaches and secluded coves along the way. You never know - you might end up staying for good it is a great place to live if you are into diving and fishing! I did! I'm lucky to live in Tairua, and can sneak out for some very nice diving just a couple of minutes from home.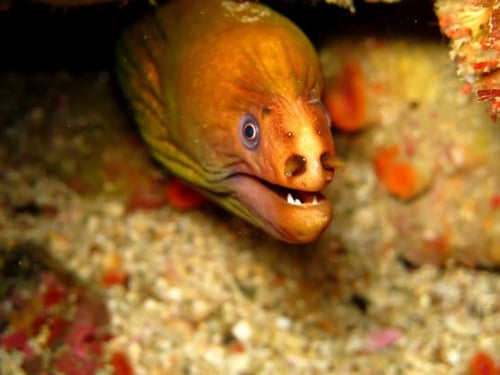 Credit: Dive Zone Whitianga

9. White Island and Tauranga (2 days)
The active volcano of White Island lies 30 nautical miles from Whakatane and is one of the must do's for any North Island road trip regardless of whether you dive it or not. But those who do not dive will be missing out on some spectacular underwater sights. It is well known for big pelagics, especially kingfish, and marlin and tuna have been known to be seen in summer.
If you have the time there are also some great dive sites around Mayor Island.
10. Back to Auckland or…..carry on!
If you've run out of time, then it is time to head back to the Wilderness base and say goodbye to the New Zealand shores. Dining at one of Aucklands world class restaurants like Depot or Ostro on some nice fresh seafood might be a good way to end the journey.
But if you've got more time on your hands you could venture further south and discover some more of New Zealand's great dive sites and marine life in Central North Island and South Island including:
-Feeding the stingrays at Gisborne
-Diving the south coast of Wellington
-The Malborough Sounds and the wreck of the Michael Lermontov wreck - a Russian cruise ship which sunk at the entrance to the sounds
-Marine mammal watching in Kaikoura
-Diving in the clearest water in the world at Pupu Springs
-Shark cage diving with great white sharks at Stewart Island
New Zealand is a diving mecca and we're pretty sure that if you come and explore our underwater world we'll probably see you back in New Zealand soon after!