New Zealand has to be one of my all-time favourite photography destinations in the world! When I recently visited with Wilderness Motorhomes I was treated with an awe-inspiring winter wonderland. I spent two weeks exploring what NZ has to offer and here are some of my favourite winter destinations.
It wouldn't be an NZ road trip without visiting the iconic Mt Cook road. When I arrived, it was in the middle of the night, the sky was clear, the roads were icy and the moon was reflecting the perfect amount of light on the freshly dusted snowy peaks. I spent the night in the white horse hill campground listening to the snow settle on top of the motorhome as I fell asleep.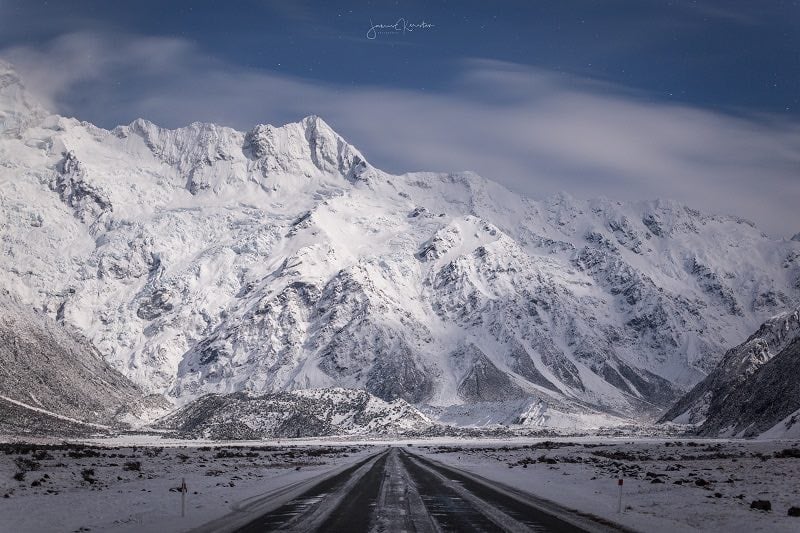 I spent the next few days exploring the aoraki/Mt Cook park visiting some of the best glacier lake views I've ever seen! Waking up with more snow I headed off to Tasman Lake for sunrise where I was treated to an icy shore with more icebergs left right and centre.
I have been to the South Island 3 times previously and I have never had the joy of experiencing the road under snow like I have on this trip. It truly is an amazing place and comes even more to life when there's snow!
Winter isn't just about the snow though, there's something about the weather conditions that make for some great sunrises and sunsets. I headed off to Glenorchy, it's probably another one of my favourite South Island destinations that are a little less touristy. When I arrived I was treated with -4°C, no wind, clear skies and the sun gently rising over the snow-capped peaks.
About half way along the road between Queenstown and Glenorchy you can stop off and see the old Glenorchy jetty, this makes for an interesting foreground to compliment an already amazing scene. With the calm weather sticking around I decided to stay for sunset. It's so close to the road that I was able to leave the camera going on a self-timer and while I was back to the motorhome and cook dinner!
To finish off the trip I decided to explore the road less travelled, that's where I discovered a more adventurous route out near Lake Ohau. I wouldn't recommend this drive for the faint hearted as it can get pretty hairy, but the views at the end are completely worth it!