Nicola Easterby from Polkadot Passport recently toured the South Island in one of our Freestyle2 motorhomes. Along the way she captured some amazing images and video. Here is her travel diary from her 9 days on the road.
Day 1- Christchurch to Lake Tekapo
Our epic road trip begun in Christchurch, where we picked up our fabulous Freestyle 2 Motorhome from the Wilderness base and set off on the windy country roads of New Zealand's South Island. Our first stop was Lake Tekapo. We were provided with an exclusive Wilderness Guide to all the best places to freedom camp on the South Island, and once we had arrived at our first spot, we knew this book was going to become our best friend throughout our trip. The area was virtually deserted, barring one other van parked about 100 meters away from us. The next morning, we woke up and ate breakfast to the unbelievably beautiful view of the sun rising over the mountains, causing the water to glimmer.
Day 2- Lake Tekapo to Mount Cook National Park:
As we made our way to Mount Cook National Park, we stopped for a picnic at the stunning Lake Pukaki before taking a windy road towards the mountains. We may not have been able to see Mount Cook on this dreary afternoon, but we did manage to park up right in front of a glacier! We spent the evening making dinner in our motorhome, with this beautiful view in our line of sight. When we woke up, we were greeted with the magnificent sight of a clear sky and could now see Mount Cook peeking through the horizon! We took the opportunity to walk the extremely picturesque Hooker Track and got to see the mountains in their full glory.
Day 3- Mount Cook to Wanaka:
Wanaka was the first large town we stopped at on our journey. With an endless expanse of lake with a background of rugged mountains, the place is truly stunning, and thanks to the rise of tourism, you'll find plenty of hip cafes and restaurants to hang out in. Unfortunately, this tourism kick has meant that freedom camping is no longer allowed in the area. This meant parking up at a proper campsite by the lake. The next morning, we woke up early to hike up to Roy's Peak. It was an uphill battle, but the 6-hour trek was worth it for the unbeatable views over Lake Wanaka from the top!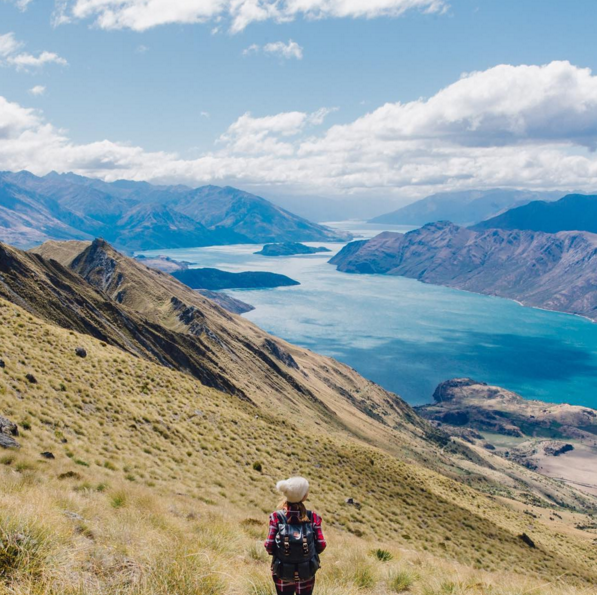 Day 4- Wanaka to Queenstown:
Our next stop was Queenstown - the Adrenaline Mecca of New Zealand! We stayed the night at a campsite right in town, as again, freedom camping isn't allowed in the area. Our first day in Queenstown was filled with thrills as we visited the top of the Skyline, braved 'The Ledge' bungy jump, and went luging.
After we had done our share of tourist activities in Queenstown, we drove up the road to Remarkables to another recommended Wildernesst spot. Here, we were greeted with the most incredible panoramic views over Queenstown. We set up our camping table and chairs and had a picnic on top of a hill, watching the sun set as we drank wine and ate cheese. We couldn't have asked for a better picnic spot!
Day 6- Queenstown to Fiordland:
We made the scenic journey from Queenstown to Fiordland, where we stayed at a little DOC site next to a dazzling, icy blue river, surrounded by mountain ranges and grassy fields. The next morning we woke up bright and early and were lucky enough to take a cruise around Milford Sound in the sunshine- a very rare occurrence for one of the rainiest places in the world!
Day 7- Milford Sound to Haast:
It may have been a long drive day, but the route we took from Milford Sound to Haast was filled with nothing but stunning scenery to keep us occupied. That night, we pulled up and parked on Haast Beach just as the sun was setting over the ocean. We made a camp fire and sat on our chairs, eating dinner and gazing out at the golden expanse of driftwood-filled beach in front of us. Once the light has faded, we made s'mores, then sat in front of our bonfire as we watched the milky way appeared before our eyes.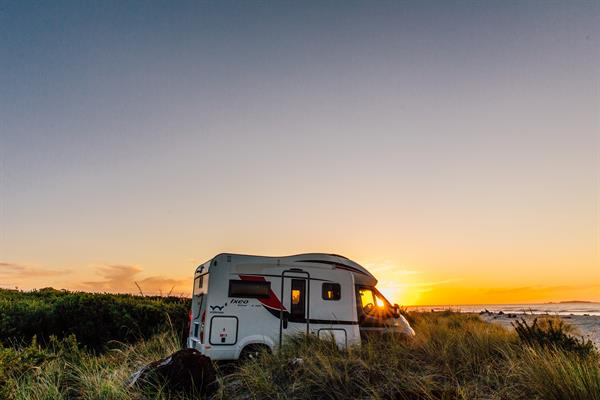 Day 8- Haast to Arthurs Pass:
We packed up early from our stunning beachside location and headed on to Arthur's Pass. On the way, we stopped off at Fox Glacier and had a helicopter ride which landed on the top off the glacier! It was a mind-blowing experience that neither of us will forget in a hurry. After a quick lunch stop at Mathison Lake, we made our way through windy roads to a gorgeous Wildernesst campsite in the middle of Arthurs Pass. We parked in a grassy field next to a flowing stream and watched the sun set over the magnificent surrounding mountain ranges. We couldn't have asked for a better place to spend our last night!
Day 9- Arthur's Pass to Christchurch:
The day had come to finally drive our motorhome back to the Wilderness base and end our road trip around New Zealand's South Island. What an epic adventure it has been!