Hey there! I'm Chelsea from AmeriAus. Recently, my partner, Darrell, and I had the pleasure of travelling around beautiful New Zealand AGAIN with the wonderful Wilderness Motorhomes team. New Zealand is an easy place to get obsessed with so you can't really blame us for wanting to return year after year...
Last year, we travelled in June (Winter) in the Wave 2 motorhome and had so much fun exploring iconic, must see places like Lake Tekapo, Mt Cook, Wanaka, Queenstown, and Fiordland National Park... This year was a little different. We hit the road in the first week of May (Autumn) but instead of travelling South like many do, we decided to see what Northern South Island had to offer. Northern South Island tends to not get as much attention as it's Southern half. It's really a shame because, as you'll see, it's just as amazing.
Thinking about exploring the Northern half of South Island on your holiday? Well you're in luck because I've made a guide of all the places you need to see as well as some travel tips which will hopefully come in handy along the way!
Kaikoura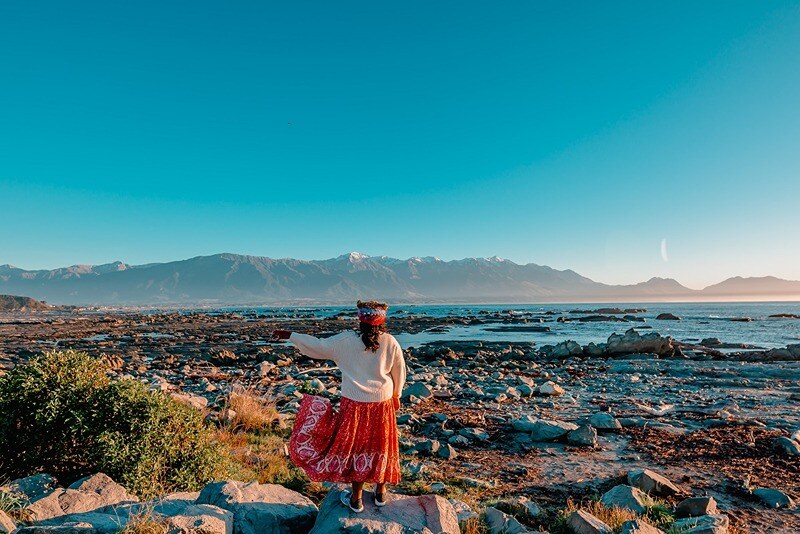 After leaving Christchurch our first stop was the beautiful seaside town of Kaikoura. If I could live anywhere in the world Kaikoura would definitely be at the top of my list. First of all, you get incredible views of snow capped mountains… from the beach (!!!) and adorable NZ fur seals sunbathing as far as the eye can see... What more could you ask for?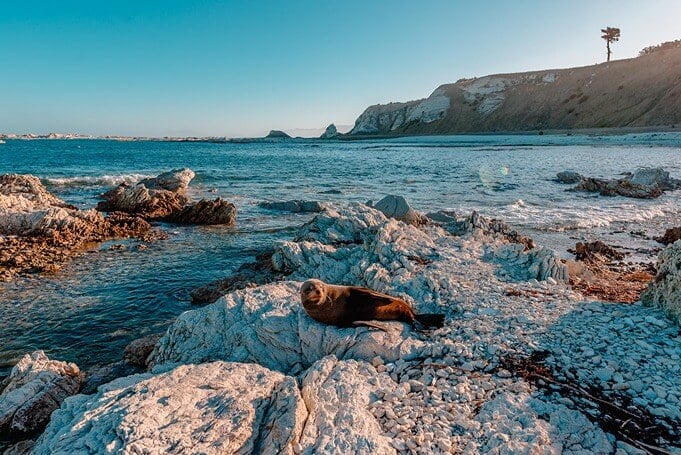 Must dos: Sunset Seal Kayak, Kaikoura Peninsula Walkway
Best campground: We highly recommend "The Point". The views are great, the hosts are lovely, only a few minutes walk to the seal colony, and the property is an active farm! They run sheep shearing shows daily so be sure to check that out as well. Be sure to book ahead via the Campable app to avoid disappointment. Spaces are limited. It's also walking distance to the Kaikoura BBQ Kiosk which comes recommended by many locals.
Tip: Grab an excellent coffee, and pie from Cafe Encounter. While you are there you can also book a number of different activities and wildlife experiences.
Abel Tasman National Park
Abel Tasman National Park is the jewel in the crown of Northern South Island. It's home to some of the most beautiful beaches in New Zealand with the most amazing turquoise blue water. The best way to experience the beauty of this area is by boat. So be sure to book a Kayak Tour and/or Water Taxi before your visit.
Must dos: Split Apple Rock, Kayak Tours (check out Golden Bay Kayaks), Water Taxis, Cable Bay
Best campground: Kaiteriteri Beach Motor Camp is our pick of the campgrounds. It has breathtaking views and sits on the lovely golden sands of Kaiteriteri Beach which also happens to be the main hub for the majority of water activities in Abel Tasman (kayak, stand up paddle, water taxis, etc.)
Tip: When visiting coastal attractions always be sure to check the tides. Some places can't be fully accessed dependent on the tides.
Wharariki Beach/Cape Farewell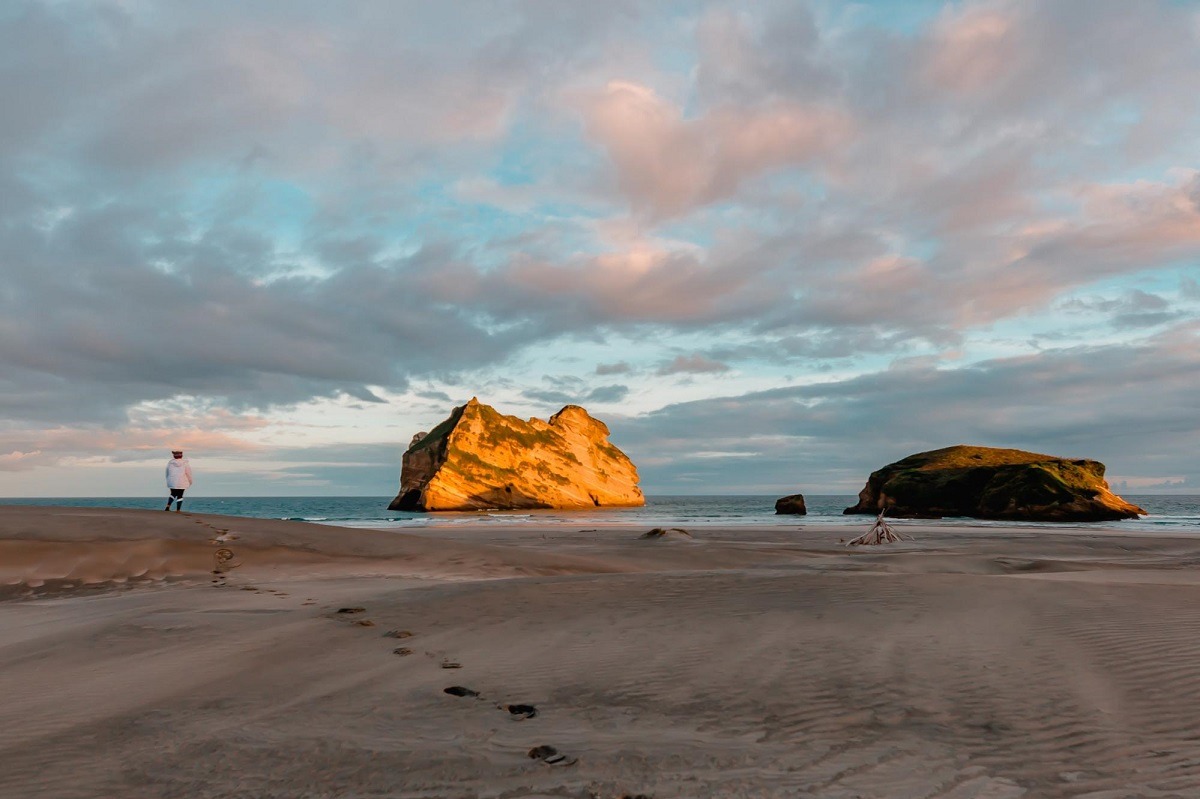 You've no doubt seen the insanely beautiful Wharariki Beach featured on postcards, travel guides, or even as the screensaver on your desktop computer. It is renowned for its picturesque beauty and a trip to Northern South Island wouldn't be complete without a night or two there. Also, while you are in the area its definitely worth paying a visit to Cape Farewell. Apart from having some very dramatic cliffs overlooking the ocean, it's also the Northernmost point of South Island!
Must dos: Wharariki Beach Walk, Cape Farewell Track
Best campground: If you want to be close to the action then Wharariki Beach Holiday Park is the way to go. There is little to no Wi-Fi signal in this area and the campgrounds facilities are pretty basic. You are paying more for the handy location than anything else. The holiday park is only about a 3 minute walk to the start of the Wharariki Beach track. It's also only a 5 minute drive to the Cape Farewell carpark.
Tip: Make sure you have all the fuel, food, and other necessities you may need before settling in for the night. The next major town (Collingwood) is about a 36 minute drive away.
Punakaiki/Greymouth
From Cape Farewell make your way down the West Coast to the seaside town of Punakaiki. This area has some of the most insanely beautiful coastal roads we've ever travelled on. It definitely gives the Great Ocean Road a run for it's money! It's a 39 minute drive to Greymouth which is home to the famous Monteiths Brewery as well as a number of other nice bars & restaurants.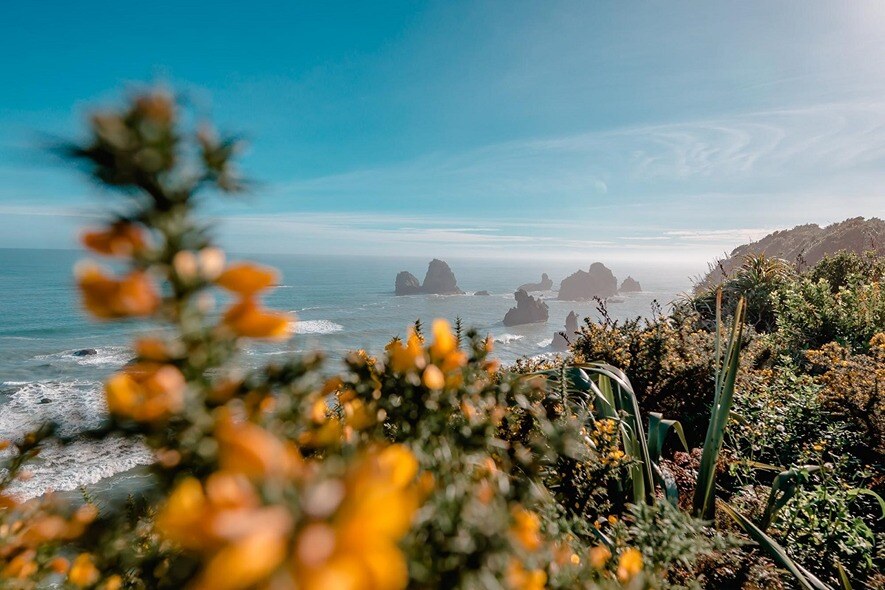 Must dos: Great Coast Road Drive, Motukiekie Beach (enjoy views of the incredible sea stacks from the lookout or if you are feeling adventurous tackle the beach walk), Pancake Rocks/Blowholes, Monteith's Brewery Tour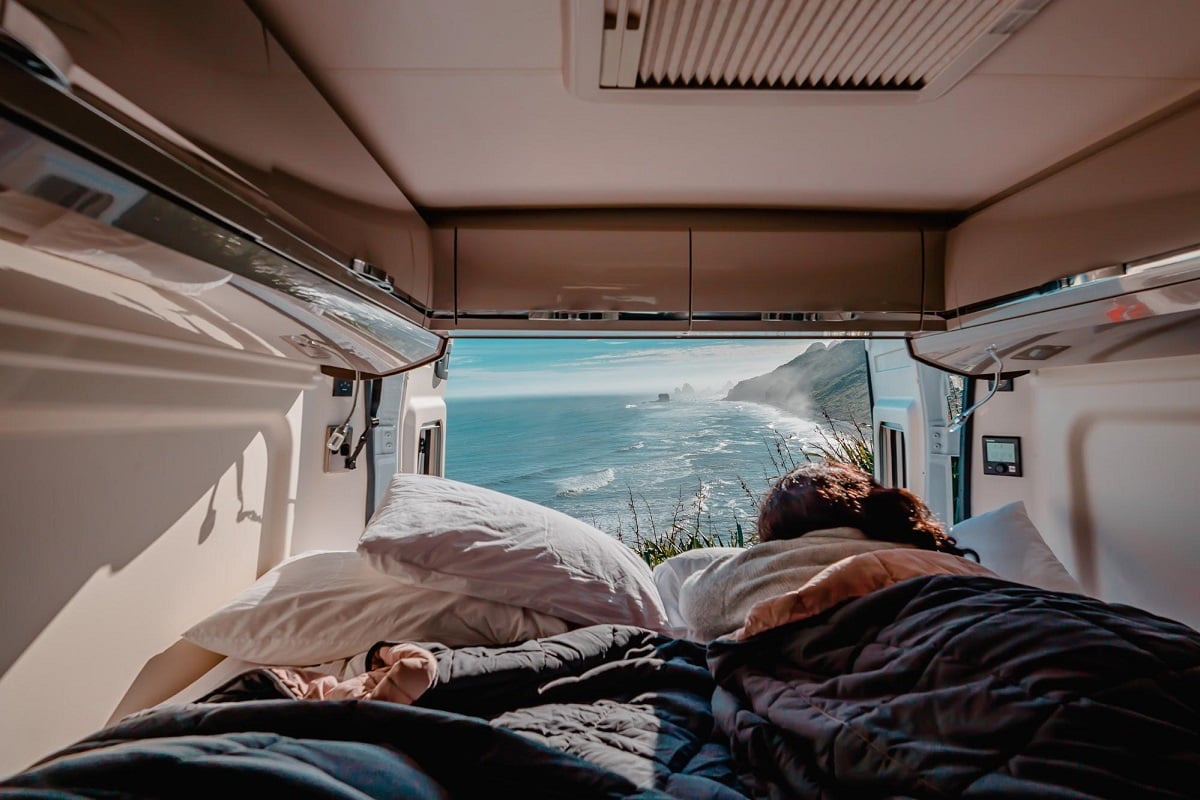 Best campground: Punakaiki Beach Camp - who doesn't love a holiday park on a beach?! Punakaiki Beach Camp puts you in the center of all the action. It also has great, clean facilities and free Wi-Fi available in the camp kitchen.
Tips: If you plan to take on the Motukiekie Beach walk for your safety it is best to start the track an hour and 30 minutes before low tide. If you are visiting Pancake Rocks/Blowholes, however, for the best viewing experience visit at high tide. Don't leave Greymouth without grabbing some delicious fish and chips at the Sante Fe Milk Bar. We recommend the elephant fish!