Wilderness' new Adventure Support Manager has experienced a lot of firsts in the past few months, including his first time in Aotearoa and his first time travelling New Zealand in a motorhome. For TJ Tingson, it's a big change from his homeland of the Philippines, but he and his family are loving their new life here.
What TJ has plenty of experience in is tourism and customer service – meaning he knows exactly how to make each and every Wilderness guest feel comfortable when they arrive at the company's Auckland base for their campervan holiday in New Zealand. TJ has worked in tourism and hospitality management for the past 13 years (and even has a Master's degree in the field) most recently working at The Marriott in Manila and managing a boutique hotel on a heritage island in the Philippines.
When his wife had the opportunity to study in New Zealand for her post-graduate degree, the couple thought it was the perfect time to see the quality of life that this country could offer them and their two small children.
A new adventure
As Adventure Support Manager, TJ looks after the team responsible for welcoming Wilderness guests and taking them through their motorhome and its features when they arrive to collect it at the beginning of their holiday in New Zealand and seeing them again when they return. "It's a first for me because motorhoming isn't a big industry in the Philippines," he says. "I've managed hotel rooms before, but this is like managing a moving hotel room!" he laughs. "You can often see the mixed emotions when guests pick up their vehicle. There's sometimes a little bit of anxiety but also excitement, and you just want to be part of that and make sure they enjoy it. Part of our brand promise is making sure you get personalised service that is second to none – so we always make sure guests feel that all the way."
Having started at Wilderness in April, TJ says he's loved how easy it has been to settle in and has been struck by the company culture. "One of the reasons I chose Wilderness was for its values, and I think one of its most important ones is 'He Tangata, he tangata, he tangata' ('It is the people, it is the people, it is the people' in Maori) and I've always believed that it is the people who make a company really great and that's how we work here – like family, but at the same time working towards one goal: delivering the dream New Zealand holiday for our customers.
Exploring with Wilderness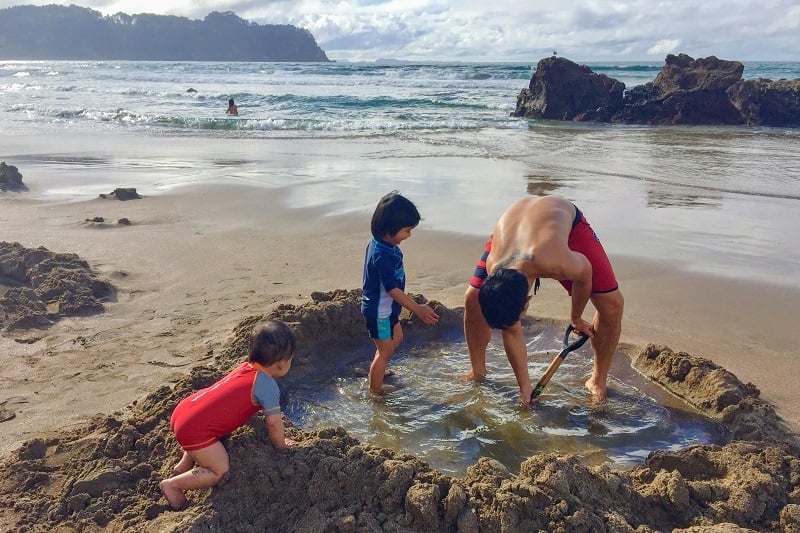 As part of TJ's introduction to Wilderness Motorhomes, he and his family took the Ranger 4 campervan away for five days to experience the motorhoming lifestyle and to discover more about New Zealand. They freedom camped on the Coromandel Peninsula and stayed at the Hot Water Beach Top 10 Holiday Park, where TJ says they had great fun playing on the beach with his four-year-old son and one-year-old daughter. "It was really amazing to be on a geothermal beach, dig in the sand and see the hot water come out. We don't have that in a tropical country." From there, the family drove to Rotorua, staying at the Blue Lake and experiencing the Maori cultural tour at the Tamaki Maori Village. TJ says it was a fantastic introduction to life in New Zealand and he can't wait to see and do more.
TJ's top tip
"Travelling with a one-year-old and a four-year-old can be a little bit challenging if you're driving long distances, so you definitely need to stop every hour and a half or so to let them have a break and stretch out before getting back on the road."
TJ's favourite motorhome spot
"The Blue Lake (Lake Tikitapu) was amazing. We did the 5.5km hike that circles the lake and it was just beautiful. But we're still discovering! I think for our next trip we'll explore the South Island."