Married airline pilots Andy & Jo recently relocated to Australia from Ireland. Their jobs and their passion for travel have allowed them to travel the globe. Here they recount their first trip to New Zealand's North Island & first motorhome experience.
It's pretty cool when the perks of your job allows you to indulge your life passions. And for my husband Andy and I our careers as airline pilots have meant we are lucky enough to do just that. We love the travel that comes with our jobs and even on our time off can't seem to satisfy our wanderlust appetite for more exploration.
We spent our early careers living, flying and travelling Europe, then a 5 year chapter in the Middle East, before finally fulfilling our dream of emigrating to Australia a year ago. A new home, a new part of the world to explore and after hearing so many inspiring tales of motorhome adventures in New Zealand we decided it was time to try a new way of travelling.
Our jobs mean we are pretty accustomed to life in hotels and experts in the art of packing and unpacking. When we travel for leisure we tend to go all out and squeeze tonnes of locations into a trip, something which requires a lot of forward planning and organizing, and tends to prevent that magical feeling of spontaneity. So for our holiday to New Zealand's North Island we decided to take a different approach, opting for a motorhome and a chance to have a more flexible holiday, minus the packing/unpacking (bliss!) while still managing to stay in a variety of locations on our whistle-stop week-long tour.
We picked up the Cruise 2 motorhome after 2 nights in Auckland (we just couldn't help ourselves!) and enjoyed the next 7 days navigating our way around the centre of the North Island in a blissfully fun-filled haze.
The thing I found trickiest about using this wonderful home on wheels advantageously was making each day of our relatively short trip count. As wonderful as it is to be spontaneous and see where the wind takes you, it is reassuring to have a pretty rough but flexible plan as to what route you plan to take and the things you want to cover.
Our solution was to make a list of our must-dos and a list of our "if we have time we'd like to-dos", pin them all on a map, and find the most logical driving route to cover them. If we found ourselves with an extra bit of time at a particular stop we could take a look at some of the things on our second list, or if we felt like a chill we could simply park up at some stunning location, take it easy and enjoy the moment. And I can strongly testify to doing the latter as much as possible. On every turn our jaws dropped as we caught sight of another amazing mountain or lake or volcano. Yep, New Zealand is just as awesome as they say.
Our week long itinerary went something like this…
Day 1
We touched down in Auckland late afternoon and took the Skybus to Grand Hotel Skycity for our 2 night stay. Unpacked and enjoyed a casual dinner with the locals in the balmy evening air at The Depot. No need to Google map this restaurant, just follow your nose. The aromas emanating from within are incredible and the food more than lives up to the scent!
Day 2
A long lazy buffet breakfast at our hotel, then time to get our tourist hats on for a visit to Sky Tower and a wander around the attached Casino. If you enjoy walking we can highly recommend a city centre ramble beginning among the vintage boutiques of St Kevin's Arcade, meandering North past Aotea Square, through Albert Park then North-West towards bustling Viaduct Harbour to enjoy a sundowner at one of it's many bars and cafes. We finished our day with a very special meal (every holiday has to have at least one!) at Soul Bistro & Bar. Beautiful restaurant cocooned in the most breathtaking flowers. The staff are happy, the food is incredible (try the lobster roll - so good you'll want to smear it all over your body), and any restaurant that's serves champagne chasers with it's cocktails firmly gets my vote!
Day 3
We took a taxi to pick up our motorhome from Wilderness's Auckland airport base. From the moment we entered the office I knew we had made a great choice. We were greeted by a thoughtful welcome board with the names of the customers picking up and dropping off their vehicles (it's the little things). The office is bright, airy and open plan. With bookcases full of travel and fictional literature, DVDs and a big overflow box of things previous travellers have left behind - all of which you can help yourself to. We picked up tinfoil, toilet paper and some washing up liquid, saving us buying them later. What a great idea!
Getting to grips with the Cruise 2, AKA "Lawrence"
Next Tony gave us a thorough show-through of the motorhome's various features and ensured we were completely equipped before hitting the open road. Now for me, who had never set foot in a motorhome, I expected a slow vehicle, something potentially cumbersome to drive and something that would take a bit of getting used to. But I was delighted to discover I couldn't be more wrong. "Lawrence", as he became affectionately known, was easy to manoeuver from the off, cruising well on the highways and easy to thread around the narrow country lanes on our way to Hobbiton.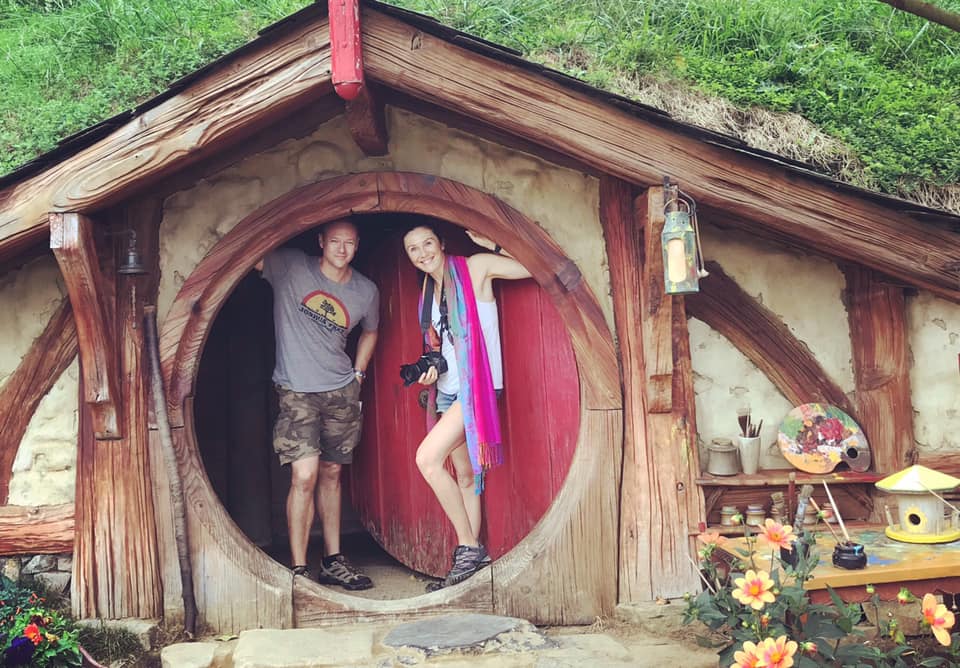 Hobbit Holes in the Shire
There we stopped off and stepped into the magical world of Bilbo Baggins, and spent an afternoon strolling the lush pastures of The Shire. If driving from Auckland this is a great way to break up the drive to the East Coast or to Rotorua. Tours are around 2hrs and finish with a free ale at The Green Dragon. After the tour we headed East to Papamoa Beach, and being first "motor-homers" we played it safe the first night and stayed at a campsite - Papamoa Beach Resort. After arrival and hooking up the electric power we settled into cooking on the well-equipped compact kitchen before our first night in the cosy double bed listening to the rain outside.
Day 4
Waking up on our first morning it hit home just how wonderful the days ahead were set to be - what an amazing feeling to wake to the stunning ocean view still wrapped up cosy in the duvet. We cooked breakfast inside and enjoyed eating outside at the picnic table and chairs provided by Wilderness, then spent a wonderful day soaking up the fresh ocean air & hiking Mount Maunganui to enjoy spectacular views, then it was onwards to Rotorua.
Day 5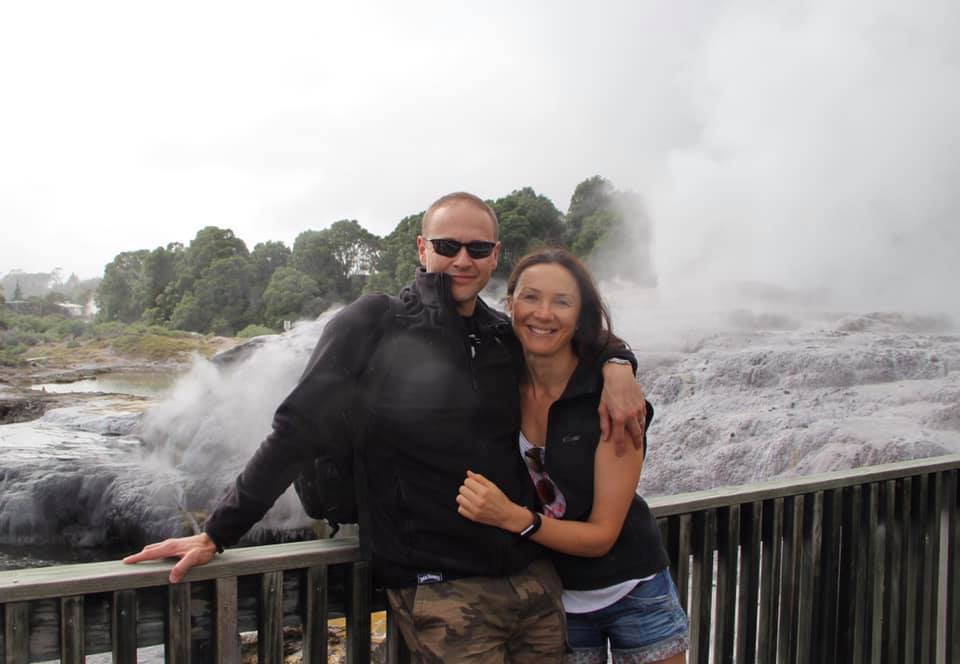 A fun morning spent at Te Puia, home to Pōhutu ('poor-hoo-too'), the Southern Hemisphere's largest active geyser. We got to experience a traditional Māori welcoming ceremony and jumping mud pools - one of the coolest most bizarre natural wonders I have ever witnessed.
The evening was spent at Tamaki Māori Village, stepping back in time to an authentic Māori village set in an ancient forest. It was great fun taking part in activities from days gone by, topped off with the traditional Hāngi feast, a meal cooked on hot stones in a traditional underground oven. It was SO good!
Day 6
Time for a morning of adrenaline-pumping fun at Skyline. Start by riding the gondola to the top of the mountain for incredible views over Lake Rotorua. Once at the top the famous luge is a must.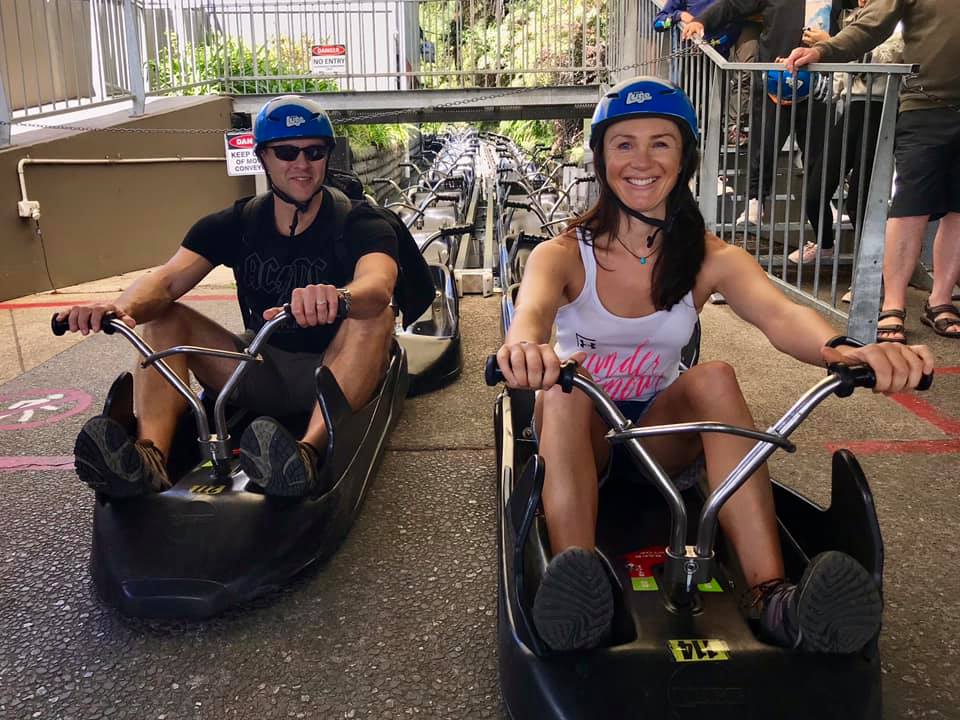 Getting competitive on the Luge
Plus you can go zip lining and then do as I did and scare yourself silly on the sky-swing. And it's definitely worth making time for the reasonably priced buffet lunch at Stratosfare.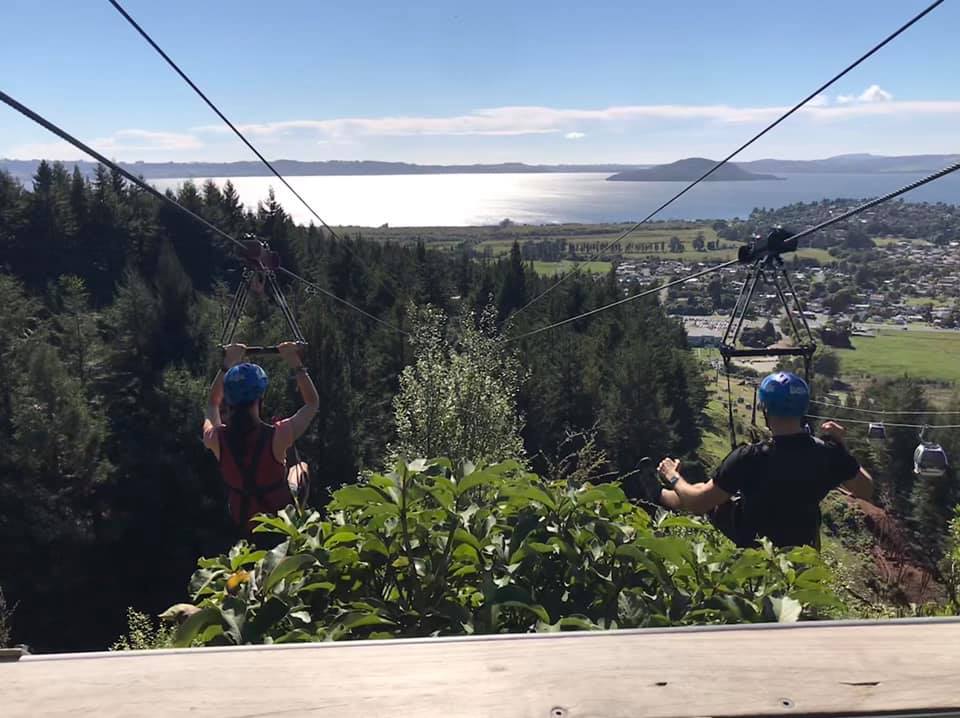 The afternoon was spent losing ourselves in the thermal wonderland park of Wai-O-Tapu, a theme park where the attractions are 100% natural. You'll stroll past bubbling mud, sulphur waterfalls, steaming vents and lakes of incredible colours - neon oranges, yellows and greens - given their colour by mineral deposits.
The park is cleverly thought out with lots of great viewing points along the well planned path keeping the next sight carefully hidden until the right time.
Some of the highlights are the Champagne Pool, where tiny bubbles make it look like a huge lake of bubbly, and the Lady Knox Geyser. Ensure you time your visit to watch her erupt – she only goes off once a day at 10.15am, shooting out boiling water 20 metres into the air!
That evening it was onwards to Whakapapa with a quick stop off to view the mighty Huka Falls.
Day 7
It is said "The best view comes after the hardest climb". With much anticipation we embarked on the Tongariro Alpine Crossing, invitingly hailed as New Zealand's "most difficult day hike". It was our final day and really helped finish our trip on a high (literally as well as figuratively!). A 20km hike, over 1900m terrain through a volcanic alpine landscape over 3 active volcanoes, spectacular crater lakes and steaming vents. Temperatures went from 20deg to minus 10 and back again. It was not easy but when every turn takes your breath away…
We arranged the bus transfer from outside our campsite at Whakapapa with Dempsey's buses, who were fantastic. Sue was our driver and took us to the start point of the hike, imparting lots of useful information on the way. She gave us the various times she would be at the finish line's car park and advised if we were running late to make sure we called before they notified search and rescue (they count you out and count you back in).
So after hearing all the warnings and reasons not to do the hike we began at the 19.4km trail marker - warming up with an easy summer's day stroll through the valley along the well trodden path, all the time getting closer to the menacing Mount Ngauruhoe (Mount Doom in Lord of the Rings). If you're lucky you may catch a view of the summit before it is engulfed again in the cloud that never leaves it for long. The path gradually climbs along the valley between the 2 mountains until it runs out of gentle gradient and starts the steep climb towards the saddle.
With every step the temperature drops. Add to that any wind-chill and you can expect sub-zero temperatures so do make sure you layer up.
Once on the saddle the walk picks its way around some incredible smoking craters before the final push up to the highest point by Red Crater.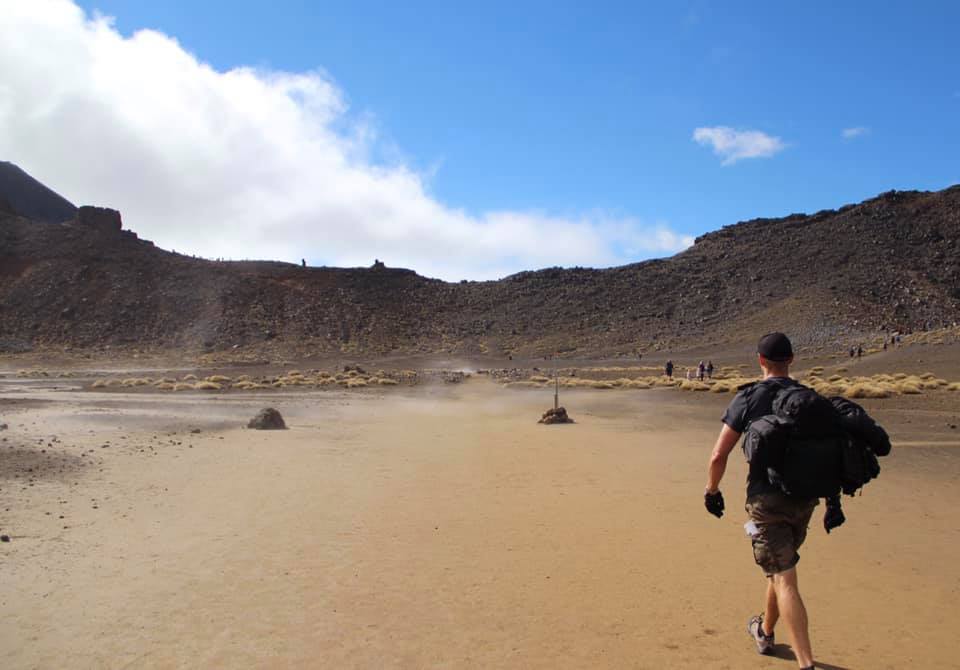 Trekking the ridge between the South & Red Craters - feels like another planet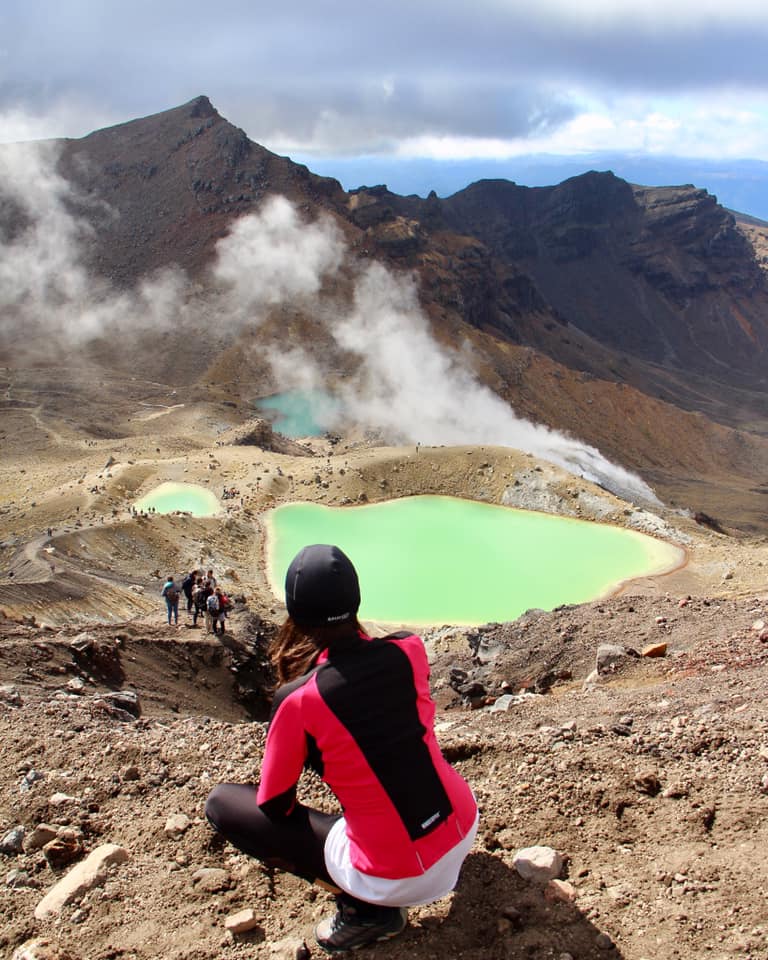 Taking it in – The Majestic Emerald Lakes
From here the well prepared path ends and requires a brave descent along the ridge but with every step the red crater reveals more stunning views bringing you to Blue lake, a beautiful and seemingly out-of-place body of water high on the crossing.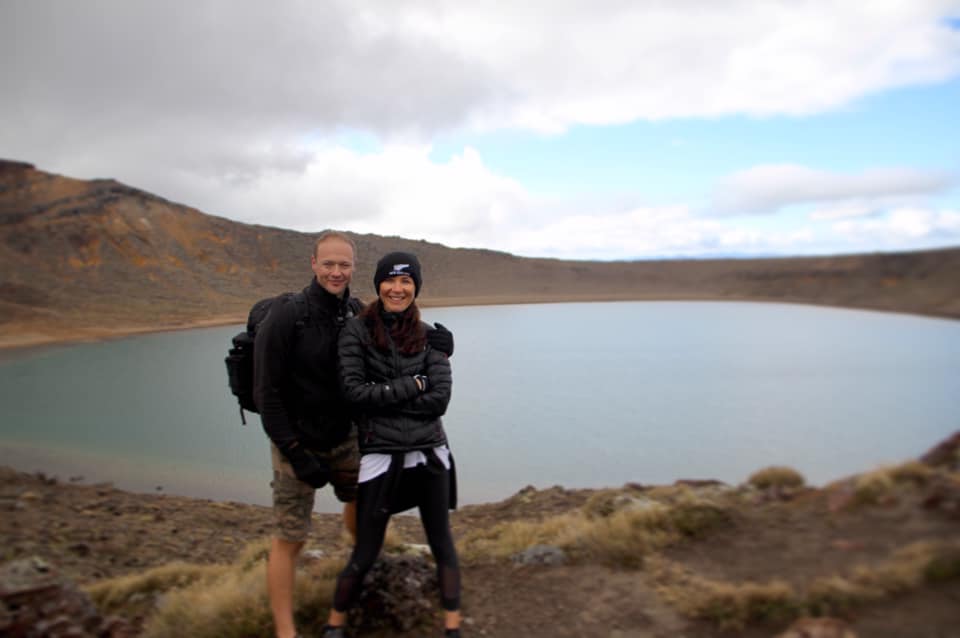 Blue Lake
Now the descent really gets going and as you round the mountain Lake Taupo in full panorama comes into sight. With clear visibility it feels as if the whole country is literally laid out in front of you.
It's here that you'll notice the finishing car park on the horizon and will inwardly wonder if you will ever actually reach it. Don't think about it, just keep on descending. The gradient slowly shallows and the vegetation changes from scrubland to trees until you find yourself in lush forest. A last little surprise is the 700 metres of high risk Lahar Hazard Zone, which if anything certainly provides the motivation to keep you moving! Round one final corner and the car park suddenly appears from the forest.
19.4kms, 700m of ascent, 1100m of descent and 3 wardrobe changes later we made it. And as promised, Sue arrived in the bus right on time. It was a fun journey back swapping tales with the other hikers about a pretty incredible day. Overall a challenging and rewarding experience with spectacular views every step of the way. Just remember to keep looking behind you to be sure not to miss a single bit of it
Day 8
Time to go home. We rocked up to Wilderness's Auckland airport depot where we had started our adventure just one week before, the staff warmly welcoming us back, keen to hear tales of our adventures and ensuring our handover was smooth and speedy. The ride to the airport is all part of the package and such a great logistical help.
As the landing gear retracted after takeoff we bid farewell to New Zealand's beautiful North Island and on the cruise home "debriefed" on the whirlwind week gone by. We couldn't believe just how much we had crammed in and how strangely chilled out and unexhausted we felt - something that I'm convinced was entirely down to our mode of transportation.
If you have a limited amount to time to see either the North or South Island then motorhoming is the only way to go. Had we opted for hotels we could have just about covered everything but it would have been complicated and stressful and I'm certain that we would have returned home not having taken in what this awesome country is really about.