With around 400 golf courses scattered its length and breadth (five of them in the world's top 100 outside the US as ranked by Golf Digest for 2018*), New Zealand offers a wonderful holiday for keen golfers, and travelling by motorhome is a fantastic and stress-free way to experience it.
With the freedom of a motorhome, you can adapt as the mood (or the weather!) takes you. You don't need to worry about flights, rental cars or pre-booked accommodation. If the weather turns bad you can simply move on to your next location. Bear in mind that many of the country's golf courses are set in regions with spectacular landscapes and thanks to Wilderness Motorhomes being certified self-contained and eligible to freedom camp, you can explore to your heart's content.
With all the creature comforts on hand in your motorhome too, you can take a break from the greens for a cup of tea or a rest whenever you want. And, perhaps most importantly, there's plenty of room for all your clubs in the spacious motorhome garage.
If you like the idea of experiencing the world-class golf that New Zealand has to offer, at your own pace, then here is an overview of some of the best courses throughout the country.
NORTHLAND
Tara Iti
In Mangawhai, roughly 90 minutes north of Auckland, is one of New Zealand's newest and possibly most exclusive golf courses. It has a capped private membership but there is limited availability for non-members to play and stay. Tara Iti was created by renowned American designer Tom Doak and Golf Digest ranked it the #6 course in the world this year. With its undulating dunes and the Pacific Ocean just metres away, it is high on the list of golfers everywhere.
Kauri Cliffs
This par 72 championship golf course is about 3.5 hours north of Auckland, in beautiful Matauri Bay. It offers five sets of tees to challenge every skill level. The 18-hole course features ocean views from 15 holes, with stunning views over the Pacific Ocean and offshore Cavalli Islands. Six holes are played alongside cliffs that plunge to the sea, while the inland holes wind through marsh, forest and farmland. Kauri Cliffs is currently ranked #37 by Golf Digest.
CENTRAL NORTH ISLAND
The Kinloch Club
New Zealand's only Jack Nicklaus-designed course is about 3.5 hours south of Auckland, not far from the shores of Lake Taupo in the central North Island. It's open to the public seven days a week and has panoramic views of the lake and surrounding rugged rural farmland. Kinloch is a world-class championship par 72 course.
HAWKE'S BAY
Cape Kidnappers
A sister course to Kauri Cliffs in Northland, Cape Kidnappers is a sweeping design built on a ridge-and-valley landscape. It plays above dramatic cliffs with stunning views from 140m above sea level across Hawke's Bay. Created by Tom Doak, the par 71 golf course is definitely one for the bucket list. Cape Kidnappers is ranked #17 in the world for 2018 by Golf Digest.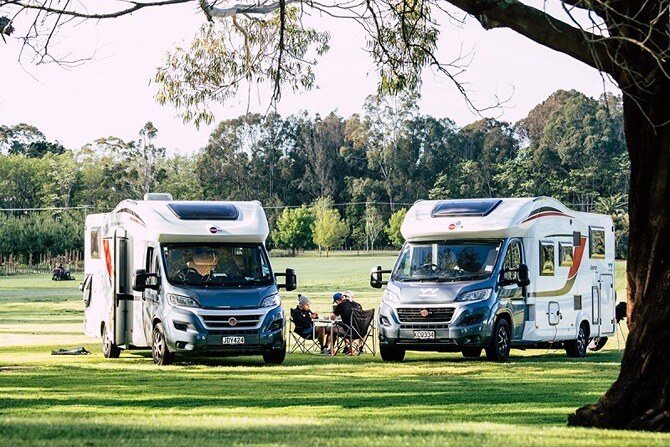 WELLINGTON
Paraparaumu Beach Golf Course
A par 71 authentic sand-based links course on the Kapiti Coast, about 45 minutes north of Wellington city. Initial work on the course was done in two sections: one nine in 1930, the other in 1937. New owners took charge in 1949 and had it remodelled. Its claims to fame include hosting the New Zealand Open 12 times, and Tiger Woods in 2002. It is ranked #77 in the world for 2018 by Golf Digest.
QUEENSTOWN (CENTRAL OTAGO)
Jack's Point
Set against the stunning Remarkables mountain range with panoramic lake views, Jack's Point is an 18-hole par 72 championship course located 20 minutes from central Queenstown. It offers golfers five tee positions to choose from to challenge all levels. The course weaves through native tussock grasslands, dramatic rock outcrops, steep bluffs and swathes of native bush to the edge of Lake Wakatipu. While it is a private course, Jack's Point is open to visitors. It is ranked #76 in the world for 2018 by Golf Digest.
Millbrook
Millbrook is an award-winning 27-hole championship golf course designed by renowned professional and master golfer Sir Bob Charles, and renovated by Greg Turner in October 2010 with the addition of the Coronet Nine. It is in Arrowtown, 20 minutes from Queenstown and features a backdrop of the Remarkables mountain range.
The Hills
Home to the NZ Open, The Hills opened in 2007 in the historic gold-mining area of Arrowtown. It is set over 500 acres across a glacial valley with rocky schist outcrops that are a feature of the area. The Hills is a private members club but does offer opportunities for visitors to experience the course. Alternatively, Peak Golf Queenstown offers a green fees booking service.
Note: some courses close over winter so always check individual websites for the latest information.
For more inspiration, watch golfers enjoying a New Zealand motorhome golfing holiday.
Tip: Arriving in New Zealand from overseas? New Zealand has strict biosecurity laws and requires equipment such as golf clubs, shoes and bags to be declared when arriving. Ensure your equipment is clean before travelling to New Zealand as this can help to speed up inspection times at the border. Find out more about declaring your equipment on the MPI website here.
*World's 100 Greatest Golf Courses (Jan 11, 2018) Golf Digest