It's summer time here in New Zealand, which brings good amounts of sunscreen, BBQs and Tip Top ice-creams – yum! It also means we have higher traffic volumes on our roads.So while being sun smart is important, we wanted to take the opportunity to give you our best tips for driving in New Zealand.
New Zealand roads are like no other. We have a highway system in some of our large metropolitan areas, while the rest of our roads offer a variety of driving conditions, often with onward facing traffic. It's not unusual to find yourself meandering down an unpaved gravel road in search of untouched beauty, with livestock sharing your lane.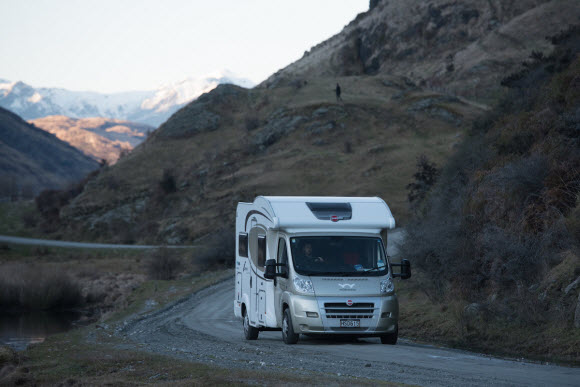 NZ Specific Safety
The key difference many of you will first need to master is that we drive on the left, just like the UK and Australia. All of our campervans have stickers on the rear-view mirror to remind you to keep left and many of our roads have arrows directing you. That said, it pays to keep alert, particularly when on quiet rural roads, or when you're pulling out of driveways or side roads where the habitual tendency can be to coast onto the side of the road you're used to travelling on.
Which brings us to our next point – if you're tired, pull over in a side bay and rest or change drivers. Driving on our roads requires a level of alertness that even locals can find challenging. We have a lot of designated 'rest stops' dotted along our roads for you to park up, enjoy a snack and stretch your legs. Taking a break for 30 minutes can make all the difference for the rest of your drive. And besides, you want to be fresh and attentive to enjoy the amazing scenery along the way too.
Safely Enjoying the Scenery
And so to our next point – our spectacular scenery. It's a large part of the campervan appeal right? It gives you greater access to everything we love about New Zealand. Because many of our roads pass through towering mountains, lush native bush, and breathtaking coastlines, the roads are narrow. Our speed limit on the open road is 100km per hour, but on narrow windy roads you're advised to take your foot off the accelerator and drive to the conditions, particularly if it's been raining or there's fog where your visibility is limited.
Courteous Driving
For those times when you do need to take it easy, we encourage to you to hug to the left side of the road. This should be observed anytime you're driving slower than the general traffic flow. This gives cars behind you better sight of oncoming traffic and opportunities to pass you. (NZ road rule note: cars can legally pass over the median strip when it's a dotted white line. If the painted strip in the middle of the road is a double yellow line it is illegal to pass.) Practice courteous driving and pull over to the slow vehicle bays, and stay left without speeding up in the passing lanes to allow traffic to pass you without having to drive dangerously.
Driving to the Conditions
Which brings us to our final point – the weather. We mention above about driving to the conditions. This is something that can't be emphasised enough. Even right now in summertime the weather can be unpredictable and change at a moment's notice. Roads can become slippery and vision can be impaired. Always reduce your speed when the conditions place extra demands on your driving, and if it becomes too demanding for your skill level, make use of one of the rest stops until you feel confident to resume your trip. Give yourself plenty of time to reach each destination, and remember, you're not missing out as long as you're safe. We love this tip sheet and time distance calculator for easy trip planning.
Final Tips
Lastly, always wear a seatbelt and never use your handheld phone while driving. Our traffic police are vigilant when it comes to these two road rules – rightly so – and along with speeding, you'll often find yourself facing a hefty fine if caught.
That about covers it. For extra tips about driving safe in New Zealand watch our video so you can be ready to hit the road running when you touch down.
One final note – this article isn't intended to put you off driving in our beautiful country. The benefits of exploring in one of our motorhomes exponentially outweigh the initial challenges. These road smart tips are simply considerations for your safety and for those we love in New Zealand.
If you have any questions about the above, get in touch with our helpful team – they grew up on New Zealand roads and are great sources of information to help you plan a safe yet fun-loving trip.