What to Pack

New Zealand's weather is generally reliable, but it can change at a moment's notice since we are an island nation. We've put together some packing recommendations that include clothing and other essentials to help you be prepared for your adventure.

You can also check out our Resources Page for a printable packing list.
Clothing Recommendations


Dress in layers. This allows for the most versatility if the weather does change.


Leave your tuxedo at home. Most places in NZ are fairly informal so you can bring smart casual clothes and fit in at most restaurants and nightspots.


Bring a comfy jacket. New Zealand is green for a reason. It rains a lot, so a weatherproof jacket to keep you dry and a warm jacket for cool evenings are essential items to pack.


Don't forget to pack your swimsuit! We encourage guests to bring a swimsuit (even if it's not summer), since there are thermal pools around the country to enjoy.
A Note about Outdoor Gear

Make sure any outdoor gear (tramping or hiking boots, tents, etc) you bring along is clean before packing it for your journey. Any gear used outdoors will be checked when you arrive at the airport. If they find any dirt or other matter that may carry insects or organisms, it will need to be cleaned before leaving the airport, which may cause delays.
Other Essentials to Consider


Bring sunscreen (and actually use it)! We get a lot of sunshine in New Zealand, so it's important to be prepared. We recommend you bring a sunscreen with SPF30 (at minimum) and a hat to help prevent sunburn.


Bring insect repellent. We suggest you bring along your insect repellent of choice for your journey, especially if you're visiting in the summer or travelling along the west coast of the South Island. There are a variety of small insects that do bite (like the blackfly), but they are more of a nuisance than they are dangerous.
More about Sandflies


While New Zealand has very few poisonous or dangerous species, we do have an abundance of sandflies (a small type of blackfly). These pests (who are their most active around dawn and dusk) can be found near bush and flowing water, such as rivers, beaches, and around lakes and swamps.


Sandfly bites are very itchy and can cause redness and swelling. The best way to prevent sandfly bites is to minimise exposed skin during their active hours and use an insect repellent containing DEET. Citronella candles can also help keep the insects away from your campsite.


If you are bitten by a sandfly, scratching will only make it itch more. Most recommend the use of calamine lotion or an antihistamine cream to help soothe the itch without causing further damage to your skin.


If you're looking for some local wisdom on the topic, our friend and New Zealand guide book author, Scott Cook, swears by using Bonjela. This is a topical oral gel for pain relief from mouth ulcers (available in most New Zealand pharmacies as well as in Australia, the UK, and some European and Asian countries).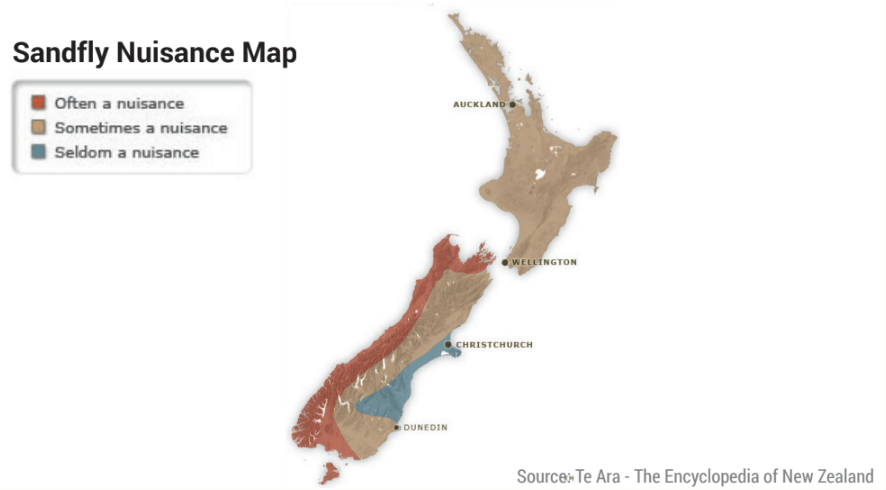 Bring your camera (and take lots of photos)! Our country is very scenic, so it's recommended that you bring along a camera to capture and preserve the remarkable moments you're creating on your adventure. Don't forget the charging cable and some spare memory cards.


Request your FREE SIM card to stay in touch with the Wilderness base. This way you'll be able to stay connected while on the road and call back to the Wilderness Base without incurring international roaming fees. You can pre-select the number of SIM cards you'd like us to provide with your booking (found under Add Extras on the Pre-Check-in page).


Bring along a travel power adaptor. In New Zealand, we use type "I" outlets (two or three angled prongs). This power format is also used in Australia and some parts of Asia. If your device doesn't use this sort of plug, you'll need to use an adaptor in order to run or charge them while out on the road. These power adaptors are also sometimes made with USB ports so you can charge your phone or other small electronics directly from the outlets in your motorhome.

TIP: Buy or bring a multi-plug power board to accommodate more than one of your devices without having to buy multiple adaptors.

Exercise caution when using any powered appliances you've brought from home.

Many guests choose to bring along personal appliances that contain heating elements (such as their hair dryer, hair straightener) which if plugged into your motorhome's inverter while not plugged into a mains power will damage the inverter (and possibly your appliance).

The official specification is: Any appliance over 600W will not safely operate in your motorhome unless the vehicle is plugged into a 240V mains power source.

If you're not sure your personal appliance is safe to use while out on the road, be sure to ask a member of the Wilderness team to avoid any issues during your trip.


Bring along some entertainment. Our motorhomes have an LCD screen with an HDMI port so bring an HDMI cable so you can connect to your favourite music and movies. You can also connect a Chromecast if you bring one with you. Don't forget to add our Wifi.


Take along some of your favourite toys. We don't just mean toys for the kids. Love fly fishing? Bring along your rod (NZ has some of the best rivers in the world). Enjoy taking photos? Bring along your camera and documents your adventures. Chasing an adrenaline rush? Bring along your GoPro and get it on tape. Looking to catch some waves? Bring your surfboard with you. Use your imagination—the sky's the limit.






Set aside some spending money. We recommend you bring with you a travel card (available from most banks) as well as a credit card. Travel cards can be loaded with NZD and typically have lower fees than making international purchases on your credit card (but it's good to have it around as a backup). It's also a good idea to have some physical NZD for your first night while you get your bearings, which you can acquire from a travel bureau or an ATM (there's a few at the airport when you arrive).
What NOT to Pack


Unlike hired motorhomes from many other providers, the Wilderness fleet comes completely kitted with almost everything you will need on your adventure. We want you to spend your time creating remarkable moments instead of wondering if you've forgotten something.


Equipment included with your motorhome hire:


Kitchen equipment (crockery, cutlery, cups, glasses, bowls, pots, pans, cooking utensils, coffee plunger, kettle, clothes hangers, dish cloth and brush, dustpan and brush, and fire extinguisher)


Linen and bedding (duvets or doonas, sheets, pillows and pillow cases, mattress protectors, towels and tea towels)

Our motorhomes are set up with double bed linen unless singles are requested or the motorhome has single beds.


First aid kit (a small fee applies for use if opened), freshwater and grey water hoses, toilet chemicals, toilet paper roll.


Wilderness App -

Download

Wilderness NZ

from the

App Store

or

Google Play

.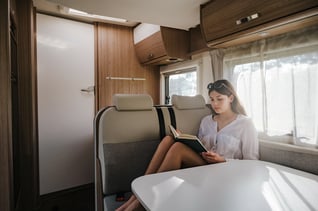 We also offer plenty of
extras and accessories
to further enhance your journey, including outdoor tables and chairs, snow chains, and barbecues.
Check out the
My Booking
page to add extras to your hire.
A Note About Bringing Food

New Zealand is an island nation that is reliant on agriculture for its economy. Therefore, the introduction of potential agricultural pests is a major concern. Biosecurity New Zealand is charged with preventing pests entering our country.


We recommend that you do not bring any food with you. New Zealand supermarkets will have most of the food items you need, so shopping for food once you arrive is always best (you can always order ahead online and pick up your food when you arrive to save time).


If you do need to bring food with you, you MUST declare it upon arrival. There are harsh penalties for not declaring food and other prohibited items.


Visit the Biosecurity New Zealand site for a full list of items to declare.
Should I bring a suitcase or a duffel bag?


Rigid suitcases are difficult to store in motorhomes, so we suggest you pack your luggage into soft bags that can be easily folded away. With so many amenities featured in our fleet (plus optional extras for hire), you have the freedom to pack light for your adventure.