Imagine waking up each day surrounded by spectacular scenery that's off the beaten track with the only calling being one of adventure.Welcome to motorhoming around New Zealand. Actually only the North Island and with that we only scraped the surface! This was our first motorhoming experience – and one that has left us with a thirst for more in the future. Admittedly I had my doubts about spending nine days in a 'tiny house' plus we have never camped before as a family (hotels are more our style). But, we managed, survived even thrived in the near proximity we shared plus it gave us a chance to reconnect to the simple things in life without modern world distractions. Our New Zealand Wilderness Motorhome holiday ticked all the boxes and has us yearning to see more of NZ again one day.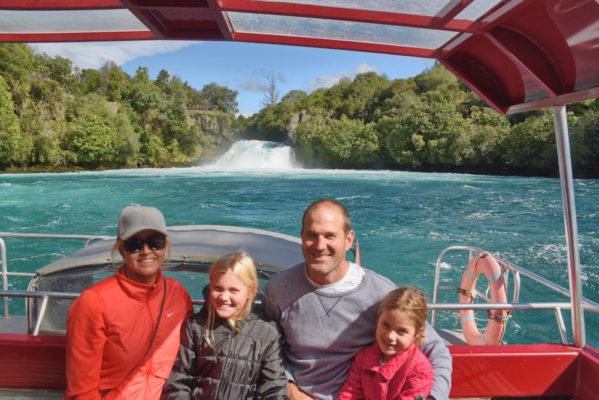 Before I send you on a video journey of our trip (with thanks to my awesome husband) I thought I would pencil in my top ten tips if you feel driven to experience this magic part of the world with your family one day.
1. Do your research for a motorhome that suits your family's needs
We hired the Peak 4 from Wilderness Motorhomes because it had two separate beds at the back for the girls with plenty of curtains to pull across at night. This gave us the ability to lay in our own bed while we watched a movie or read until it was time for us to go to sleep without disturbing the girls. Also look for one with a large water tank capacity. Showering, washing dishes etc uses up water especially when there are four people so this enabled us to go a couple of days without having to fill up while freedom camping. Oh, and having the underfloor heating was a small luxury on chilly mornings. At 7.4 metres long it was the biggest one I could find!
2. Pre-order groceries
We all know how time-consuming it is to do the groceries, particularly in foreign supermarkets. Jump online and pre-buy your groceries at Countdown, with in-store pick up at your chosen time, near to where you are heading on your first day. We organised to grab our groceries straight after jumping in the motorhome at Mt Roskill on the way to collecting our bikes. Instantly you have a full fridge without wasting precious driving time to your first nights destination.
3. Keep your itinerary flexible
I am a planner, a massive planner so we had the sights we wanted to see mapped out but in no order. Do your research on TripAdvisor and read recommendations. The weather changes a lot in New Zealand and we encountered flooding, road blockages, landslips and road closures. Always have a plan B.
4. Go out of peak season
NZ holiday periods differ slightly to ours (except Christmas) so take advantage of the quieter roads, less crowds and more space at freedom camping spots. It just makes the experience that little bit more special. Plus it is a lot cheaper!
I found both Rankers NZ and Wilderness Motorhomes indispensable for locating the nearest dump stations, supermarkets, freedom camping spots and reading comments from other travellers.
6. Stock up on some colouring in books, board games and puzzles for the kids
Have these up your sleeve for longer driving days to keep a lid on the kids.
7. Hire bikes if you can
It was great to stretch our legs and explore locations by bike without having to uproot the motorhome all the time.
8. Take minimal luggage and use soft suitcases
Space is tight so keep it light! There are laundromats in caravan parks to ease the dirty clothes pile but at the same time be prepared for four seasons in one day.
9. Don't bite off more than you can chew
We drove around 1200 kilometres in nine days which isn't that much. Some days were three hour drives and some were only 30 minutes. Roads are different with many being windy and slow. Plan to enjoy your holiday without massive road time.
10. Embrace freedom camping
Out of the nine nights we spent only three in caravan parks. To me, this is the essence that makes up a motorhoming holiday in New Zealand with the most spectacular spots being beside lakes, oceans and mountain sides. Most freedom camping spots are restricted to self-contained vehicles and have million dollar views to wake up to.
So I know you are bursting to see our intimate little vid, I hope you enjoy plus it gives a great insight to the places we visited. I hope you all get the chance to visit one day, we are planning our next adventure already!