Rather than spend time dreaming about warmer days during winter, make the most of this magical season and plan a road trip.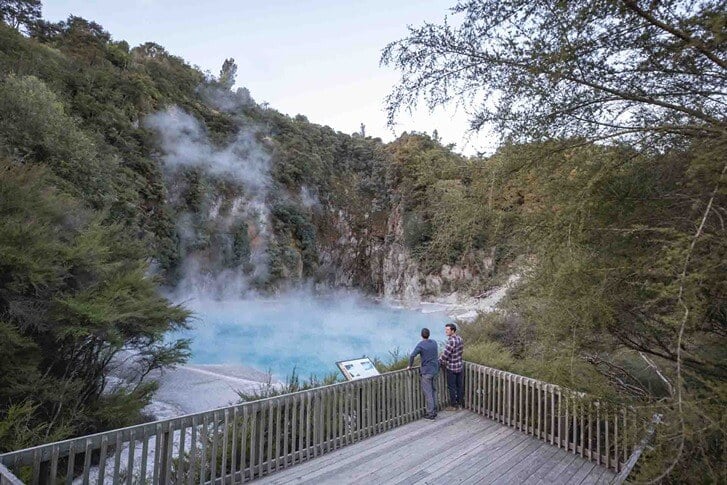 New Zealand's North Island features volcanic landscapes, bubbling hot pools, a high central plateau and warm northern beaches — all appealing attractions in winter.


In this blog, we outline five special places to visit in the North Island in winter. These epic road trips will take you to the Forgotten World Highway, Cape Reinga, National Park, The Coromandel and the Bay of Plenty.
All five road trips begin and end in Auckland where you're most likely to pick up, and drop off, your motorhome hire or campervan rental.
Auckland to National Park
What could be more exciting than planning a winter motorhome road trip that involves snow, three active volcanoes and an incredible national park.


National Park is in the central North Island, so build your route to circumnavigate both Lake Taupo and Tongariro National Park. You'll then be able to enjoy this spectacular landscape from all perspectives.
Auckland to National Park route


Head south out of Auckland towards Matamata — where the rolling hills of Hobbiton are even more lush in winter. Continue southeast to popular Rotorua to experience the country's premier hot spot. Then take the short drive to Taupō where you'll find plenty of lakeside locations to park up for the night.


Keep travelling south to the military town of Waiouru and the ski hub of Ohakune. Spend a few nights camping by beautiful Tongariro National Park — and it will become a lasting memory of your road trip.

On your return to Auckland, call into Kuratau on the west side of Lake Taupō, the historic Waikato town of Cambridge and the city they call The Tron (Hamilton).
Things to do on your winter road trip to National Park

When planning your campervan adventure to National Park, consider adding these highlights to your winter itinerary.


Hobbiton
Spending a winter day or evening in the warm confines of Hobbiton's Green Dragon Inn sounds like the ultimate way to stay warm and cosy. Alternatively, join the crowds after winter has come to an end for International Hobbit Day.
Hell's Gate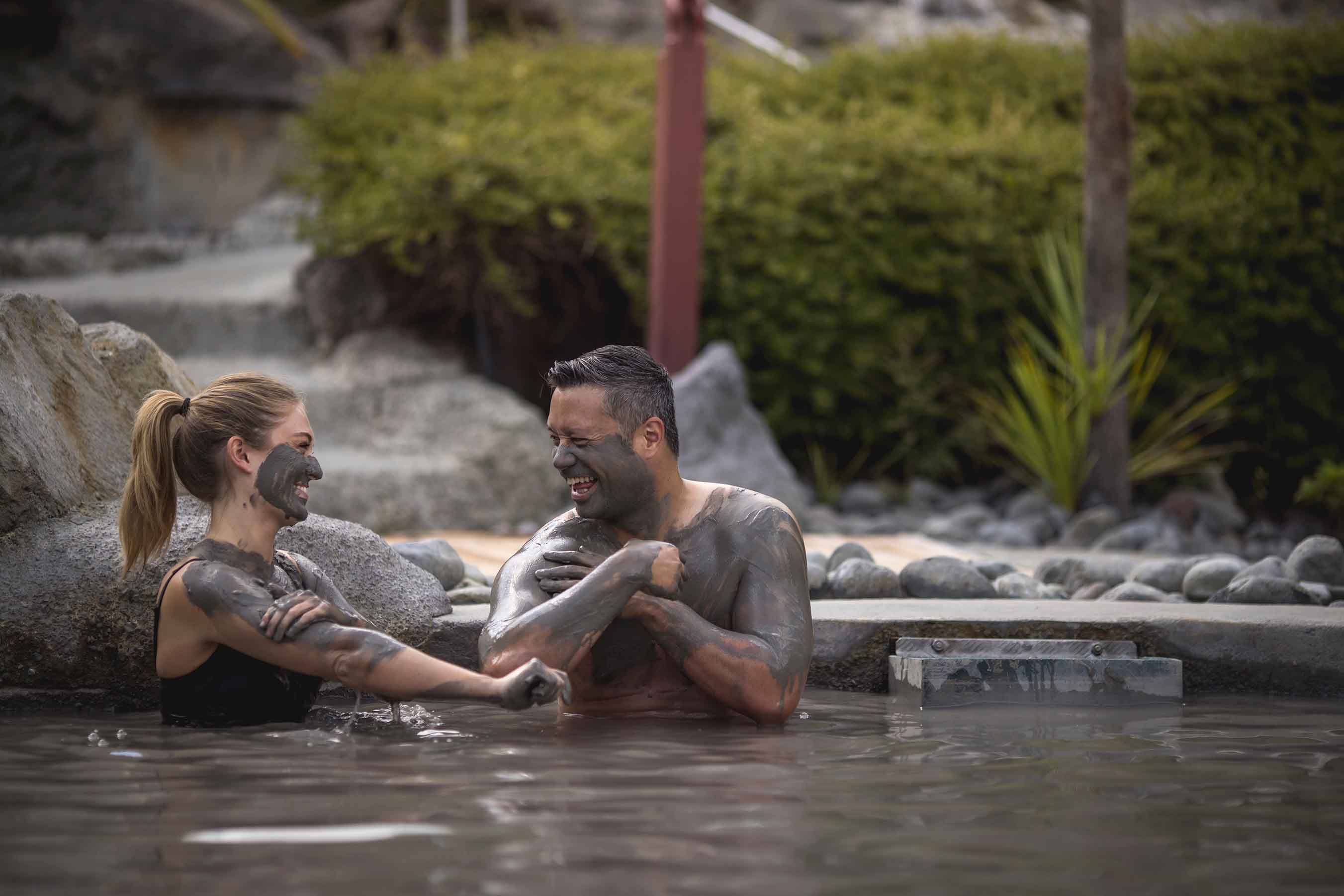 Of all the things you can do in and around Rotorua, one that's truly unique is bathing in mud. Visit Hell's Gate and enjoy a healing mud spa to warm up winter.
Orakei Korako
Also known as the Hidden Valley, this special location offers a geothermal experience a little different to the rest. Orakei Korako is a world of gushing geysers and bubbling mud pools — complete with a short ferry ride across the small lake.
Otumuheke Stream
Bathe the old-fashioned Kiwi way on the edge of the mighty Waikato River. Otumuheke Stream in Spa Thermal Park is a social place where you can heat up at no cost. The warm geothermal waters of the stream gently flow into the Waikato so you can find your sweet spot.
National Army Museum
Take an indoor break from hot springing and listen to some stories about past soldiers at New Zealand's National Army Museum.
Ohakune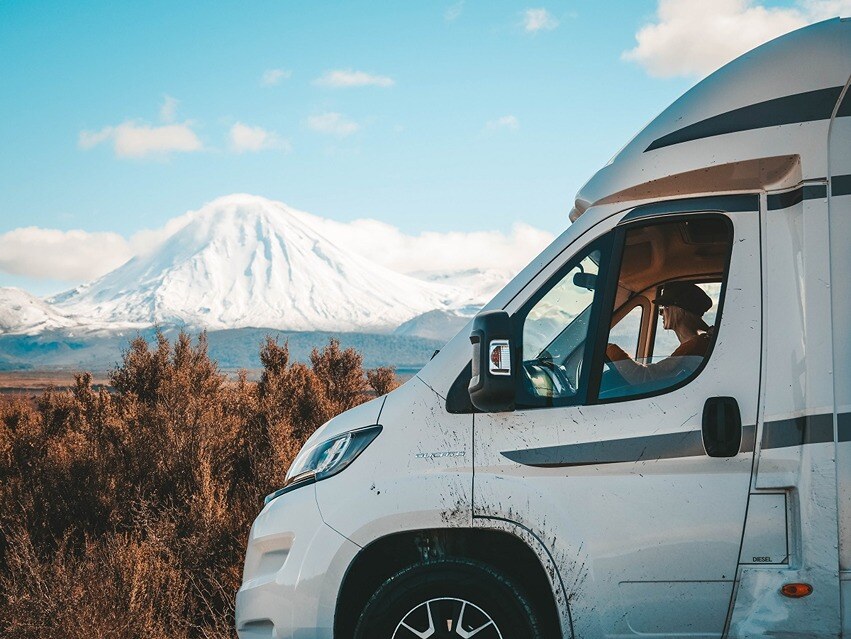 The carrot capital of New Zealand is also a bustling winter hub with the region's liveliest après-ski scene. Consider using the town as your base to access:
Know how to fit snow chains on a motorhome in case you have to use them.
Te Waihou Walkway
Take a few hours to wander Te Waihou Walkway where you can find waterfalls, native birdlife and the famous Blue Spring — one of the purest water sources on the planet.
Auckland to The Coromandel
Many Aucklanders enjoy getting away for long weekends to The Coromandel but not so much in the colder months. Deciding to take a winter motorhome trip out east to this popular peninsula is a smart plan for avoiding the crowds.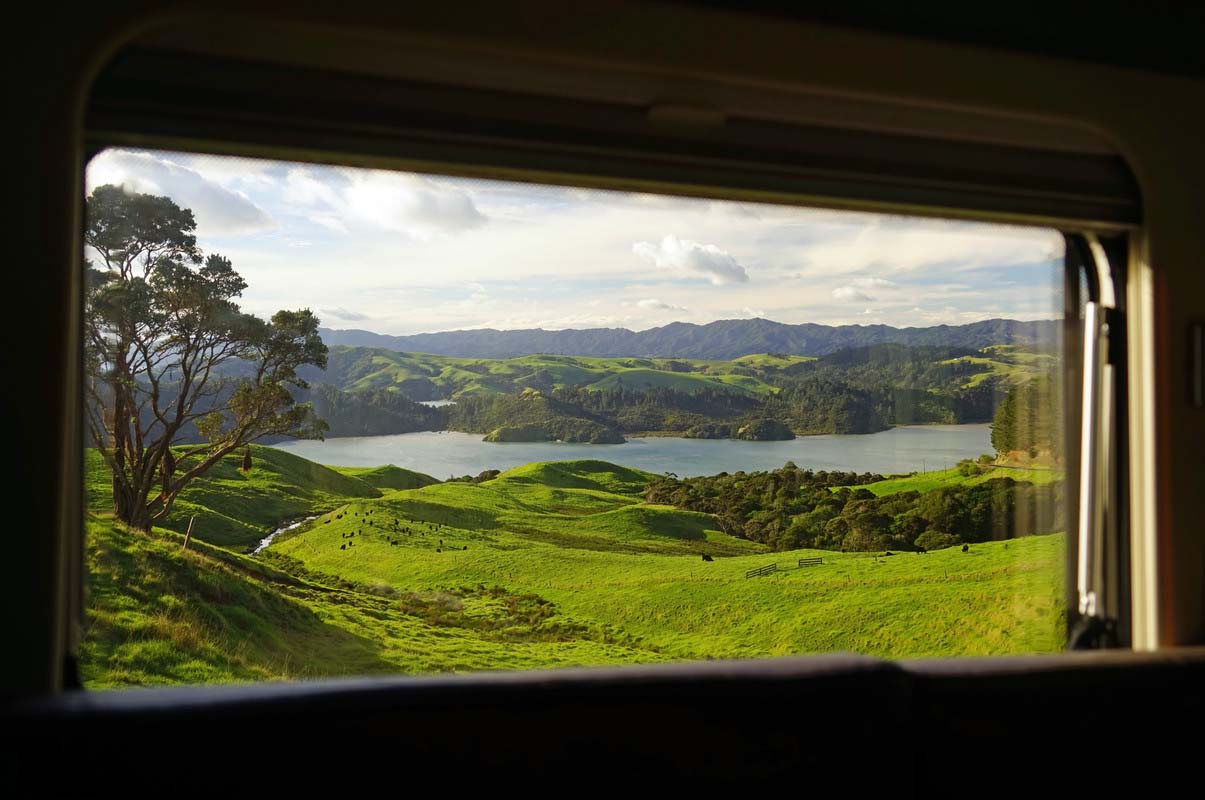 Auckland to Coromandel route

Hit the road heading south from Auckland before turning east towards the delightful coastal town of Pauanui.


Plan to travel anticlockwise around the peninsula visiting local favourites like Hot Water Beach and the Coroglen Tavern.

Park up for the evening in the idyllic coastal town of Whitianga and indulge in its rich array of seafood. Then spend some time soaking up the winter sunrise at the quieter northern beaches of Kūaotunu or Matarangi.

Drive over the Coromandel Range to the western coastline and pull into historic Coromandel Town. Nearby you can travel through native forest of regenerating kauri, rimu and ferns on the Driving Creek Railway.

Return to Auckland via the picturesque old town of Thames.
Things to do on your winter road trip to The Coromandel

A winter adventure to The Coromandel is something to look forward to. Not far from Auckland, the peninsula is packed with highlights.
Pauanui
This picturesque beachside town really has to be seen from above to fully enjoy its beauty. Stretch your legs hiking either the Pauanui Trig Track or Mount Paku to their summits for the best views in town.
Hot Water Beach
Celebrated for its underground hot springs that bubble up through the sand, Hot Water Beach is a Coromandel treasure. Just remember to time the tides and bring a bucket and spade.
Cathedral Cove
Walk amongst fewer crowds down to uber-popular Cathedral Cove. This touristy spot is often busy — but less so in winter. Think about taking a scenic boat cruise around the Hahei area.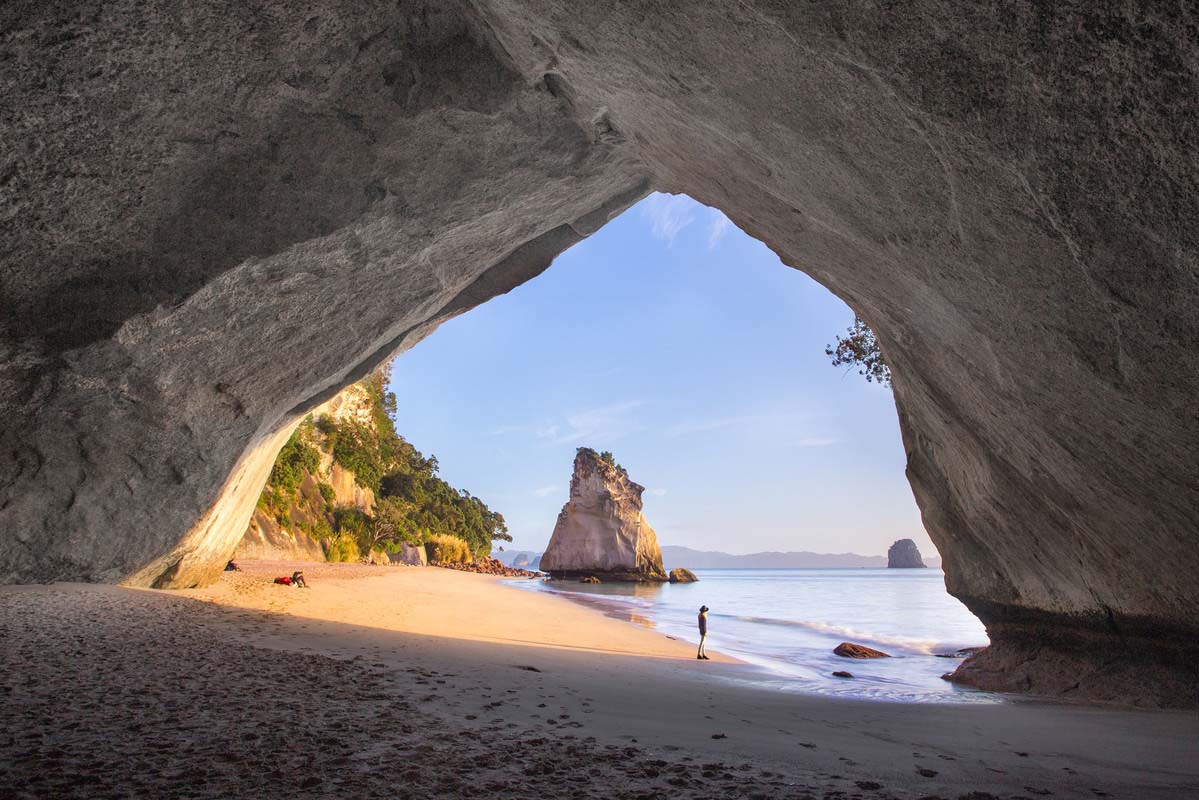 Be sure to check the Cathedral Cove walk's current status before venturing here as rainfall events in 2023 temporarily closed the track.
Coroglen Tavern
Iconic Coroglen Tavern has seen plenty of local and national bands take to the stage to see in the New Year. It's also a classic old-school pub that has plenty of history and is worth a stop.
Whitianga
Enjoy a night or two in Whitianga — where seafood is well and truly on the menu.
The Lost Spring
Treat your body to a geothermal experience amongst native bush at The Lost Spring. Explore rock caves, breathe in the lush foliage and indulge in the rejuvenating experience of these well-regarded hot pools.
Driving Creek Railway
Get up close to regenerating native forest on a Driving Creek Railway tour where nature, history and engineering have been blended together in harmony.


Bad weather can hit at any time during the winter months. Do you need extra comfort like the luxury provided by The Suite motorhome?
Auckland to Cape Reinga
Why not avoid winter altogether and travel north where you'll be more likely to encounter mild conditions. The subtropical Far North can be an escape from colder weather and a refreshingly peaceful break.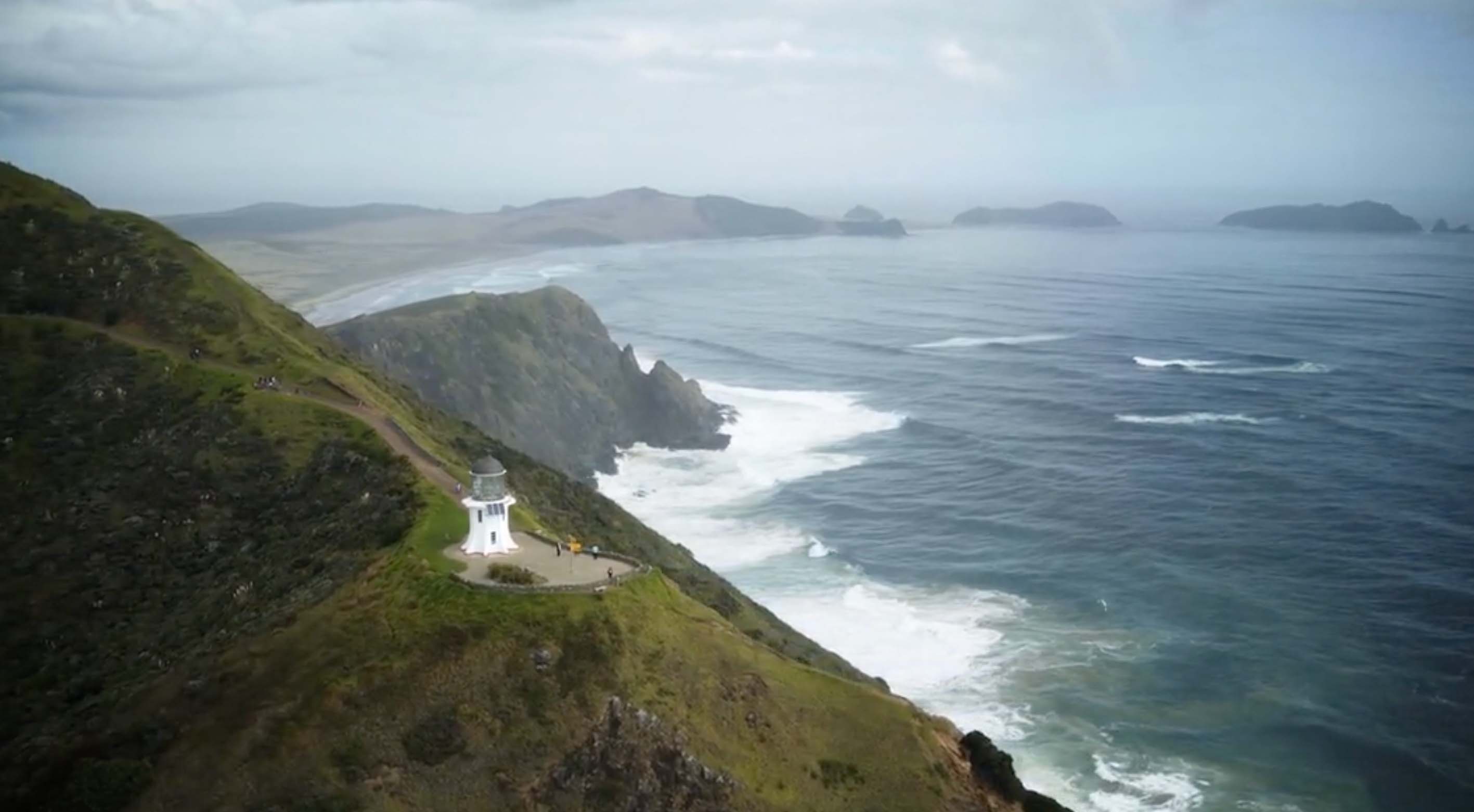 Auckland to Cape Reinga route

Take the road north towards one of the jewels in Northland's crown — the Bay of Islands.


Here you'll discover much-loved locations like Paihia, Russell and Kerikeri. With the surrounding bays and islands to explore, this area of New Zealand is truly memorable in any season.

Continue north to the Karikari Peninsula and the spectacular Puheke and Tokerau beaches. Both are long stretches of sand where you'll be able to enjoy sunrise and sunset walks.

Cape Reinga is the last stop north before heading back via beautiful Hokianga Harbour, mysterious Waipoua Forest and rugged Pouto Peninsula.
Things to do on your winter road trip to Cape Reinga

The Twin Coast Discovery Highway travels north from Auckland along one coast before circling back down the other — with much to see and do on the journey.
Russell
Home to New Zealand's first seaport and its first capital, Russell holds a special place in the country's history. It's also a seaside town with plenty of cafes and restaurants, making it an ideal location for a hearty feed early in your winter road trip.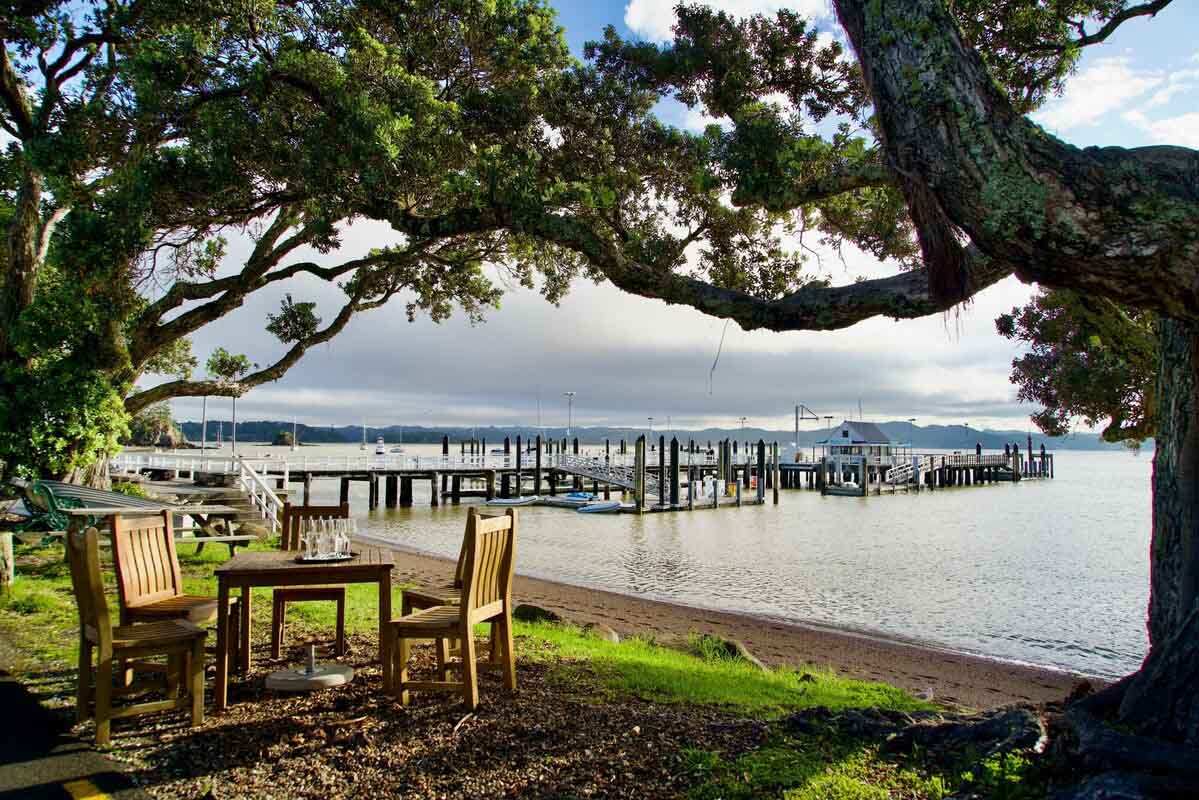 Waitangi Treaty Grounds
Open every day except Christmas Day, the Waitangi Treaty Grounds offer unique insight into the birthplace of the nation. You'll enjoy an inspiring and meaningful experience if you choose to spend some time here.
Karikari Peninsula
If you're partial to white sandy beaches, stopping for a night on the Karikari Peninsula will enrich your soul. Whether you decide to park up by Doubtless Bay, Rangaunu Bay or Matai Bay, it will be hard to leave.
Cape Reinga
Cape Reinga is a mesmerising setting where the Tasman Sea and the Pacific Ocean come together in a fascinating display of powerful currents. It's a place to be in the moment and to reflect.
Ngawha Springs
Indulge in a comforting experience for your body and soul at Ngawha Springs. Geothermal, mineral-rich waters fill 16 pools with varying temperatures and therapeutic properties — just the tonic to warm up winter.
Waipoua Forest
Waipoua Forest is home to Tāne Mahuta — the lord of the forest. This giant tree is New Zealand's largest known living kauri. This forest is also the last remaining stretch of native forest in Northland.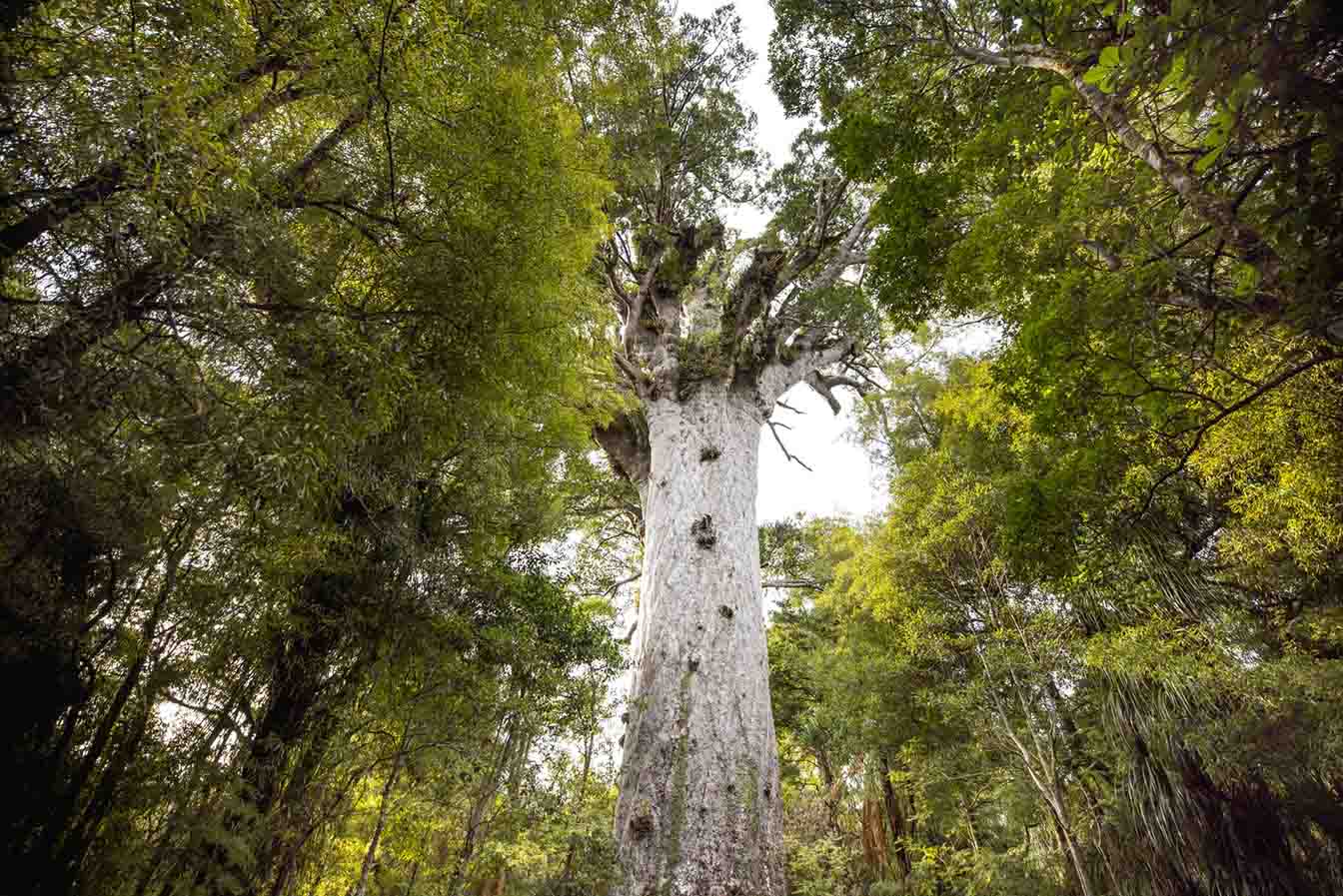 Auckland to the Forgotten World Highway
Motorhome rental journeys in winter should be like the season itself — mysterious. This suggested route certainly fits that idea. It takes you to a scenic road from a bygone era while visiting some iconic surfing spots on the way.
Auckland to the Forgotten World Highway route

Drive south to Hamilton and consider detouring west to the black sand beaches and coastal surf of Raglan.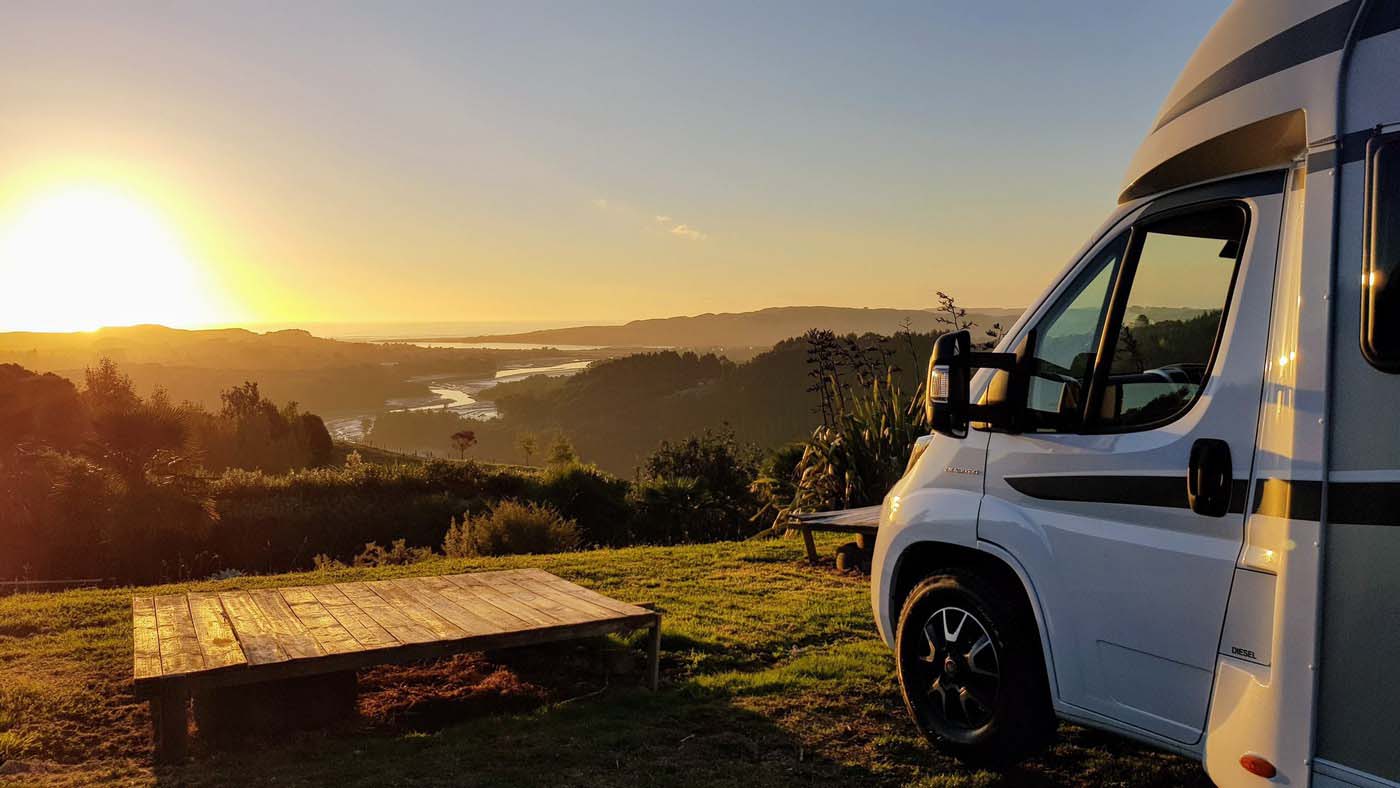 Your next stop should be Waitomo where some very special caves await. Passing through the country town of Te Kuiti, continue on State Highway 3 as it veers to the coast and down to vibrant New Plymouth.

Find a beachside park up for the night in New Plymouth — a place where surfing and sunsets rule. Then take SH3 to Stratford and the beginning of the Forgotten World Highway. It's the country's oldest heritage trail, passing through one of the world's newest republics.

Enjoy the rolling hill landscape from Taharoa Saddle, the quirky remoteness of Whangamōmona and the narrow thrill of Moki Tunnel.

Your drive back to Auckland goes via Taumarunui, Te Kuiti and Hamilton.
Things to do on your winter road trip to the Forgotten World Highway

This remote part of New Zealand has some special features, while the road there and back offers a few highlights worth checking out.
Raglan
Winter surf is popular in this cool little west coast town. The black sand coastline, creative culture and world class waves make Raglan a place worthy of a detour.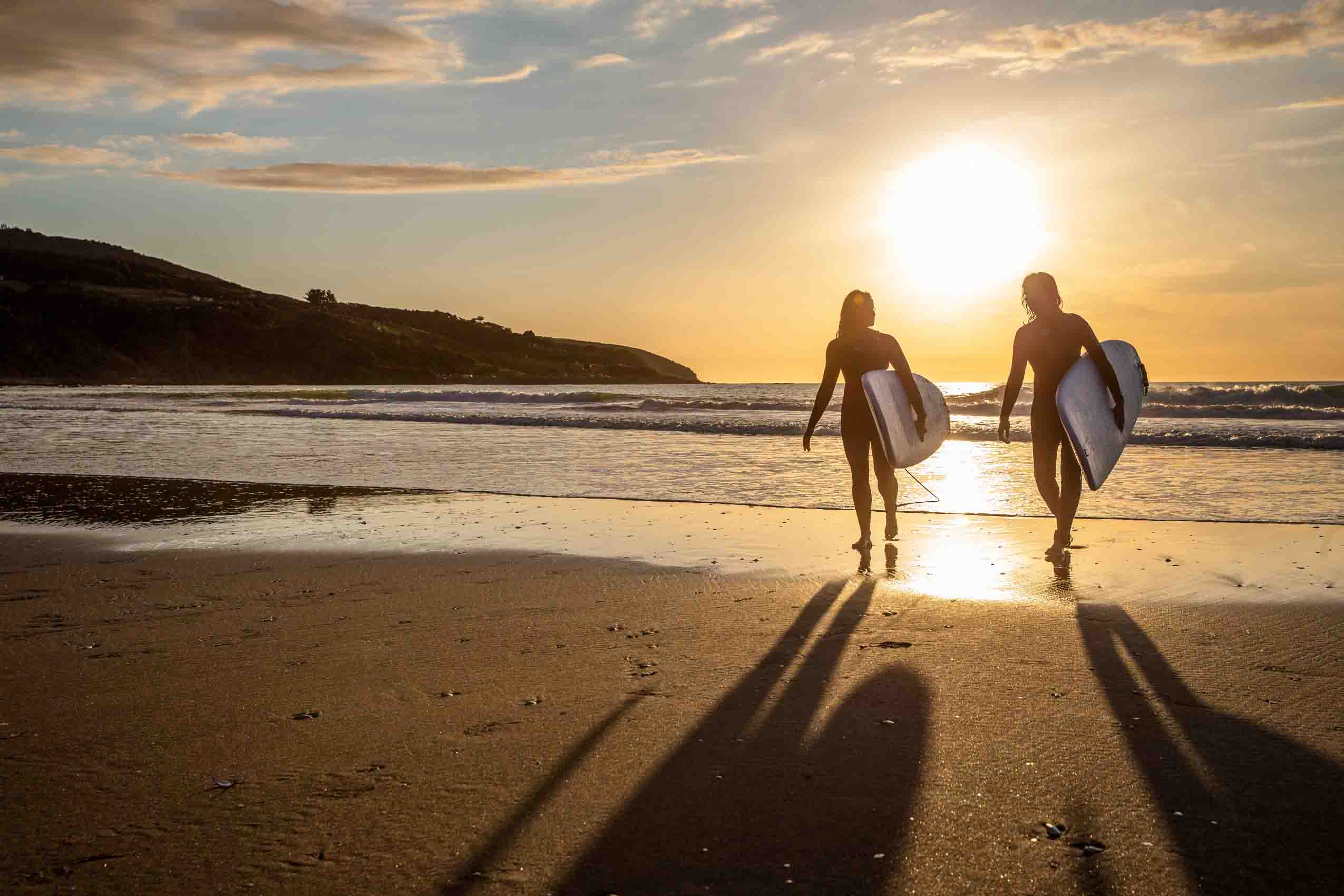 Waitomo Caves
Waitomo means water hole — and that's exactly what you're going to find in this magical underground world. The Waitomo Caves are simply legendary. They present an ideal winter activity as there are fewer crowds and the caves are cool all year round. Try black water rafting, abseiling, rock climbing and glowworm spotting.
New Plymouth
Take a stroll along the impressive New Plymouth Coastal Walkway which stretches almost the entire length of the city. Refuel after your exercise at Monica's Eatery — one of the city's best cafes.
Mount Damper Falls
Divert to one of the North Island's highest waterfalls — the geological wonder of Mount Damper Falls. It's an easy 40 minute return walk from the trailhead.
Pohokura and Whangamōmona Saddles
Take rest breaks at the top of Pohokura and Whangamōmona saddles to admire the panoramic scenery — including majestic Mount Taranaki on a clear day. For intrepid drives, you can't beat this section of the Forgotten World Highway.
The Republic of Whangamōmona
In the middle of winter, you could end up being one of very few travellers staying in Whangamōmona. That's part of the appeal — as are the down-to-earth locals and the past Republican presidents consisting of a dog, a sheep and a goat.


Whangamōmona is one of the places to visit in the North Island in winter — but be sure to hire an RV that will keep you warm on your motorhome adventure.
Auckland to the Bay of Plenty
It's said that the sun never sets in the Bay — and it may well feel like that in the heart of summer. But winter still offers plenty of sunshine if you're looking for a motorhome adventure to the beach.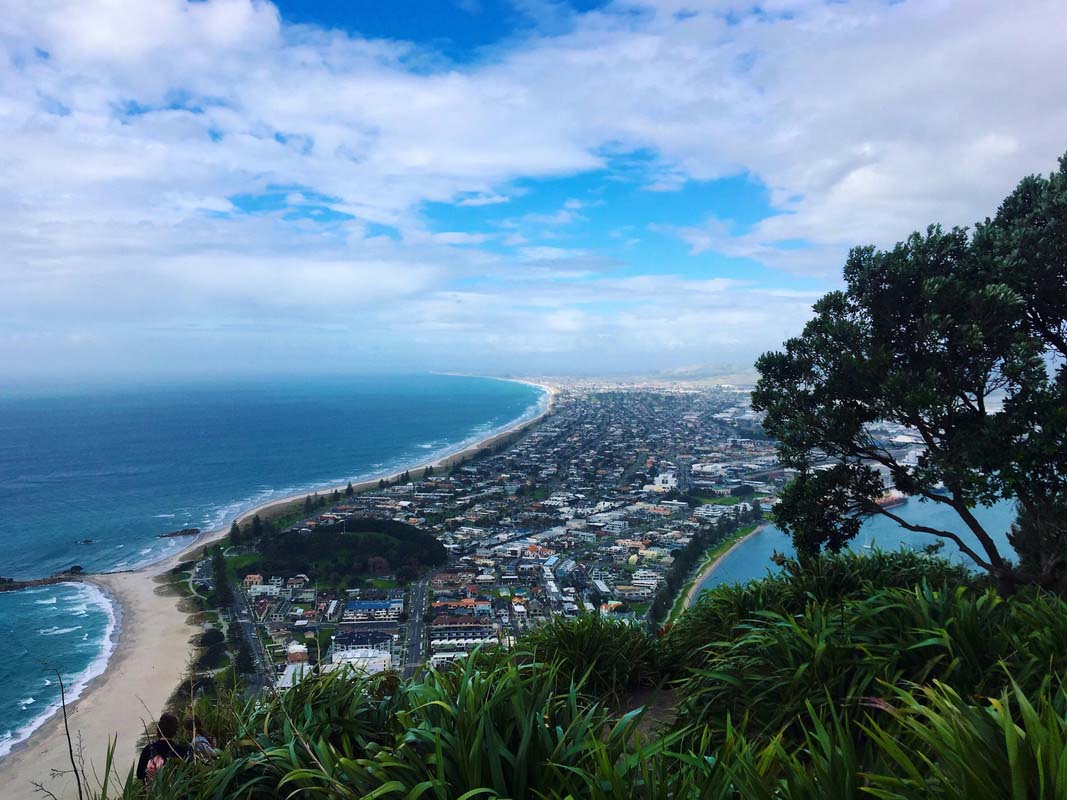 Auckland to Bay of Plenty route

Take State Highway 1 (SH1) south from Auckland and transfer to SH2 — travelling all the way to Tauranga. The largest city on the east coast also features the most iconic landmark. Test your fitness and then take in the 360 degree views atop Mount Maunganui.


Follow the coast southeast to beach playgrounds like Papamoa, Whakatāne, Ōhope and Waiotahe.


Circle back to Auckland via the geothermal mecca of Rotorua — where unpredictable geysers, bubbling mud pools and natural hot springs prevail.
Things to do on your winter road trip to the Bay of Plenty

The Bay (as the locals call it) offers a captivating blend of natural wonders, cultural richness and epic adventures. Many motorhomers hang around this region savouring the beautiful tranquil beaches — and that's the focus of this North Island road trip.
Tauranga
The Bay of Plenty's biggest city has a lot to keep you entertained in winter, including the Mount Hot Pools where you can warm up after a cold ocean swim. Alternatively, visit Fernland Spa in the city.
Mount Maunganui
Commonly called The Mount by locals and tourists alike, this small hill dominates Tauranga's landscape. A focal point for walkers and runners, lace up your best outdoor footwear and take on The Mount to gain a little altitude.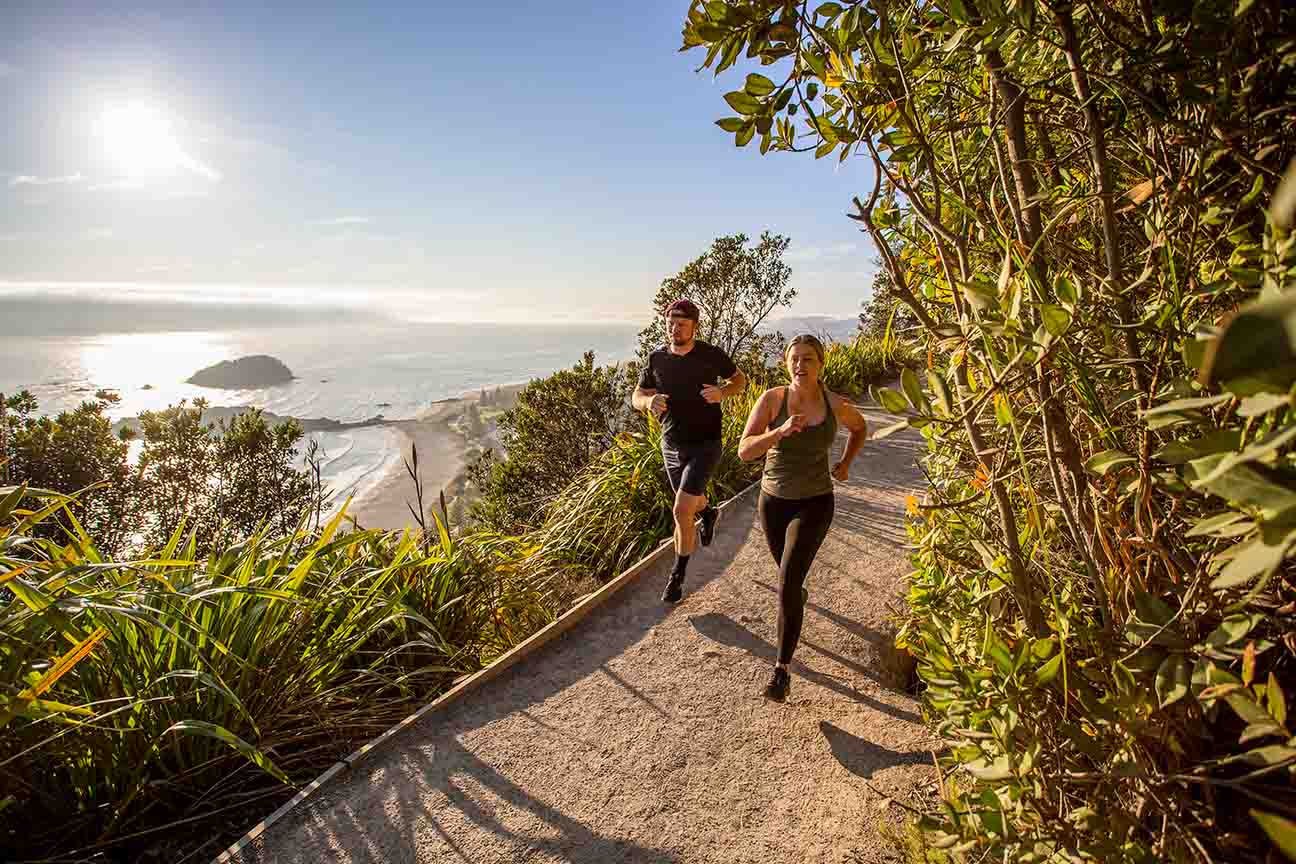 Papamoa Beach
Serene Papamoa Beach is located just far enough away from Mount Maunganui to give you a completely different perspective on the region's iconic geographical feature. It's a laid back coastal settlement where there are opportunities to fish, swim, unwind and relax.
Whakatāne
Whakatāne gets some of the highest sunshine hours in New Zealand so winter can be a great time to stay here in a campervan hire. Take a flight out to see Whakaari White Island — one of the country's most active volcanoes.
Ōhope Beach
Voted NZ's best beach, Ōhope has relatively warm waters and is a very safe swimming spot. Nearby Ōhiwa Oyster Farm is a special eating experience that you'll be able to walk off along the 11km of white sand beach.
Rotorua
Rotovegas as it's well known is a hub of fun all year round. Winter can be a great time to visit the incredible Waimangu Volcanic Valley and the geyser by night at Te Puia. Then try Secret Spot Hot Tubs to warm your body up.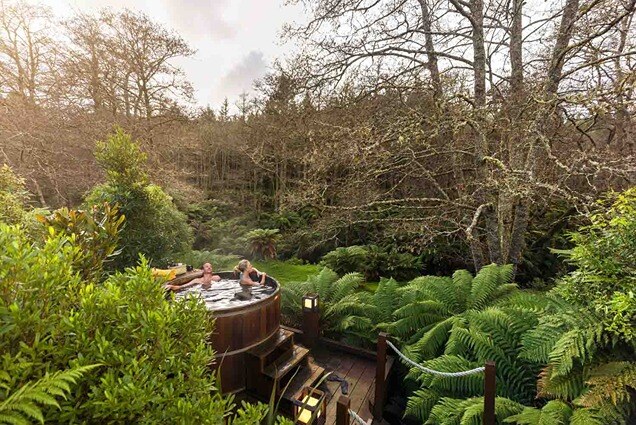 ---
If you need further convincing about winter travel, see our ten reasons to tour New Zealand by motorhome in winter. For more info about things to do at your starting point, check out our top ten things to do in Auckland.