Wilderness team member Teearn Falconer makes some very special memories with her family on a motorhome holiday.
Family fun with a hefty dose of mountain biking was top of the agenda when my husband and I took our two boys away in a Wilderness campervan for a few nights in the beautiful Bay of Plenty in March.
After a busy couple of months at work, we wanted to spend time with the kids and have fun together, so our plan was to freedom camp around Mount Maunganui and Papamoa and then head to Rotorua for some mountain biking. With the help of my boys Zuma (7) and Rico (4), I packed our Wilderness Alpine 4 motorhome and we hit the road, with my husband due to join us later in Rotorua.
So much to do at The Mount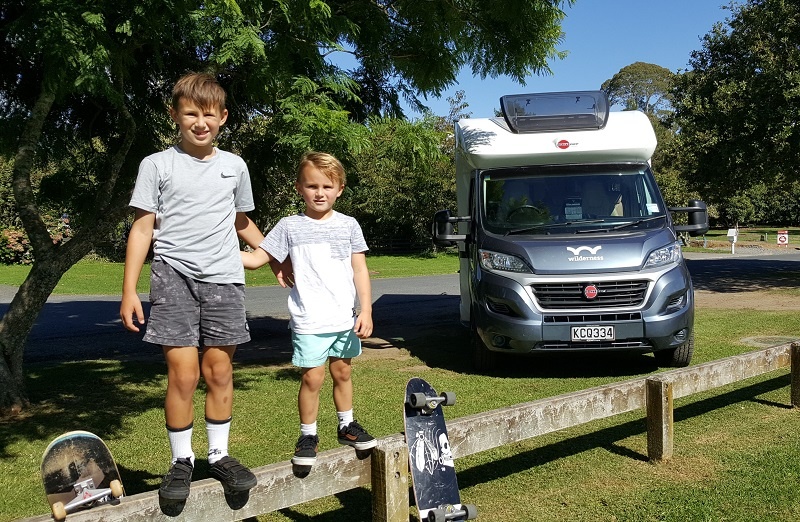 The boys are crazy about skateboarding and biking, so our first stop on the way was at the Omokoroa Skatepath, which is listed as one of the Top 10 skateparks in New Zealand and is just off SH2 on the way south to Tauranga. Thanks to the motorhome's large garage, we had easily fitted skateboards, scooters and surfboards inside, with our mountain bikes stacked on the back. The kids had great fun on the park's bumps, ramps and rails but were exhausted, so we drove on to Mount Maunganui and parked right up at the beachfront at Pilot Bay, where the views were just beautiful.
It was great having the motorhome as the boys could have a bit of quiet time inside playing with LEGO, while I read a book. Then we made some lunch in our kitchen, and stepped straight out onto the beach to eat, and have a swim.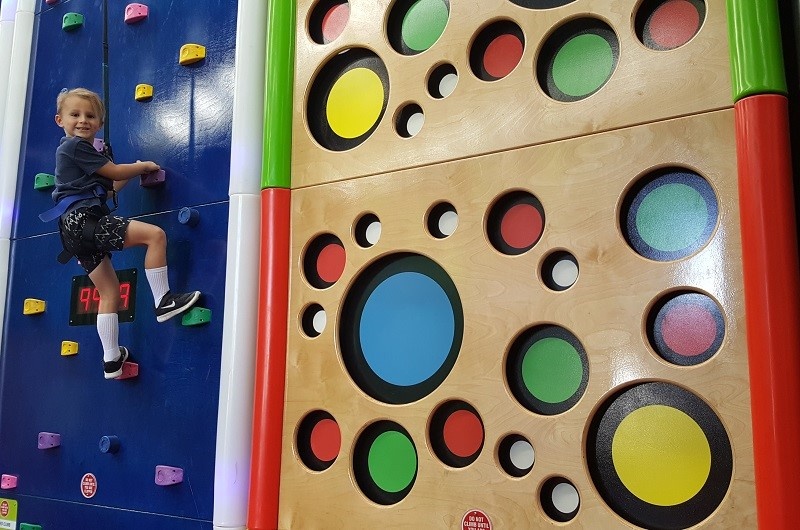 That afternoon we went to Rocktopia, which is an awesome spot for families. It's a great facility with heaps of different rock climbing walls for all abilities and it was nice and quiet mid-week when we visited. And being an indoor attraction it's perfect if you need something to entertain kids on a rainy day.
Dinner was delicious Mexican at The Barrio Brothers, which I'd highly recommend if you're dining with children, as the boys loved the kids' menu. Then we piled into the motorhome and drove 15 minutes to Papamoa, where we found a freedom camping spot right on the beach – we arrived in the dark but woke up to beautiful waves right in front of us, it was fantastic.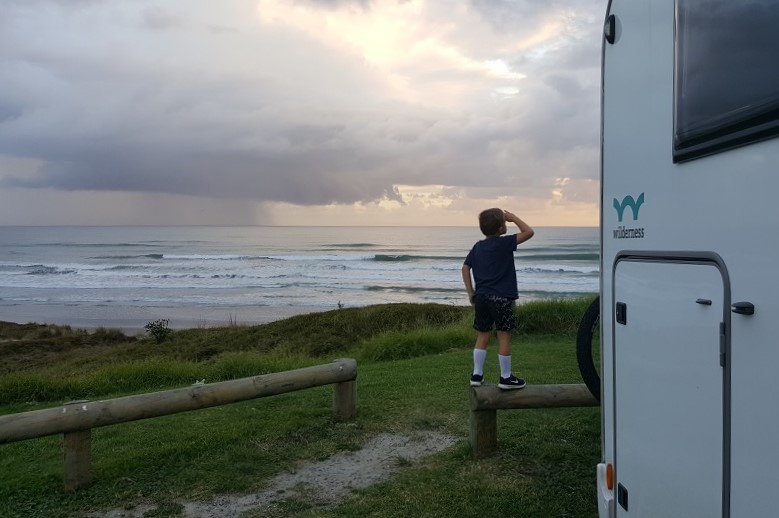 That morning the boys and I walked up Mount Maunganui to see the views across the bay, and as a bit of a challenge we timed ourselves – they were stoked to see we'd done it in just 28 minutes! They'd earned a break after that, so we spent the afternoon at Mount Hot Pools, which has heated salt water pools, including one for children, and massage treatments if you want to indulge. It's a fab spot for families and it's well worth checking their website before you go as they often have specials on entrance fees.
Just across from the pools is the famous Copenhagen Cones and getting an ice cream there is a bit of a family tradition, going back to when I was a child. The boys remembered it from our visit the year before so they were desperate to go again!
Adventure time in Rotorua
My husband joined us that night and the next day we headed to Rotorua, which has world-class mountain biking trails. Rico and Zuma are keen riders so we wanted to do some of the family trails in the Redwoods as well as try a few more advanced ones for Zuma.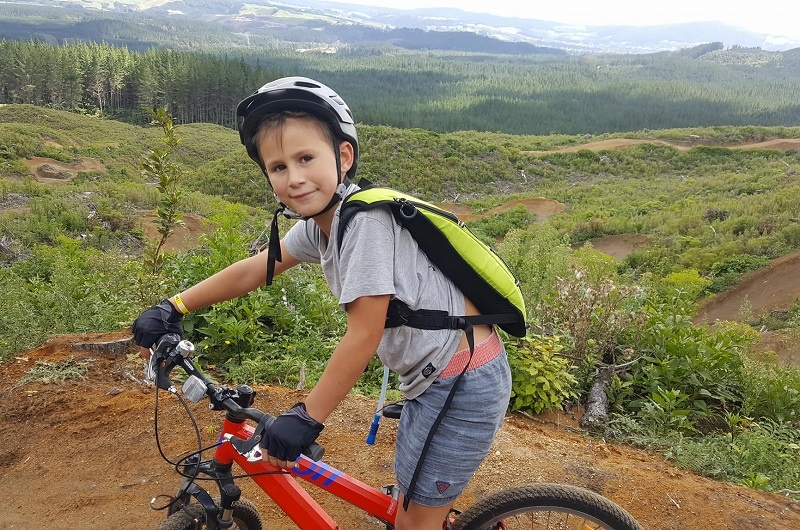 A shuttle service can take you to the top of the downhill trails and Zuma and his dad used this so he could try some more technical runs while I took Rico on the family loop. The motorhome was ideal again, because we'd parked close by, so Rico and I could come back and have a snack and hang out while the others finished their rides. We'd booked a site at the Rotorua Thermal Holiday Park, just around the corner from the bike tracks and has hot mineral pools for guests to use, so was ideal after a long day on the bikes.
That evening we rode the Skyline gondola and had a perfect view of the mountain bikers taking part in the world-famous Crankworx mountain biking festival on the tracks below us. We did the Saturday Night Lights luge session (check the website for availability), which the kids loved. Rico rode with his dad while Zuma was delighted to get his own luge. We had so much fun on the twists and turns and seeing the track with its colourful lights –a possum even ran across the track at one point! It was such a neat way to spend our night in Rotorua!
Memories to treasure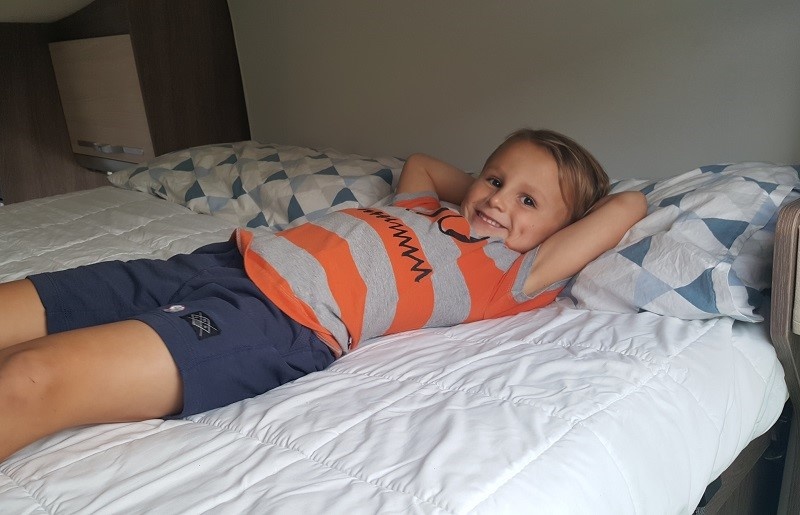 It was the ideal family holiday – we had everything we needed at our fingertips in the Alpine 4 and it was wonderful just being able to pull up anywhere and chill out. The boys loved the motorhome and the two single beds in the back meant they each had their own space with cupboards for their things and a little shelf between them for a night light and a few of their toys. My husband and I slept on the dropdown bed, so we felt like it was big enough that we could be sitting up front or lying in bed and everyone still had enough room.
We loved having the time together on the road to have some fun and move at our own pace. It was the perfect way to make some very special family memories.