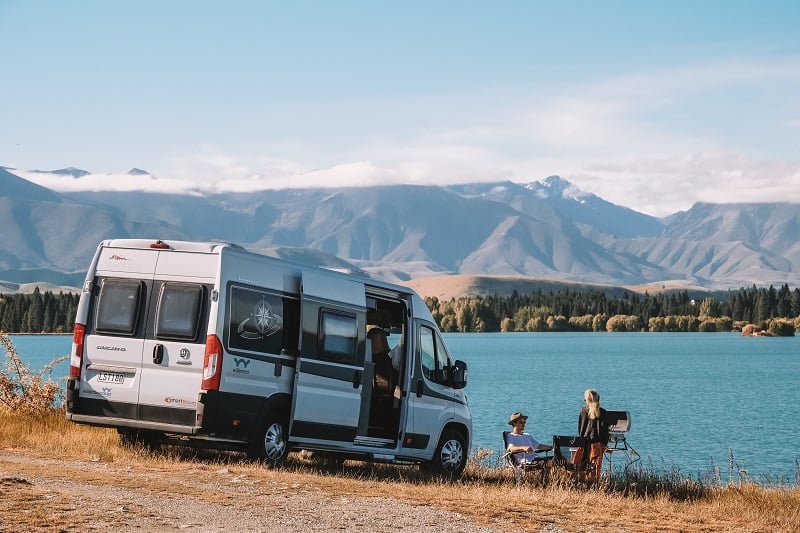 While researching motorhomes for your New Zealand holiday, you might've come across websites that list private campervan hires. If you were already confused before about what you're looking for in a rental motorhome, chances are the discovery of these platforms for private rentals gave you a serious headache.

We explain what exactly a private campervan hire entails and what the difference is from traditional motorhome rental companies to help you decide which one is for you. And if you're still struggling after this, our decision guide will help you out.


What is a private campervan hire and how does it work?
New Zealand is a country of motorhome and caravan owners. Kiwis love a good road trip and know the advantage of travelling with our own hotel room in tow. And they want to share this love with visitors and people who might not have the space for their own campervan. So some hire out their own private camper during the time they know they won't use it. The camper owner usually signs up to an online platform that helps them rent out their motorhome or caravan.

Think of these platforms as an AirBnB for mobile homes. The platform lists the owner's camper on their site for a charge. The owner benefits from the higher number of online views of their campervan and the platform gets more customers the more products they can offer.

Most of the mobile homes offered on these camper-sharing platforms belong to private people. Occasionally, rental companies with a very small fleet also use them in additional to their own website.
What is a motorhome rental company?
A motorhome rental company has a fleet of motorhomes they own that they rent out to travellers. Usually, rental companies have multiple rental categories or vehicle sizes available to choose from. Within these categories, they have multiple vehicles that all have the same layout and specifications.

Motorhome rental companies have their own website and their own customer service team. They market their motorhomes through their own channels. Some rental companies choose to also sell their products through traditional travel agents or online travel agents (OTAs) but some only sell direct.
What are the main differences between private campervan hire vs rental company?
When deciding whether to book your motorhome through a rental company or a private owner, you need to know the differences between the two options.


1. Vehicles and motorhome fleet
Private owners:
Looking for a camper on a sharing platform, you'll notice that the vehicles are all different. They vary not only in age and size but also interior design and specifications. Because private owners hire out their own vehicle on the platform, you can select from an incredible range and pick whichever campervan fits you best. If you're looking for a high-tech mansion on wheels or an adorable little #vanlife camper, you're likely to find either.


Rental Company:
With motorhome rental companies, the variety of vehicles is a bit more uniform. You can choose between a number of categories depending on the number of people travelling or how much space you desire. Each category has multiple vehicles that are pretty much identical inside and out.
The upside of uniformity, is consistency. The campervans are all built the same way and will perform the same way. The rental operators have lots of experience of what does and doesn't work for rentals so as long as the campervan is well maintained, you can can feel confident that the vehicle will perform for you as it should.
2. Availability
Private owners:
If you want to rent a campervan from a private owner located in a region where rental companies don't operate over a busy period it pays to book as early as possible. Because they are unique campers, they're more likely to be booked out for the time you'd like to rent them, either because someone booked faster or because the owner uses the motorhome themselves. This is especially the case during high season, school holidays and public holiday weekends.


Rental Company:
New Zealand tourism is seasonal so even when renting from a motorhome rental company you need to book early if you plan to travel over the in demand periods. In the off season, rental operators are more likely to have availability for your favoured motorhome as they have more vehicles to choose from than a private operator.
3. Pick-up locations
Private owners:
This might be the biggest advantage of private rentals. Because private campervan owners are scattered all over the country, it's likely you can find a vehicle near you. The pick-up system is extremely flexible that way.

Depending on which camper sharing platform you're booking through, you might also have the possibility to pick up your mobile holiday home from a depot near the airport or book a transfer from that depot to the motorhome.


Rental Company:
Motorhome rental companies don't tend to be as flexible as the private owner. They have their fixed locations, usually near the airport in Auckland and Christchurch plus a few companies have depots in other New Zealand cities.
4. Customer service and on-road support
Private owners:
This is perhaps the biggest downside of private campervan rentals. It can get a little confusing who your contact person is. When booking a private campervan hire, your reservation goes through the camper sharing platform and you get the confirmation from the platform. Afterwards, it can go in multiple directions.

When renting out their campervans, a private owner has several choices. Without going into too much detail, depending on how the owners are signed up and licensed, they can have more or less to do with the customers who rent their motorhome. This means, if you have issues with the motorhome equipment e.g. fridge or heater (these are the most common), you may not have anyone available to troubleshoot/resolve this with you.
Rental Company:
Booking, pick-ups and drop-offs as well as on-road assistance to common questions about your motorhome are handled by the same team. About a third of all motorhome renters will call on road support at some time during their hire for assistance with resolving an issue. There's only one phone number you have to call for all kinds of questions. The quality of customer service (as well as the rental company in general) can easily be assessed by looking into customer reviews on Google, social media platforms or their website.
5. Mechanical issues and breakdowns:
Private owners as well as rental companies:
The procedure is the same whether you book a private motorhome or go through a motorhome rental company. However, if you rent a private motorhome and have a serious breakdown issue, it may not be as easy to resolve as with a good rental operator.
If you have a mechanical issue with your vehicle or a breakdown, you need to inform the rental platform as soon as possible. 24-hour roadside assistance is available to everyone. Any mechanical issues not caused by the guest are covered. If you, for example, run out of gas or violate the company's T&Cs, you will be charged for the roadside assistance service.

If the motorhome is damaged to the point where it can't be driven anymore, the rental companies and platforms are not obligated to provide you with a replacement campervan or to refund you. However, some will do their best to find a replacement for you. This becomes more difficult when renting with a private campervan owner especially in the regions. It's less likely that there will be another private campervan available near where you are and if one can be found, it is unlikely that it will be the same type of vehicle as you hired.
6. Quality standards:
Private owners:
The quality of the individual motorhome usually depends on how well the owner looks after their vehicle. The best way to find out more is by talking to the owner of the vehicle you would like to hire. However, you will need to take their word for it unless you are able to view the campervan before you make your decision. Some of the private rental platforms also let previous guests rate their experience, just like with AirBnB, so check the owner reviews where available. Ratings of the camper sharing platforms can mostly be found on Google or Facebook.
Rental Company:
It's much easier to ascertain quality if you're researching a rental company rather than a private owner. That's because there's a lot more information available about rental operators.
The quality standards at motorhome rental companies depend a lot on the company itself. Additionally, the more premium a motorhome company is, the more you can expect in terms of vehicle maintenance and cleanliness.

This doesn't automatically mean that premium is better than mid-range or budget vehicles. The easiest way to spot the overall quality of a motorhome rental company is by checking their Qualmark ratings as well as customer reviews on various online platforms.
7. One-way rentals
Private owners:
Picking up your motorhome in one place and dropping it off somewhere else in New Zealand is not usually possible with a private campervan hire. This for the simple reason that the campers belong to a person that is located in one place and, understandably, they won't want to fetch their vehicle from somewhere else in the country. Check the online listing to see whether or not a one-way rental is possible.
Rental Company:
Most bigger rental companies have a location in Auckland and another one in Christchurch, sometimes in Queenstown. This means they are set up to handle campervans starting in one location and ending in another.

One way rentals usually cost a fee because of the logistics of moving campervans around the country. Some companies charge a flat fee for one way hires and others build it into the daily rental rate. If you're flexible about which direction you want to travel e.g. you don't mind if you start in Christchurch and end in Auckland, it pays to check the rental rates for both directions. You could find one direction less expensive than the other.
If you're looking for a good deal and don't mind travelling between islands reasonably fast, keep an eye out for relocation deals. However, relocation deals usually can't be confirmed more than a few weeks before pick up.
8. Insurance
Private owners:
Taking insurance is compulsory when renting a vehicle, no matter whether you're covered by your own insurance or not. You can usually choose from three different options. The cheapest comes with a higher liability (excess). When taking the most expensive option, all you usually have to pay is a bond for the vehicle.

The insurance is not part of the initial rental fee and can add up quite a bit to your final price.


Rental Company:
Insurance is mandatory when booking through a motorhome rental company, as well. But unlike the private rental platforms, the lowest, cheapest insurance option is already included in the base rental fee. You can then add a liability reduction product so that you don't have a big outlay at the end of the hire should you damage the campervan.
9. Cost of motorhome rental
Private owners:
Private owners set their own price for the hire on the camper sharing platform. As they don't have the experience in pricing, it can be either more expensive than a rental company or it can end up cheaper. They get some guidance and information from the platform but in the end, the owner decides on the rental fee.

Rental Company:
Motorhome rental companies are experienced in pricing. This won't necessarily make a rental cheaper or more expensive than renting from a private owner but it might be less random. They have seasonal rates (the cheapest season being May to September, the most expensive over the Christmas/New Years and two shoulder seasons for the months either side). Every now and then, some rental companies offer discounts. They also usually offer lower rental rates for guests who hire a motorhome long-term.
10. Inclusions, exclusions & add-ons
Private owners:
Some basic inclusions in the motorhome are standard and stipulated by the sharing platform. This usually means that bedding is included in your hire as well as basic crockery, pots and pans and kitchen utensils. Any other additions, like camping chairs and table, are set by the owner and are either included, can be added for a fee or are not available. You'll usually find this information in the motorhome description.


Rental Company:
As with private rentals, inclusions, exclusions and add-ons vary greatly depending on the rental company and their budget category. Don't be deceived by some low base rental rates. Always go through the full booking process (without hitting the booking button) to see all the add-ons. Then compare the motorhome rental companies by the final rental cost.
11. Reviews
Private owners:
Once you decide on a size, you need to find the motorhome with the right layout and features at the right location and at the right price for you. Contact the owner directly through the messaging service with your questions. Get a feel whether or not you trust the person as well as this is who you will be dealing with if there are any issues.
Rental Company:
Once you decide on a campervan size, you need to look for the right rental company at the price that is right for you. At any given time during your booking and travel period, your contact is the rental company's customer service. To find out what their service will be like, it's best to read through customer reviews and see what previous renters have to say about the company.
So, should you rent your motorhome from a rental company or use a private campervan hire?
Both options have their pros and their cons. If you'd like to rent a motorhome outside of the main locations Auckland and Christchurch, it might pay to look into a private campervan hire. If you would feel more confident knowing what to expect of your motorhome and the service you receive on the road, a motorhome rental company might be better for you.