New Zealanders love food, and you'll see why once you embark on your motorhome roadtrip.Whether you choose to plan every meal for cooking in your camper, or prefer to leave dinner ideas open to try new and exciting things, we know you'll be inspired by the abundance of fresh regional produce and local delights on offer.
Here's the low-down of where to find the best of the best. (If you missed part one of this series – the inside word on motorhome food shopping in New Zealand, be sure to check it out).
Fruit and Veggie
For the best buy when it comes to fruit and vegetables, stop off at produce stands, or smaller grocers, on the side of the road. The fruit is fresh and the variety plentiful at really reasonable prices. These are commonplace during spring and summer in New Zealand, along with many places that allow you to pick your own fruit, like gala apples and an array of berries.
Farmers' Markets
Farmers' markets are not only great for finding fresh and organic produce, but also for supporting local businesses and getting involved in the kiwi community.
You'll find stallholders and shoppers alike are open to a chat, and are especially knowledgeable about the best foods available in their area.
Travelling in your motorhome is the perfect excuse to visit all the best markets and try out local delicacies. Below are a few of our top picks to buy some fresh foods around New Zealand.
North Island
1. Matakana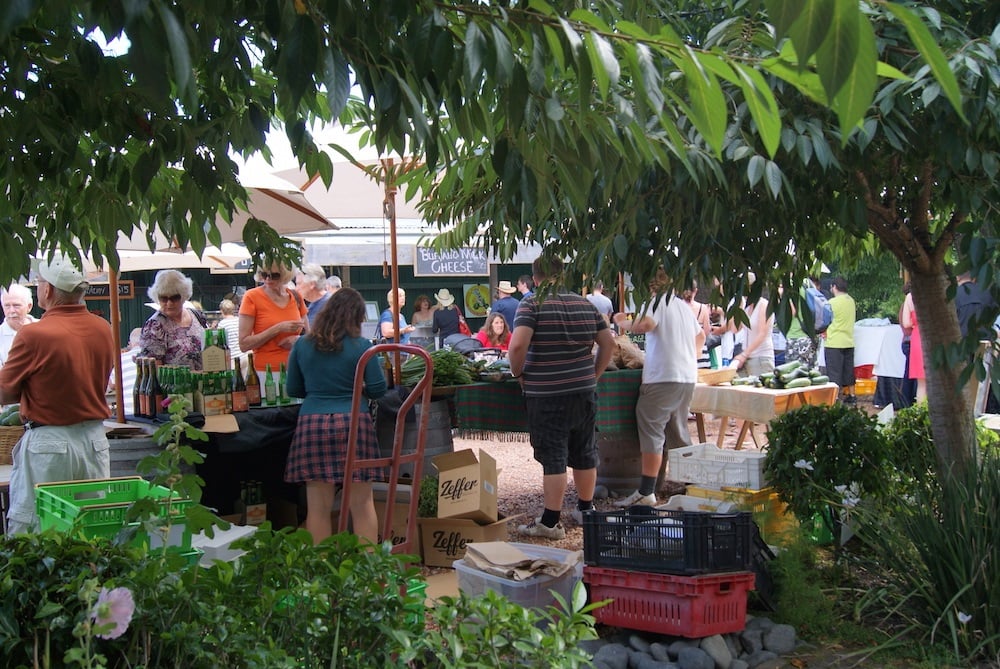 Located north of Auckland, the Matakana farmers' market proprietors share organic and gourmet fruit, vegetables, chocolate, preserves, breads, meats, cotton reusable shopping bags, crafts and much more. There is also a live band – park up your camper and you can easily spend the whole day here. Open every Saturday from 8.00am to 1.00pm.
2. La Cigale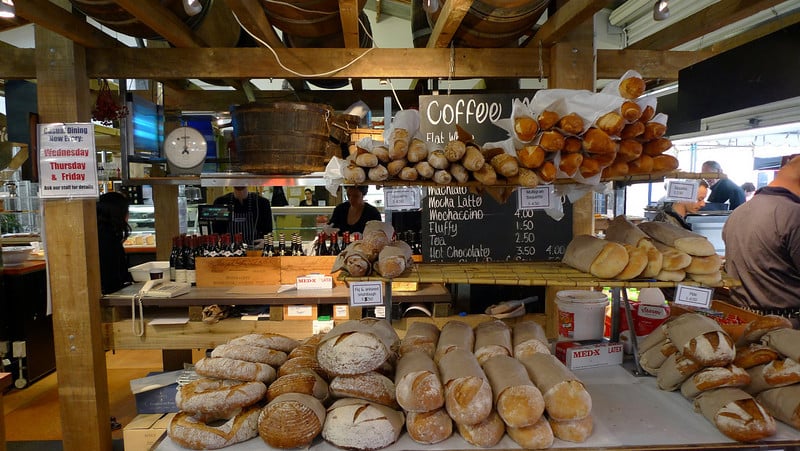 Touted as one of Auckland's favourite markets, La Cigale is a French style market offering both New Zealand artisan products and delicious food from overseas. Come for the delectable French food and coffee and stay for the ambiance. Open every Saturday, with a café and bistro, from 8.00am to 1.30pm and Sunday from 9.00am to 1.30pm.
3. Hawke's Bay
Here you'll find enthusiastic locals offering a wide range of fresh vegetables, fruit, meat, bread, eggs, pickles and preserves straight from the producer. Try before you buy, and relax on the grass before heading back to your motorhome to delve into your purchases. Open every Sunday 8.30am to 12.30pm.
4. Tauranga
A vibrant market with a distinct community feel selling seasonal fruits, vegetables, meats, seafood, preserves and more, every Saturday from 7.45am to 12.00pm. This is the perfect place to stop before heading to the beach for a picnic with your purchases or walking off your indulgences around Mount Maunganui's volcano.
5. Waikato

Held in both Cambridge and Hamilton weekly, the Waikato farmers' markets enjoy hosting local businesses that offer a great variety of natural products, with health, the environment and the support of local NZ farmers in mind. Visit Cambridge on Saturdays 8.00am to 12.00pm, or Hamilton on Sundays 8.00am to 12.00pm.
South Island
1. Nelson
Mushrooms, almonds, kombucha, Hāngi, kaimoana and more – this market specialises in interesting and delectable foods from around New Zealand. This is one of our highly recommended stops to get a good taste of kiwi kai. Open every Wednesday from 10.30am to 3.30pm.
2. Christchurch
Head along for some of Canterbury's finest fresh produce, along with foreign fare like Japanese dumplings and Cornish pasties. Open every Saturday 9.00am to 1.00pm.
3. Mount Pleasant
Open every Saturday 9.30am to 12.30pm, the Mount Pleasant markets near Christchurch is small and homely, allowing the local community to trade their fresh produce and creations. This market came about after the 2011 earthquake. With no supermarkets or stores to purchase food, the local community came together to form a space to share the (literal) fruits of their labour.
4. Ohoka
Listed as one of the top farmers' markets in NZ 2016, the Ohoka markets support up to 55 growers and food artisans every Friday from 9.00am to 12.30pm. It's recognised as a real food market supporting local, seasonal, independent, eco-agriculture in the Waimakariri and beyond.
5. Otago
As one of the busiest farmers' markets in Australasia, it would be a shame not to hop in your motorhome and make your way down there. Offering a huge variety of fruit, vegetables, meats and dairy straight from the grower, you're assured what you're trying and buying the freshest. As the seasons change, so do the vendors, so not one visit is the same.
For recipe inspiration while you're touring New Zealand, try our camper cooking favourites, including our Thai curry and other recipes for the road.
If you have any questions about your food needs, leave us a message below or contact the Wilderness team, we're always happy to offer any advice.