"Isn't it just like Canada?" "Wait, you're going in the winter?" These were the questions we got when we said we were heading to New Zealand to explore both islands in an epic two-weeks with Wilderness NZ.No, New Zealand is not just like Canada. Yes, we would recommend absolutely every Canadian to go to New Zealand- because it is a complete wonderland unlike anything we have ever explored. Cascading waterfalls, endless blue lakes, waking up to the milky way at a stop on the side of the road - this is our two week journey with Wilderness NZ.
The North Island
Fresh off the plane from Sydney arriving in Auckland, we made our way straight to the Wilderness offices (thanks for the pick-up, guys!) to grab our camper. Camper is a light term, this thing was absolutely incredible. A completely decked out, self-contained wonderful thing of a machine. We were in love instantly, and couldn't wait the road. Make sure you pick up your WilderNessts guide* from the Wilderness base and a GPS, we used them every single day to plan our trips. On every stop we made from the WilderNessts guide*, we were the only ones and had epic mountains and lakes all to ourselves.
Top 3 North Island Tips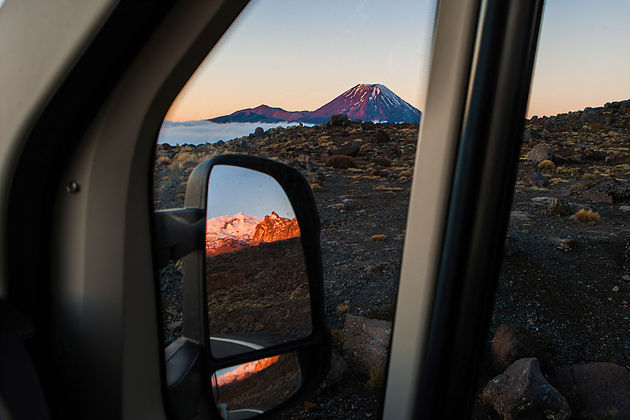 Sleep on top of a mountain at Tongariro National Park
We drove our camper straight to the top of Mount Ruapehu to watch one of the most beautiful sunsets we've ever seen, with cascading views of both Mt. Ruapehu and Mt. Ngauruhoe surrounding us. There's a WilderNesst* at the top - make sure you check it out.

Visit Hobbiton, even if you're not a Lord of the Rings fan
We took the Hobbiton tour, a must-do on the North Island to take a day off shooting mountains and lakes in exchange for Hobbit holes and sheep. It was completely worth the stop, and a nice break on the way to the geothermal pools of Rotorua from Auckland.

Speaking of Geothermal, Wai-o-Tapu Geothermal Park
Ever seen a bubbling green lake? Well, if you haven't- then you need to stop into Rotorua. A perfect halfway point on the way to Tongariro, the smell alone will make you think you've arrived on another planet. There's a few Freedom Camp spots around the Rotorua area, so keep your eye out.

The South Island
A quick (and beautiful) ferry ride later, and we've made it to the South Island. The South Island is known for it's incredible mountains, the bluest water you'll ever drive up to, and perfect surf on the surrounding coastline. We spent the majority of our time driving around this incredible island in our camper, from end-to-end in about 9 days. Here are our top 3 tips to have a great South Island trip.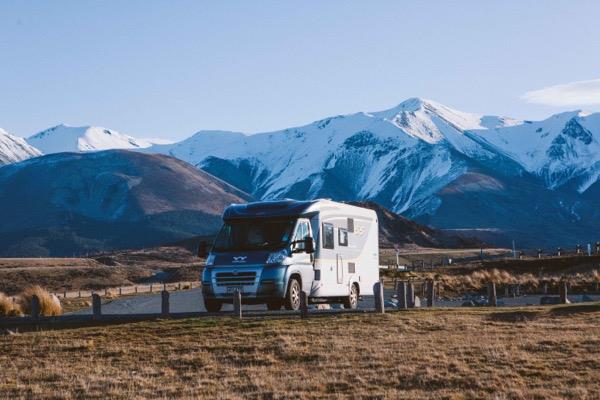 Top 3 South Island Tips
Get up for the Milky Way
Set your alarm, and make the crawl out of your bed at some point (it will be difficult, but well worth it) to catch the Milky Way. Our Milky Way extravaganza happened at Lake Rotoiti by chance, a 4:00AM alarm was set and we made the slow crawl out of our camper to open the door directly to the stars and the Milky Way. 30 minutes later, and we were running back for our heated haven, completely starcrossed by the sights we saw.

Make the day trip to Mount Cook National Park. A little off road from any trip around the South Island, but it was absolutely our favourite stop. A quick hike from the parking lot, and you'll be surrounded by what seems like endless mountains moving through the clouds up above you. The basic hike has little to no elevation, and you can challenge yourself to do Sealy Tarns if you'd like to go further.

Sand fly warning
The coast of the South Island surround the Pukakaiki Pancake rocks is unlike anything we've ever seen, and your WilderNessts guide* will lead you to some pretty incredible Freedom spots on the side of the ocean. But make sure you bring Deet- the sand flies are mental here and will completely attack you the moment you step out of your van. We came ill-prepared, but vow to return with bug spray in hand to enjoy the calming sound of the ocean surrounded by rainforest and sea stacks.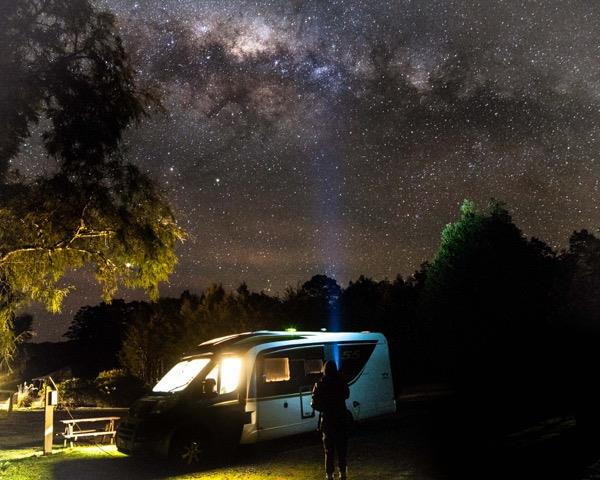 Our two week adventure with Wilderness NZ was one of the best times of our lives, thank you to New Zealand and Wilderness Motorhome for the opportunity as this trip would not have been the same without our haven of a camper.
*The WilderNessts Camping Guide is no longer available, we encourage our guests to use the Campable app to find freedom camping spots as well as where to stay on private land.