12/12/19
Guide to Using a Wilderness Motorhome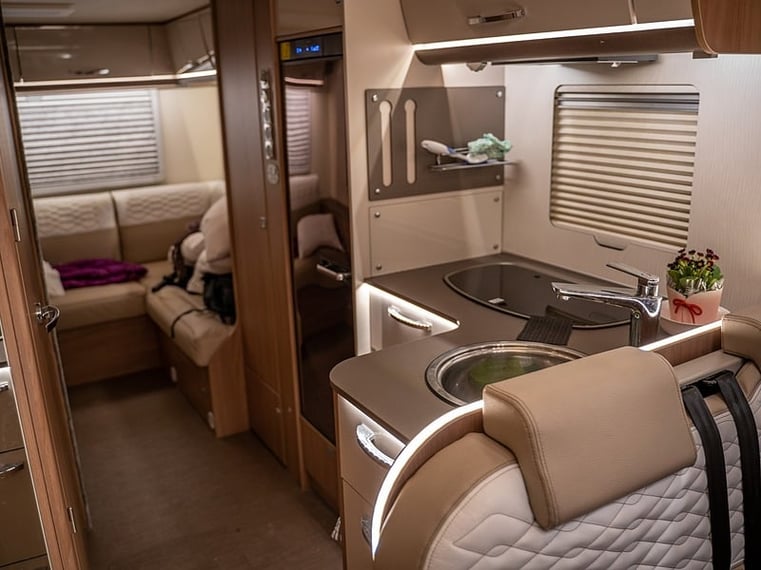 So you're going to explore New Zealand in a Wilderness motorhome! Whichever model you've chosen from our fleet for your holiday, you can feel confident that it will get you from A to B, then to C, down that side road to E, over the hill to F and anywhere else you want to go in comfort and safety.

Our Adventure Support team will take you through your campervan and explain all its features when you collect it, and there's also a detailed User Manual on board, but here's a handy overview of how your campervan works so you can get familiar with everything before you get the keys.

PRE-DEPARTURE CHECKS
Always check the following before you leave a campsite after an overnight stay, or anywhere you've stopped for a break.
Power lead is unplugged from the power box (if staying at a campground) and stored away

LPG bottles are turned off

Outside step is put away

Cupboards and drawers are locked

Refrigerator is closed

Table extension, drop down bed, roof vents and windows are secured and firmly closed
ON THE ROAD
Driving
If your motorhome has automatic transmission with manual option we recommend using the automatic transmission

Put your foot on the brake to start the engine

Use the reversing camera for better visibility when reversing. It will automatically display on your radio screen when you select the reverse gear

Always use your right foot when driving, not both feet at the same time as this may cause issues
Refuelling
Refuel your motorhome with diesel only

Fuel filler flap is located near the passenger door

Unlock the fuel cap using the vehicle key
MOTORHOME BASICS - POWER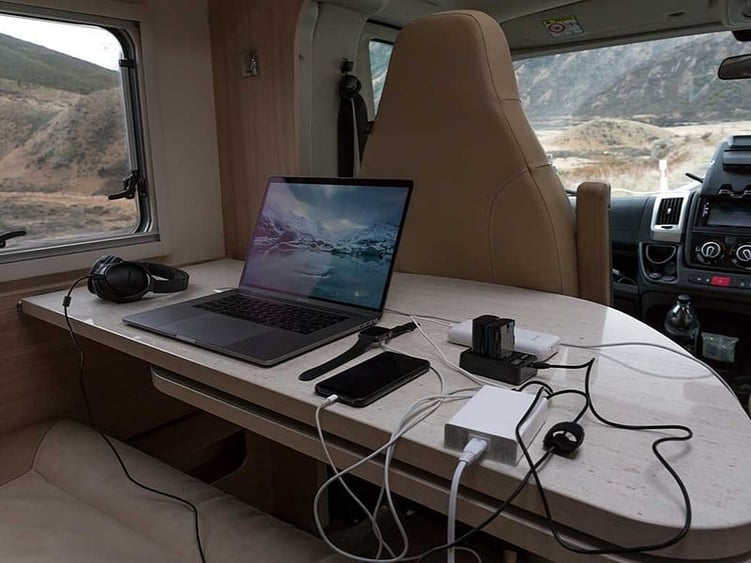 Your Wilderness campervan will be your home away from home during your New Zealand adventure, so it's important to understand how to keep everything running so that you're never left in the dark or out of phone battery!
How it works
Your Wilderness campervan has power supplied to its living compartment by a rechargeable 12V house battery and 240V mains power when you're connected at a campsite.
When you stay at a 'powered' site at a campground or holiday park, you will have access to a 240V mains power connection. You can connect to this using the power lead provided in your campervan.
There is a control panel on the wall in your motorhome. From here, you can turn the 12V house battery on and off and see how much charge it has remaining.
MOTORHOME BASICS - WATER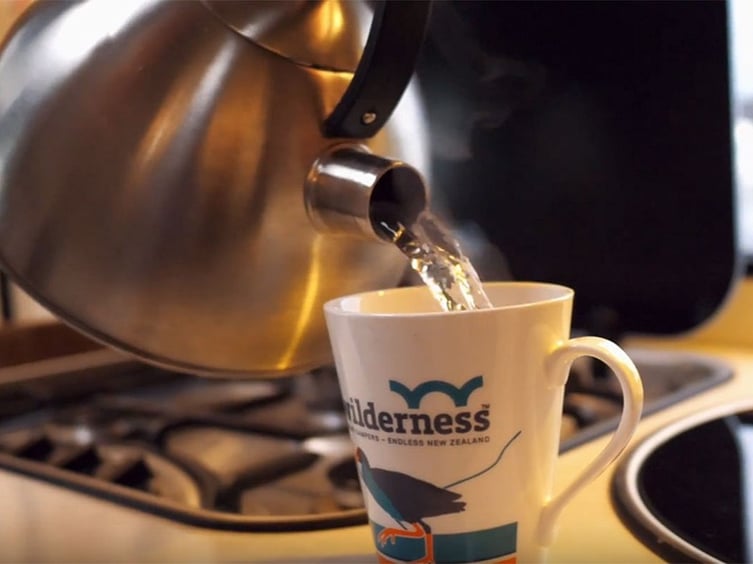 Part of the convenience of life on the road in a Wilderness motorhome is hot and cold running water whenever you need it – whether it's to drink, to enjoy a hot shower at the end of a day of exploring, or to do the washing up. Here's how to look after the fresh and grey (waste) water in your Wilderness motorhome.


How it works
Your motorhome has two water tanks – one for fresh and one for grey water. This is essential for freedom camping so that you minimise your impact on the environment by taking wastewater with you and emptying it responsibly later on.
You will need to refill the fresh water and empty the grey water every 2-3 days at a dump station. It's an easy process and these stations are available all around New Zealand at campsites and holiday parks. They are clearly sign-posted in towns, and found on apps like Campable, or you can ask at a local i-SITE (tourist information centre). Your Wilderness motorhome also comes with a detailed touring atlas showing dump station locations all around the country.

Dump stations are free to use.
The fresh water tank in your Wilderness motorhome will be full when you collect it from the Wilderness base. All Wilderness motorhomes come with a built-in shower and a hot water heater.
You need to turn the water pump on before you can use the taps or shower. Use the control panel in your motorhome to turn on the 12V house battery and then the water pump. (In a Carado motorhome, the water pump comes on automatically with the house battery.) Turn the pump off when it's not in use (e.g. at night) to avoid using more of the house battery than necessary.

Depending on how much water you use, you may need to refill the fresh water tank every day (if everyone showers each day, for example). Make sure you also empty the grey water at the same time (see below).

You can check your fresh water levels from the control panel – simply press the fresh water monitor button.

For hot water

Hot water is heated by a supplied LPG/propane bottle when you're freedom camping, or 240V mains power when you're connected at a campsite.

You need to turn the heater on about 40 minutes before hot water is needed. It will heat 10-15 litres of water, which is usually enough for a quick shower or washing the dishes.

For drinking

The fresh water available from mains water supplies in New Zealand (i.e. at dump stations) is usually safe for drinking. However, water supplies in some remote areas may carry waterborne microbes that can cause illness.

Before refilling with fresh water, always check for any signs instructing you to boil water before drinking it.
Waste water drains from the sink, shower and hand basin into the grey water tank.
Don't put anything other than water down the drains – food scraps, meat fat and even coffee grounds will block the drain.

The grey water tank is smaller than the fresh water tank (as some fresh water empties into the toilet), so you will need to empty the grey water slightly before the fresh water is empty. It is generally easier to do both jobs at a dump station at the same time.

The grey water tank is separate from the toilet system (this is called black water).




How to empty and refill the water tanks
You can empty your grey water tank and refill with fresh water at any approved dump station. Look for the blue and white dump station symbol of a campervan with downward arrow.
Park as close as you can to the dump station. There is a bag in the service locker of your campervan with two separate hoses for fresh and grey water.

Attach the supplied grey water hose to the tank outlet on the side of your campervan and put the other end in the dump station drain. Turning a handle on the grey water tank allows the water to drain out.

A fresh water tap is usually located a couple of metres away from the waste disposal drain. Always use the fresh water hose supplied with your motorhome to refill the water tank – do not use the hose supplied at the dump station.

Connect the fresh water hose to the tap and place the other end about 100mm into the fresh water inlet. Turn the tap to medium pressure.

If your fresh water tank inlet is on the side of your motorhome you can keep filling until the water tank starts to overflow. If the inlet is inside a service locker, use the supplied overflow chute when filling and do not let water overflow into the locker. You can keep an eye on the water level thanks to the clear-sided tank.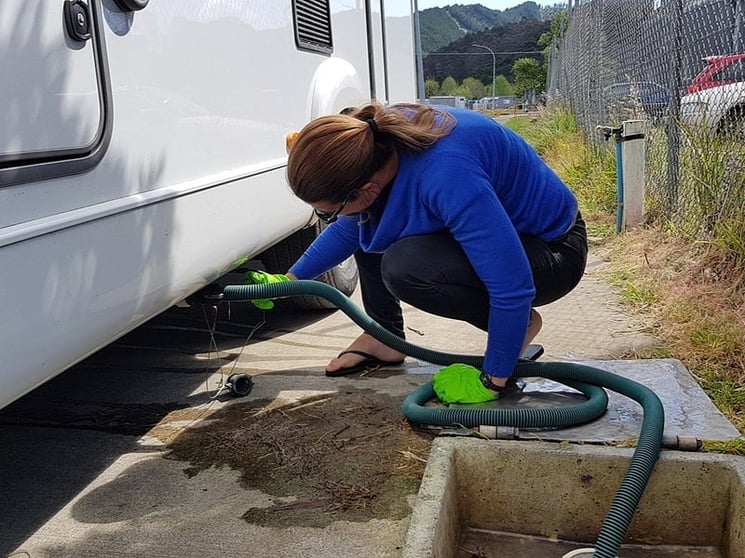 MOTORHOME BASICS - TOILET & SHOWER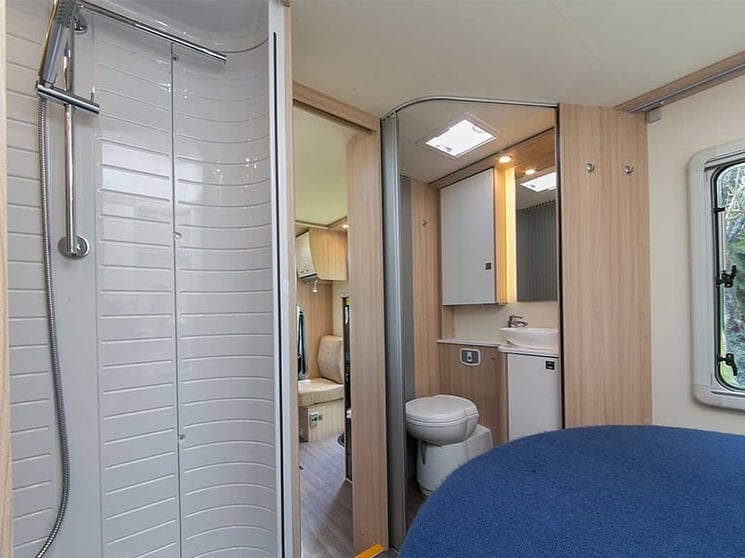 One of the best parts of a campervan holiday is having everything you need with you on the road – especially if you're freedom camping! In a Wilderness campervan, you can enjoy a hot shower at the end of a fun day of exploring, and the convenience of a toilet on board.
Your bathroom
The bathrooms in Wilderness campervans are either combined (toilet, hand basin and shower in one room with a lockable door) or the toilet and shower are separate. The bathrooms offer good storage for toiletries and convert to a drying room when needed (except in the Vista 2 model).

The toilet
The campervans use 'cassette toilets'. These look similar to regular toilets, but when they are flushed the contents empties into a storage container beneath the floor, known as a 'cassette'. The cassette contains a chemical to break down the contents and prevent odours. A seal operated by a lever opens and closes the cassette each time the campervan toilet is used.
A light on the campervan toilet indicates when it's time to empty the cassette. Simply head to the nearest dump station – you'll find these marked on travel apps, or ask at the nearest i-SITE visitor information centre.

First, ensure the seal on the cassette is closed. Then unlock the toilet panel on the exterior of your campervan, disconnect the cassette by pulling it out and empty the contents at the dump station. Then simply refill it with the toilet chemical provided, add a little bit of water and replace it for use.

The process is quick and easy and will only need to be done every few days (depending on how many of you are travelling).
The shower
All Wilderness motorhomes come with a built-in shower and a hot water heater. The heater is powered by a supplied LPG/propane bottle when you're freedom camping, or 240V mains power when you're connected at a campsite.
The shower uses water from the fresh water tank and empties into the grey water tank.

You can check your fresh water levels from the control panel in your motorhome – simply press the fresh water monitor button.
MOTORHOME BASICS - KITCHEN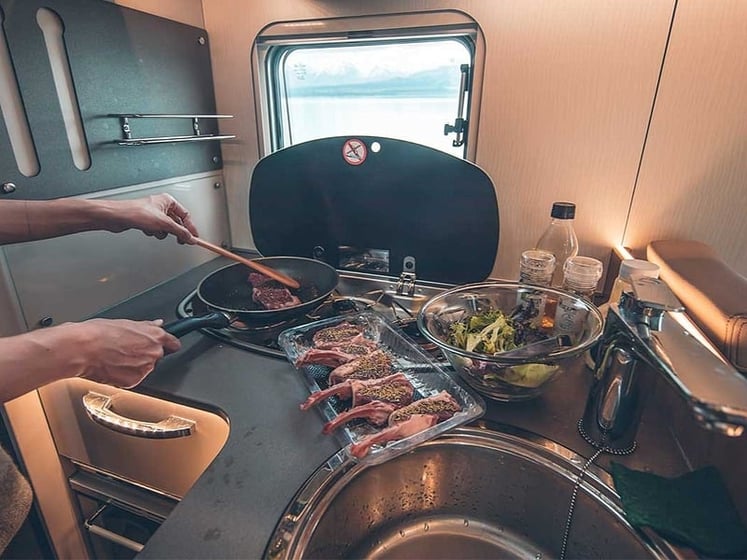 Imagine how fabulous it will be to arrive at a remote spot – maybe as the sun sets over a deserted stretch of beach – knowing that the wine is chilling in the fridge and you'll soon be enjoying a delicious cooked meal.
Every Wilderness campervan has a fully equipped kitchen with a gas cook-top, an oven/grill and a fridge/freezer so you can whip up meals on the road whenever and wherever you want.
Here's what you'll find in your campervan kitchen:
Fridge
The fridge has room to store all your essentials plus a small freezer compartment, which is useful if you're planning on freedom camping for a few days, or don't want the bother of food shopping every day. It can run off the 12V house battery (while driving), LPG (while freedom camping) or 240V mains power (when you're plugged in at a campsite). This is known as a '3-way fridge'.

Cook-top
Gas cook-tops are easy to operate and are a fast and efficient way to cook. Wilderness campervans come with a two or three burner cooktop (plus extractor fan), depending on which model you choose.

Energy for the cooktop is supplied by the gas (LPG/propane) bottle stored in a separate compartment that is accessible from the outside of the campervan only (this is a safety requirement). We supply a long-handled lighter for the cooktop.

Oven
Wilderness campervans have a small oven/grill.

Kitchen equipment
At Wilderness, we believe in providing everything you could want on the road. So, in your campervan kitchen you'll find all you need to prepare and serve meals, make an early morning coffee, or enjoy a glass of wine under the stars.


Here's what you'll find in your Wilderness campervan kitchen:

Quality utensils, crockery, cups, water and wine glasses

Pots and pans

Kettle

Coffee plunger (French press)

Wine/bottle opener

Lighter for the cook top

Washing up brushes/cloth and dish towels

If you fancy cooking outside – which is great fun if you're travelling in the warmer months – then you can add a portable barbecue to your booking too.




MOTORHOME BASICS - HEATING

Whatever the weather does while you're exploring New Zealand's great outdoors, you'll be warm and dry in your Wilderness campervan.

Our fleet of rental motorhomes are all German designed and built, so they've been created for chilly European winters and are more than a match for New Zealand's milder weather. They're fully insulated, have double glazing and a heating system, and many models have a drying room feature too.

Heating

Wilderness motorhomes are heated via a thermostatically controlled gas heater. The heating system heats the living area and the hot water. It runs off the 240V system when you're plugged into mains power at a campsite, or off the supplied LPG/propane bottles when you're freedom camping.

Controls inside the motorhome let you select the power source and what you want to heat (living area, water, or both.) Our team will show you how this works when you collect your motorhome.

The heater's fan blows warm air through vents in the motorhome to heat it quickly. Always make sure you don't have anything blocking these vents (luggage or other items) when the heater is on.

The thermostatic control is really efficient as it will only activate the heater once the air temperature inside the campervan goes below the temperature you've chosen.

An external outlet (flue) funnels any fumes outside, but it's important to ensure that you open a roof vent for 10 minutes every morning and evening to freshen the air in the motorhome. Make sure you turn the heater off when you don't need it (and before you start driving) and only restart it once you're parked and either plugged into mains power or have turned your gas bottle on.

Staying dry

Several Wilderness motorhome models have a unique drying room feature in the bathroom that is a major bonus for drying towels, clothes, and other wet gear. A booster off the central heater is routed to the bathroom so it can be heated separately from the rest of the campervan. Simply hang your wet items in the bathroom and close the door for dry clothes in the morning!

MOTORHOME BASICS - ENTERTAINMENT

You'll find plenty to see and do as you explore New Zealand, but it's good to know that your Wilderness motorhome comes with some extra entertainment options too. (Especially handy if the weather turns bad, or you need to keep the kids happy!)

All our Wilderness motorhomes have a stereo in the driver's cab with a radio and AUX cable, CD player, Bluetooth and USB ports. There's also a handy phone holder if you're using online maps while driving.

In the main living area, there is an LCD screen with a DVD player and a USB input for an external hard drive. It's a good idea to bring a Chromecast or DVDs in case your stargazing is disrupted by rain or you just fancy snuggling up to watch something in the evening. And if you're travelling with little ones then having their favourite shows on hand is a must!

We offer mobile WiFi as an extra, which is really handy for keeping in touch with friends and family, streaming your favourite TV shows and downloading more books onto your Kindle. WiFi will work up to about 20m from your campervan. You can have several devices connected to the WiFi at once.

Recharging your devices is easy in a Wilderness motorhome. You can use the USB port in the driver's cab, or simply plug your charger into one of the motorhome's sockets. Remember: you need to be plugged into mains power to use the power sockets, so if you're freedom camping just use the power inverter, which runs off the house battery and can power items up to 600w.