Whether this is your first time renting and travelling in a motorhome, or you gallivant around a different part of New Zealand every summer, a good motorhome tip never goes awry.Here are our top five motorhome life hacks for your next camper excursion.
1. Choose the right motorhome for you
Our first tip may seem obvious, however many people overlook the critical aspects that could determine whether their motorhome rental experience is good, or incredible.
For instance, if you're aspiring to wake up to a soulful, uninterrupted vista of the sun rising above a misty horizon, you'll want a freedom camper. You'll be happy to know that all of our motorhomes are suitable for freedom camping (also known as wild camping), which allows you to experience all of the beauty that New Zealand has to offer from your motorhome. You will want to check that the motorhome you're renting is certified self-contained, otherwise you may run into a few complications along the way.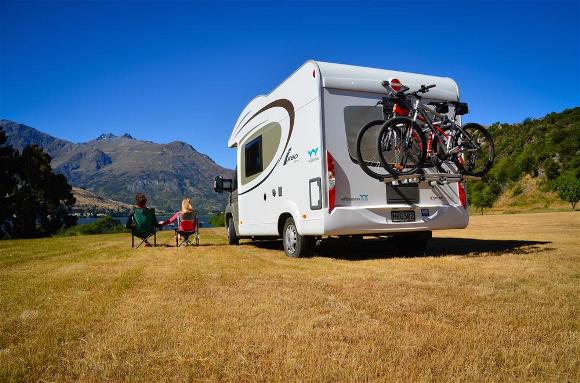 A couple of other things to take into consideration when choosing your motorhome include:
Size: The shorter campers are more manoeuvrable in tight spaces and easier to park, and the longer vehicles have more internal space. Remember, all passengers are required to wear a seatbelt under NZ law so only models with enough seat belts for everyone in your group are suitable. Our motorhome rentals are compliant with NZ law – when we advertise a motorhome as 4 berth, it will have four seat belts, so you're safe with us.
Beds: Choose from a lounge that converts to double bed, a permanent double bed, permanent single beds, cab over or luton bed, or a drop down bed. Here's a hint: for maximum convenience and comfort, go for a permanent bed rather than a lounge that makes up into a bed. It means you don't have to spend precious time at the end of your day assembling your bed (and more time to relax and enjoy your new surroundings!). This is something we really appreciate so all of our motorhomes have a permanent or drop down bed.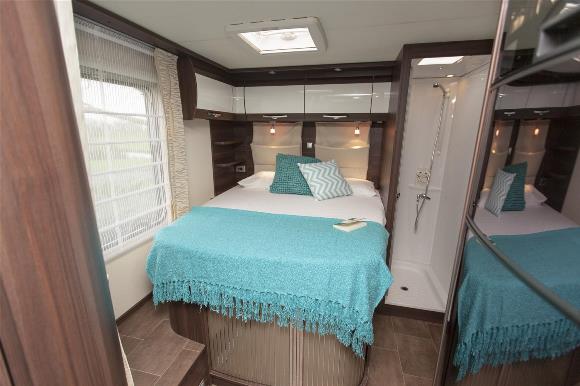 We have more helpful information on choosing the right motorhome for your needs here.
2. Pack light
Try to avoid bringing cumbersome suitcases with you that have hard casings – one or two softer luggage bags are better in the sense that you can store them in the surrounding cupboards to keep them out of the way when you don't need them.
It goes without saying – only bring what you need! We get it, in our enthusiasm to prepare for all eventualities we over pack. Do a trial pack a week or so before you depart, then try to reduce that by at least 50%. You don't want to be tripping over useless items or using up precious storage space. If there's anything you absolutely need that you didn't bring with you, it'll likely be in a store not too far away. The clearer your living and driving area is of your belongings, the more enjoyable and carefree your experience will be.
3. Hang your toiletries
Avoid clutter and loose items flying about by using a hanging toiletries bag to keep your bottles 
of shampoo, body wash and other items under control. Insider tip: if you can't find a hanging toiletries bag, use a hanging shoe rack made of a soft, foldable material – the shoe holes will be big enough to fit your items in a pleasing orderly way.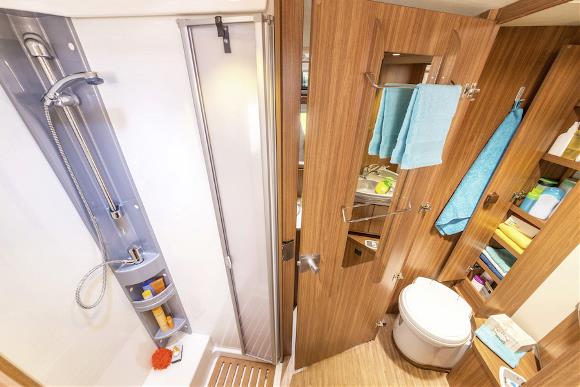 We've found bathroom clutter to be particularly irksome on our travels so we've made sure all our campervan rentals make intelligent use of storage space – with a home for all of your necessities and extras too.
4. Take note of the name, address and phone number of the campground you're in
Campground names and addresses can be easily confused when you're on a long trip exploring New Zealand, especially with multiple stops along the way. It's great to have things recorded electronically, but sometimes electronics fail us. To be safe: use a post-it notepad to write down the name, address, and phone number of the campground you're currently staying in, and replace with every new stop so you can recall easily if there's an emergency.
5. Check the electrical equipment you plan to bring
Appliances that require more than 600W of power can only be used when you're connected to 240V power at a campsite. It pays to check your appliances before bringing them on holiday, including hairdryers, laptop chargers and cameras. If you think you'll be spending a lot of time away from campsites, look into smaller travel appliances that have lower voltage requirements. Our motorhomes have inverters so you can charge whatever you need on the fly, even when not plugged into mains power at a campsite.
If you'd like more ideas for your upcoming expedition, you can find them in this informative guide to choosing a rental motorhome. If you think Wilderness is right for you for your next adventure, please contact us.