Bubbling mud, glowworms, snow and black sand beaches – first-time campervanner Victoria Wells sees it all on a five-day family road trip around the central North Island.
I have always loved the idea of a family campervan trip, so the recent winter school holidays were the perfect opportunity to take our five-year-old on a tour of some of the North Island's iconic holiday spots.
The Bay of Plenty and Waikato regions are packed with fun family activities, so we made a loose plan for our five days to see the sights of Rotorua, head down to National Park (and hopefully see some snow!), up to Waitomo for glowworms and then home to Auckland. All our gear stowed easily in our Ranger 4 campervan and it had everything we needed to be our self-contained home on the road.
Geothermal wonders in Rotorua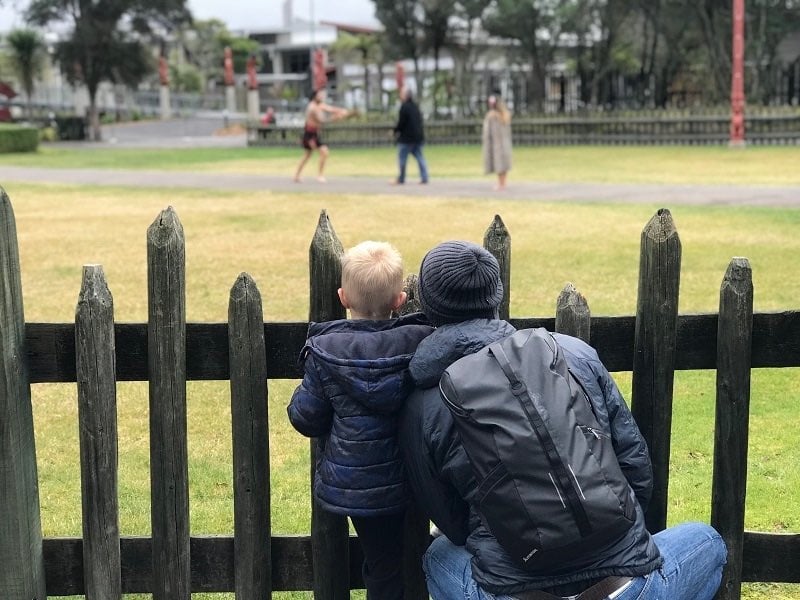 Just two and half hours from Auckland, Rotorua greeted us with its distinctive sulphurous smell and steam billowing from behind fences and across hillsides. Our first stop was at Te Puia, an amazing geothermal valley and a great introduction for George to bubbling mud, geysers, steam vents and his first experience of a powhiri (Maori welcome) onto a marae. Once he understood what was going on underground, he insisted on exploring every nook and cranny of the paths just in case there were more steam vents or bubbling pools hidden away.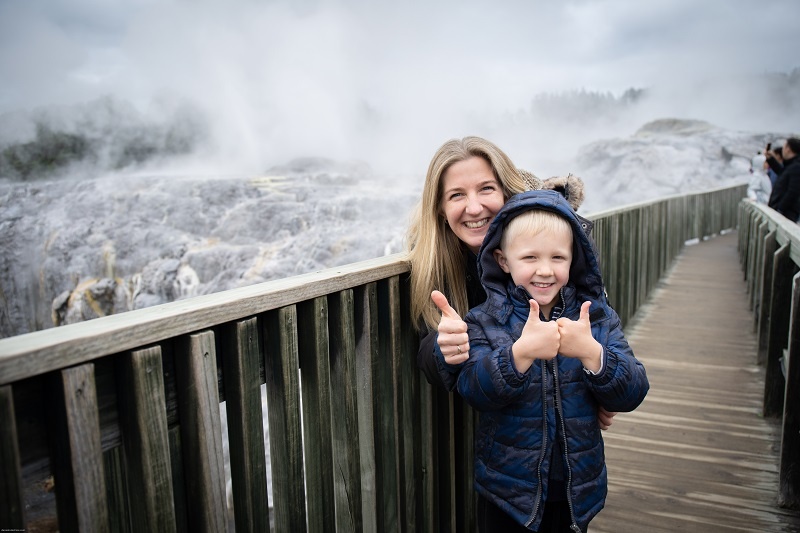 Rainbow Springs is a nature encounter with pools of huge local trout, walk-through aviaries of native birds and all manner of lizards and skinks. We loved the Kiwi encounter, as it was the most active I've ever seen our notoriously shy national birds, while George couldn't get enough of the play areas scattered throughout. His highlight was the Big Splash ride though, which tells the story of New Zealand's ecological past and then ends with a fast drop and a very big splash. Not usually a fan of adventuresome rides, George bravely rode it with his Dad and loved it so much they went three more times!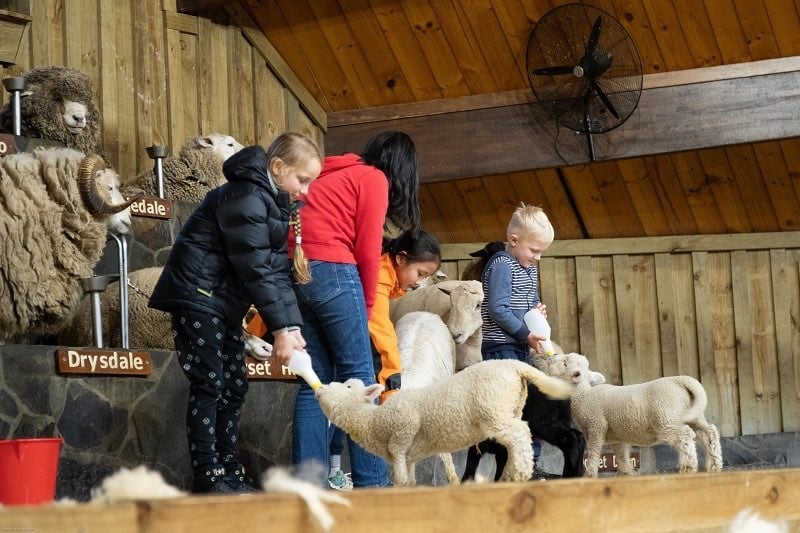 No kid's trip to Rotorua is complete without a visit to Agrodome. It's a farm experience with a sheep show that has been running for decades and I remember it fondly from my own family holidays many years ago. George was lucky enough to be invited on stage to help feed the lambs and was given an armload of freshly sheared wool as his reward. After convincing him we couldn't take nearly a whole sheep's coat in the campervan, we kept a bit for his treasures box at home. We all had great fun on the farm tour, with stops to feed very friendly alpaca and in a kiwifruit orchard where we could pick the fuzzy fruit fresh off the vine and eat them.
Rotorua is also famous for mountain biking and the beautiful Redwoods Forest is home to 130km of free trails ranging from a kids' loop to seriously advanced tracks. The Redwoods Information Centre off Tarawera Road has trail maps, but if you need to hire bikes or are looking for the kids' loop, then drive to the other side of the forest, just past Te Puia, where Mountain Bike Hire Rotorua is on Waipa State Mill Road. The kids' loop is a great introductory trail but still with a couple of steep bits and bumps that I found myself crossing my fingers over as we hurtled through the forest.
After a couple of long days of walking (and riding!) we visited Polynesian Spa for a soak in the geothermal mineral waters. The deluxe outdoor pools are lakeside and you can choose from two kinds of water – one soothes aches and pains, while the other nourishes skin. It was heavenly and the three of us sank into the silky warm waters and watched the steam rise off the chilly lake (even George managed to sit still for a while - so those waters must be magic!).
We ate out both nights in Rotorua - Cobb & Co has an awesome kids' menu and entertainment area (George couldn't believe his luck getting a Traffic Light drink and having an xbox to play on), while the next night we opted for craft beer pub Brew on popular Eat Streat at the lake end of Tutanekai Street.
We used two freedom camping spots – the first at Boyes Beach Reserve by Lake Okareka, about ten minutes from town (take cash for the $10 fee per adult) and the second at the water's edge on Lake Rotorua. The nights were chilly but the gas-run central heating kept us toasty warm and even my 6'4" husband was happy in the cosy beds!
South to snow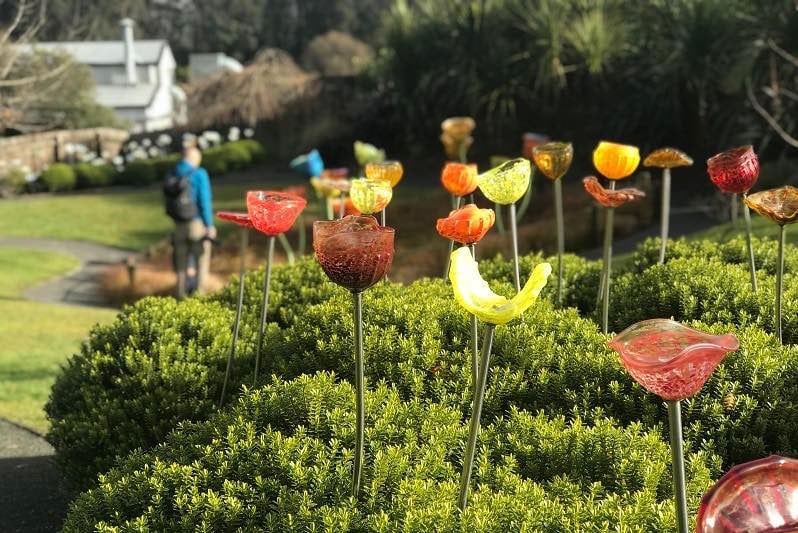 From Rotorua we headed south to Turangi. On the way, we discovered Lava Glass a glassblowing studio, gallery, café and sculpture garden on SH5. It was the perfect stop for lunch and for $5 we watched a fascinating glassblowing demonstration by one of the four full-time master glassblowers. The blue sky broke through while we were there so we also bought tickets for the glass sculpture garden, which was just beautiful as the sunlight shimmered off the raindrops hanging on the glass sculptures.
A little further on was Craters of the Moon, which is a boardwalk loop past vents belching steam - it's a more low-key geothermal area but still lots of fun. (Tip: we were poured on at Craters of the Moon, but hung our clothes in the campervan's bathroom and the handy heat vent meant they were dry the next morning!)
After a night in Turangi we drove to National Park, hoping for a glimpse of snow. The temperature outside dropped steadily and we were surprised to see flakes starting to fall thick and fast. Just beneath the Chateau Tongariro Hotel, we pulled up on the side of the road (along with everybody else!) and leapt into the fresh powder. It was magical to suddenly be in a winter wonderland, and George couldn't believe he was seeing his first real snow.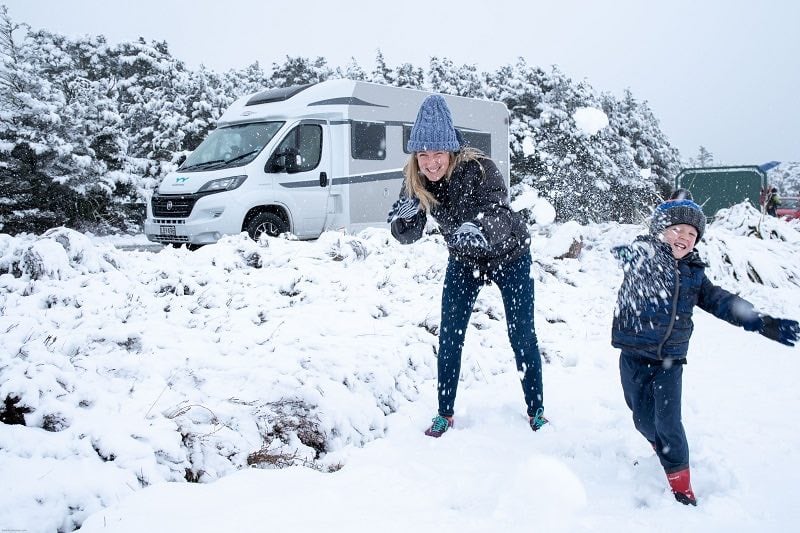 After some intense snowball fights, we drove two hours north to the Waitomo Glowworm Caves where we toured the spectacular cathedral-like limestone caves and took a boat ride beneath the glimmering lights of the glowworms.
It had been a long day, but we pushed on to the surf village of Raglan (90 minutes away), so the morning wasn't too rushed back to Auckland. Raglan Holiday Park is a great spot for motorhomes with excellent facilities and just a short walk across the neon-lit bridge into town for dinner.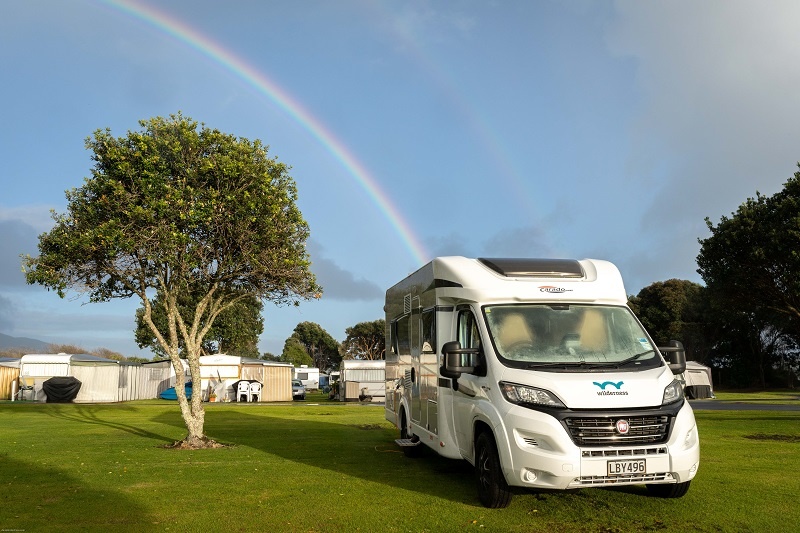 As we stretched our legs on the black sands of Raglan's beautiful Ngarunui Beach, the setting sun cast a golden glow over the crashing surf and we marvelled at the fact that just a few hours earlier we had been playing in snow. New Zealand really is full of these magic moments and we had been lucky enough to enjoy so many on our Wilderness holiday. We're already planning our next adventure on the road!