You're planning a holiday in New Zealand with friends or family. You want to spend time with your favourite people, but you also want to experience New Zealand. Travelling by campervan convoy is the answer.
We've noticed that more and more of our campervan and motorhome rental bookings are for two or even more vehicles. Often these hires are for groups of friends or maybe extended family, though we also hire campervans to groups for conferences, trade shows and even weddings. Here are some of the advantages to travelling in a rental campervan as a group.
Quality time
There's nothing quite like camping to bring people together. Getting away from the distractions and inanities of daily life and enjoying new experiences together is a great way to nurture relationships with spouses, friends or family. Forget about work and household chores, get out the pack of cards and teach the youngsters how to play 500. Enjoy a mug of hot chocolate while contemplating the night sky and swapping travel stories. Sit outside on a balmy evening sharing a bottle of wine and solving the world's problems. The opportunities to create memorable experiences and just enjoy each other's company are endless.
Share resources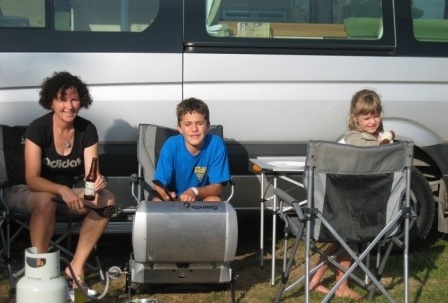 Travelling as a group with several hired campervans gives you the opportunity to share resources such as food and equipment. Groceries and essential items like laundry detergent can be shared between more people, lowering the cost. You can share the cost of extras like BBQ's and GPS units too (see our website for more information about extras and accessories). And many hands make light work – sharing the cooking and cleaning duties creates interesting mealtimes and less work for everyone. Providing several of you are signed up as drivers (be aware that some campervan hire companies charge for extra drivers), you can share the driving too and have different combinations of people travelling together – a great way to get to know everyone.
More space
Having more than one campervan also means you have more spaces to utilise. Stop over at a lovely beach spot, and the daytime nap brigade can snooze in one campervan while the rowdier ones play charades in the other. Classical music aficionados in one vehicle, headbangers next door. You get the idea!
Entertainment
For those with kids, travelling with another family is a great way to keep the kids entertained. Break up longer trips by having the kids change seats. Get two or more kids together and they'll entertain themselves and generally get on better than siblings would! And bring on the games of beach cricket – there's nothing like a little friendly competition to bring families together.
Go your own way
Having more than one campervan means you can part company during the day if you wish. The boys might go play golf while the girls shop (or vice versa!). One couple may fancy a scenic drive while the other enjoys a winery visit. Meet up in the evening for a recap of the day's adventures.
Make your own memories
Imagine staying overnight on the banks of a beautiful lake, snow-capped alpine peaks in the background and native birdlife close by. Your friends park next to you, and you cook dinner on the BBQ and sit on your camp chairs enjoying the sunset and watching the kids play on the grass nearby. No neighbours, no tourists, just the sounds of you and your friends having fun in your own little piece of paradise. Freedom camping (we call it Wild Camping) is one of the most magical things about campervan travel in New Zealand. Read more about wild camping on our website.
Time apart
Let's be honest - spending any length of time with friends or family can get a little trying. Your mother-in-law's helpful suggestions on child-rearing or your friend's honking laugh may start to wear thin after a day or two. This is where campervan hire comes into its own. If you're renting a house together or even staying in the same hotel, it can be hard to get some space. But travel by campervan, and getting away for a while is as easy as putting your foot on the accelerator!
Do you have a favourite memory of a campervan trip with friends? We'd love to hear about it. Post it on our Facebook page, or send us an email.