Wildernessts Book
NZ$80/hire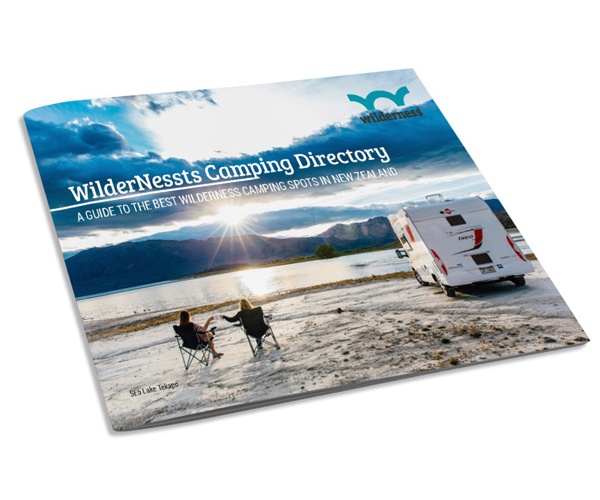 One of the most common questions asked by Wilderness hirers is "where should I camp?" That got us thinking about providing a camping directory to help our hirers find camping spots that they will love. We know that people who hire a Wilderness motorhome are usually looking for a different experience than those who go with the big rental companies. Wilderness hirers are more likely to be nature fans and to be more inquisitive and more adventurous than the typical tourist. They want to find the places that are special and unique and they don't want to share them with lots of loud, camera toting party animals. Put simply, they want to experience the wilderness of New Zealand.

The places you are most likely to experience the wilderness of New Zealand are freedom camping spots rather than commercial ones. There are hundreds of places to freedom camp in New Zealand but most are in laybys beside busy roads or in some other pretty ordinary location.
"Thanks to the WilderNessts camping guide, we had the most wonderful freedom camping ever! We managed to find many magical spots." Tham & Lee (Singapore)

"We rented the WilderNessts book plus bought the NZ Frenzy with us and used them both together. They were very helpful and informative. One of our favourite spots was EE7 "The Pines" on Lake Pukaki shoreline. The scenery was stunning and it was in between Lake Tekapo & Mount Cook. We would recommend the Nesst book which enhanced our trip enormously."

Tom & Bec (UK)
A Guide to the Best Wilderness Camping Spots
We commissioned Scott Cook, the author of New Zealand's most popular travel guide book NZ Frenzy, to compile a directory of the best 100 wilderness camping spots in New Zealand exclusively for Wilderness hirers. We've called the camping spots Nessts (it's a bit of a play on the word Wilderness). These special and unique Nessts fit these criteria:
Quiet (away from busy roads and towns)
Scenic or interesting (near walking tracks, hot pools, bike trails, a natural wonderland etc)
Away from crowded tourist spots (although you may come across a few friendly locals) or
In convenient locations (such as close to the North Island/ South Island ferry terminal)
Rated highly by Scott (Cookie rating) for the above attributes
The other thing that makes a WilderNesst camping spot so special is that you are unlikely to find another rental motorhome there. That's because this camping directory is available exclusively to Wilderness hirers and must be returned at the end of your hire. There are only 150 copies in circulation.
The WilderNessts book is certainly not the only freedom camping directory out there. But it is the only one that lists only camping spots that are special and unique as per the criteria above. Other directories list places where you CAN camp - you don't necessarily WANT to camp there. Many are located next to busy roads, densely populated residential areas, or rural spots that aren't that interesting. The ones that are interesting are widely known and may well be full with tourists.
Last but not least, staying at a Nesst will save you money. You can expect to pay between $40 - $90 per couple per night to stay a commercial campsite. With only a handful of exceptions, the Nessts sites are all free. At that rate, this book will pay for itself after only two or three nights!
Teaser
Here's an example of a Nesst listing. The exact location of this site is has been removed to protect its exclusivity.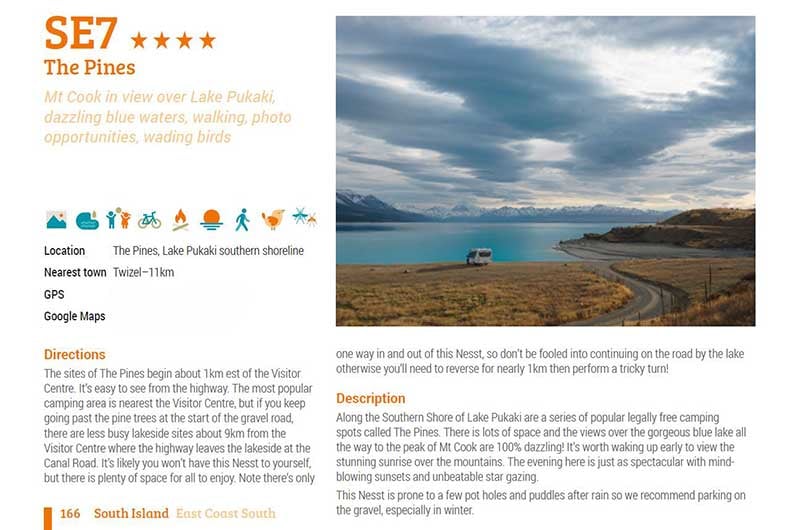 How to Get Yourself a Copy
You can add a WilderNesst Camping Directory to your motorhome rental when you book or add it anytime on My Booking page. The directory costs $80 per hire or is free when you take our VIP insurance package.