Whether you and your family are looking for a relaxed holiday, an outdoor adventure, action-packed activities or cultural experiences, New Zealand has it all.
Our reputation as a top family-friendly destination is well-earned. No matter where you go, you'll find plenty of things for you and your young family to do, as well as spectacular landscapes and all the comforts of home.
In this blog we've put together some of the reasons why New Zealand really is the perfect place for a family holiday and some ideas to help you make the most of everything on offer. If you want to create the trip of a lifetime with your children, read on!

Travelling with Children
As parents of young children, combining family and travel can be a daunting thought. However, having an incredible holiday together that works for everyone can be a lot easier than you think.
As one of the most family-friendly destinations in the world, New Zealand is a fantastic choice. Journeying around our safe, accessible and beautiful country, which offers so much to see and do, is the easiest and most enjoyable way to travel.
7 Reasons Why New Zealand is the Easiest Country to Travel with Kids
1. Size
No one wants to travel long distances with children in the back seat. New Zealand is a small, compact country, so you never have to travel far to experience new sights, landscapes and activities. For example, in the beautiful Taranaki region, within the space of two hours you and your kids could experience the wonder of being on top of a volcano, explore native bush, drive across lush farmland, and finish the day playing in a seaside playground with a coffee in your hand in the scenic city of New Plymouth.
2. Family-friendly
New Zealand is a child friendly place and you can expect to be greeted warmly. Children are welcomed in most cafes and restaurants, and staff usually make an effort to accommodate you. High chairs are often available.
3. Safety
New Zealand is generally a very safe place to travel, so you're unlikely to experience crime. If you decide to venture off the beaten track, there's more good news: with no nasty plants, critters or creatures, there's little to worry about when you and your little ones go off exploring. In fact, New Zealand is one of only two countries in the world that doesn't have snakes.
4. Diversity
Home to the All Blacks, The Lord of the Rings, and Tāne Mahuta (a giant kauri tree), New Zealand is a melting pot of variety. The kids will be enthralled by the geysers in Rotorua, Hobbit holes at Hobbiton, the glowworm caves of Waitomo, and traditional Māori war dance, the haka. Plus, if you travel by motorhome, you can explore it all at your own pace.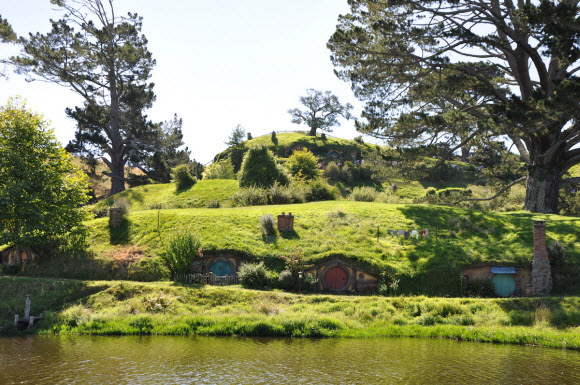 5. Family accommodation
Family rooms are almost always available at hotels, motels and holiday parks. Many of these have kids' play areas and pools - a huge bonus if you have active little ones! A great option for families is travelling by motorhome, so you can have comfort and convenience of travelling the country at your leisure, without ever having to move in and out of different accommodation.
6. Convenience
You'll find public toilets in most towns and at tourist spots. Baby changing facilities are also common. Of course, if you travel by motorhome, you'll have these on hand wherever you go.
7. Natural beauty
New Zealand has so much to offer and right at the top of the list is its breathtaking scenery. Enjoy walking, cycling, watersports and simply marvelling at the countryside on your doorstep, as you travel the country - the perfect way to create family memories.
We're excited to share with you just some of the reasons why New Zealand is such a fantastic place to travel with kids, and hopefully this is a starting point for planning your ultimate holiday here. We know you and your family are going to love discovering New Zealand together.
If you have any questions or would like more information on travelling around New Zealand with the family in a motorhome, don't hesitate to contact us.