A family vacation sounds blissful right? Happy, smiling faces, memories made and the chance for your children to learn a couple of things about the big wide world outside of the classroom.
A family motorhome holiday with kids is a little bit different to most. Remember that 'long' car journey where you had to keep your kids entertained for an hour or two? Many of us at Wilderness Motorhomes have children too, so we've put our heads together to share our ideas on keeping the young ones occupied while travelling on your campervan New Zealand holiday.
Rule One: Plan Ahead
The best piece of advice we have is to get your children involved in your route planning so they're invested in where you're heading each time you hit the road. Inspire them to research facts to help create your itinerary – perhaps making it a competition – and keep a visual diary or a journal along the way. We've also found having a hard copy New Zealand map on display in the camper with notes and Post-its is a fun planning and documenting tool too.
A few good games can go a long way on your motorhome journey so be sure to bring a few favourites along. An idea for an entertaining road trip game is to have the kids guess on the landmarks you're going to be visiting. Have your children ask questions to try and find out where your next stop will be on the map. Give them clues, but keep them guessing until you get there. The photos taken at your chosen landmarks will have a whole new meaning.
Planning ahead also means you stock up on lots of snacks, and have pre-prepared music playlists at the push of a button. Be sure to check out our comprehensive guide on what to pack.
Rule Two: Stop Often and Allow for Spontaneity (in contrast to the rule above!)
Adding in extra time into your itinerary for spontaneous stops is a great way to break up any boredom as well as an opportunity to see parts of the country you may have missed otherwise.
Here are some memorable and quirky New Zealand landmarks that provide a great excuse for a brief stop, and great fodder for creative kid-friendly selfies:
The Big L&P Bottle (Paeroa, Waikato): A concrete monument dedicated to the soft drink that is "World Famous in New Zealand". L&P (Lemon and Paeroa) is named after the town of Paeroa where it was created in 1907 by combining lemon juice with carbonated mineral water from the town spring.
The Giant Carrot (Ohakune, Manawatu-Wanganui Region):
 Recognised as New Zealand's carrot capital, Ohakune is a small ski town in the North Island and is the home to the world's largest model carrot.
The Giant Kiwi (Te Puke, Bay of Plenty): 
Te Puke has the perfect climate for growing avocados and citrus fruit such as lemons and oranges, as well as a New Zealand favourite – the kiwifruit. Pop over on your travels through the North Island to take a look around "kiwifruit country" and tick another landmark off your list.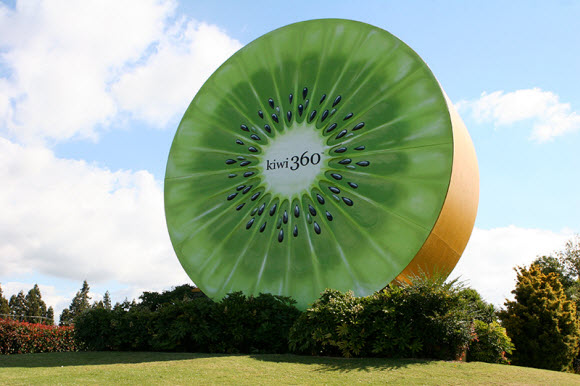 © Kiwifruit Country Tours
Another great excuse for a stop (and great on the food shopping bill too) is fresh fruit picking. It's a fun and much loved Kiwi-kid activity during the summer months for the whole family. There are a number of PYO (pick your own) orchards throughout New Zealand that allow you to pick your own fruit to take with you on your motorhome journey.
There's nothing better than a bucket of fresh berries, apricots, cherries or apples to snack on and keep the kids occupied. Here's what you can find and where:
North Island
Auckland and Northland: Strawberries
Waikato: Blueberries, peaches, apples
Coromandel: Plums, nectarines
Bay of Plenty: Strawberries, blackberries, boysenberries, raspberries, blueberries 

Hawke's Bay: Raspberries, blackberries, strawberries, tayberries, boysenberries
Wellington: Blueberries, strawberries, plums, apples, tomatoes, sweet peppers, limes
South Island
Nelson/Marlborough: Raspberries
Canterbury: Raspberries, blueberries, cherries, tomatoes, blackberries, boysenberries
Otago/Southland: Apricots, cherries, peaches, nectarines, plums, apples, pears, raspberries.
We also suggest you keep an eye out for signs pointing to "fresh fruit yoghurt ice-cream", you won't regret the pleasant tastes or the fact that it'll keep everyone in your camper satisfied for at least a few kilometres.
Rule Three: Don't Try to do Everything, Allow for Downtime
Staying in kid-friendly holiday parks is a great way to have a break from the road while giving your young ones lot's of stimulation for play and meeting other kids.
Some of our top recommendations for holiday parks include:
Hot Water Beach Holiday Park, Coromandel: This family owned campground is located in a stunning part of New Zealand with ample room for your children to explore. Best of all, two hours before or after low tide, natural hot springs filter up the sand from underground, so grab a shovel and have the kids dig their own hot pool.
Whanganui River Holiday Park: Located by the majestic Whanganui River in the lower North Island, your children will be spoiled for choice with an outdoor swimming pool, a games room, a jumping pillow, a bouncy castle, an adventure playground, a trampoline, petanque, an aviary, hammocks, a slack line, a basketball hoop and a volleyball net. Phew, we're exhausted just reading this list!
Smiths Farm Holiday Park, Picton: Just off the ferry from Wellington, you can head to Smiths Farm, a working beef farm, which will give your young ones a great insight into Kiwi farming life. This is a quiet rural spot for some proper downtime, with petting animals and glowworms all on-site. For the more adventurous there's mountain biking, kayaking and horse trekking all nearby.
We have lots more ideas on what to do when travelling with kids, along with extra considerations when travelling with the whole family, so put your feet up and relax, we've got you covered for a family motorhome holiday that your children will be talking about for decades to come.
If you have any further questions about RV travel with kids, please contact us and we'll happily share our experiences.