New Zealand is made for exploration. It's full of beautiful beaches, geothermal wonders, mountain-top views across lakes and many more scenic spots that are tucked away for you to discover when you get off the beaten track. That's what we designed Wilderness Motorhomes to be: the campervan rental company that lets you get out into the wilderness to see more of our beautiful country.
So, if you want to see where that side road takes you and do some freedom camping along the way, then our campervans are the best ones for the job.
What is freedom camping?
Freedom camping is when you stay on public land that isn't a recognised campground. It could be in a lakeside reserve, parked up by a beach, or in an area next to a forest. It's one of the best ways to experience New Zealand's landscapes, but these are generally sites with no or limited services, meaning you are away from electricity and running water. There are hundreds of freedom camping spots in New Zealand and you can find them easily with a camping app.
How do I freedom camp?
Freedom camping is regulated in New Zealand so you need a vehicle that is certified self-contained (CSC) and has a compliance sticker to show this. All Wilderness motorhomes have this certification. CSC allows you to be entirely self-sufficient for up to three days with fresh water for drinking and cooking, and waste water collected to be disposed of later on at a dump station facility.
Essentially, a self-contained campervan has everything you need to go "off the grid" for three days without having any adverse on the environment in which you are staying. (And don't be put off by the idea of having to top up water or empty the toilet in a campervan. The process is quick and easy and will only need to be done every few days.)
Why freedom camp in a motorhome from Wilderness?
All Wilderness motorhomes are certified self-contained

Suitable for year-round travel, with air conditioned cabs, roof vents and latchable windows with insect screens for the heat of summer, and insulation and heating for chilly winter nights

Plenty of storage – you can pack all your luggage and extras away to leave lots of space in the living and sleeping areas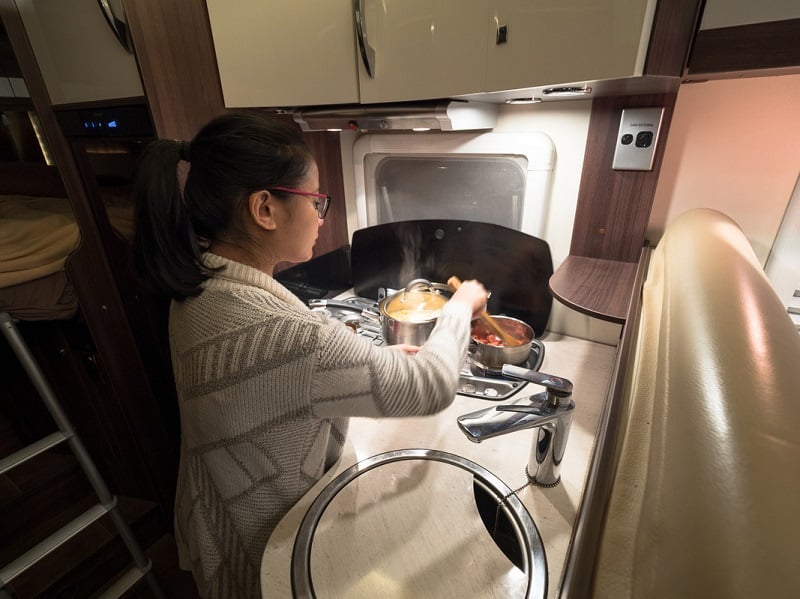 Practical kitchens – Wilderness motorhomes come with onboard cooking facilities, a good sized fridge, and quality kitchen essentials so you can prepare meals easily onboard, or hire a barbecue for added ease and the fun of outdoor cooking

No road restrictions – why limit how much of the country you can see? Many other motorhome companies won't insure you for certain roads around New Zealand, but we don't have any road restrictions at Wilderness. Our standard insurance is included in every hire or you can reduce the excess with one of our three insurance packages

Onboard WiFi – keep connected with family and friends while you're travelling

Bathrooms convert to a drying room (apart from the Vista 2)

On-road support – if you have an issue or query while travelling with us, our 'Dreamliner' team is there to respond and resolve it quickly to ensure minimal disruption to your holiday.

Choose fun extras – you can hire mountain bikes, a barbecue, camping table and chairs, or guides to the best camping spots to make your New Zealand adventure even more enjoyable.
Our friendly and experienced reservations team is always happy to answer any questions you may have, or to help you through the booking process over the phone. Get in touch today and experience the freedom of a Wilderness Motorhomes holiday in New Zealand.