With only 3 bowls on offer, Goldilocks had it much easier than someone sifting through the many options for motorhome travel.
Photo credit: Jurek Zalopa
Wilderness makes it a breeze to compare vehicles and get it 'just right'. Not only can you view all our vehicles and their specs, handy tabs allow clear and quick comparisons of key things like living space and fuel economy.
There are some obvious places to start:
How many people are travelling? A group of friends or a family need a seat for each passenger. (And their own comfy bed.)
How long are you travelling for?
Your budget.
Special requirements, such as a disabled traveller
Weather – do you need to be fully winterised?
Think about the on board amenities. Having a bathroom is one of the great motorhome benefits (and a point of much discussion on travel forums). Do you want the full service bathroom with hot shower or can you make do with a more basic camp toilet? All Wilderness vehicles come with either a built-in toilet and shower or a portable camping toilet and solar shower.
We also pioneered the idea of a bathroom that converts to a drying room, originally intended for wet winter clothes but it's proven just as handy in summer and is now included in all our new generation motorhomes.
Check out the range of extras and how these are powered. All Wilderness RV's have a fridge and a cooker; some have a microwave and grill, and a small freezer compartment – handy if you're doing lots of self-catering. All of our fleet come with at least one 12v house battery, mains power hook up capability and some have additional power capacity – think about whether you're going to want to charge phones and use electronic devices.
We specialise in four season rentals so you can be confident of staying snug all year round. There's a DVD player for those times when a little distraction is required; most also have an MP3 connection.
Consider storage space. Wilderness vehicles have generous and readily accessible storage space, a must when travelling with children or bringing special sports or hobby equipment.
Do you intend to freedom camp? Sending you off the beaten track is what Wilderness is all about – all our motorhomes are certified self-contained (able to provide all sanitary services with enough water and holding tanks for up to 3 days).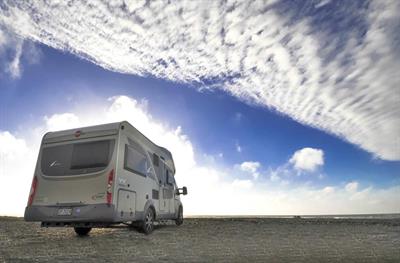 Pic: Paul Collins
Our motorhomes with a built in shower have enough fresh water storage for at least 2 showers per person before being refilled and all have a hot water heater.
To get to the best freedom camping spots, you'll need to get off the paved roads. Wilderness does not have a black list of roads our insurance doesn't cover.
A Closer Look At Beds
A good night's sleep is part of a relaxing holiday – and pretty darn essential for safe driving.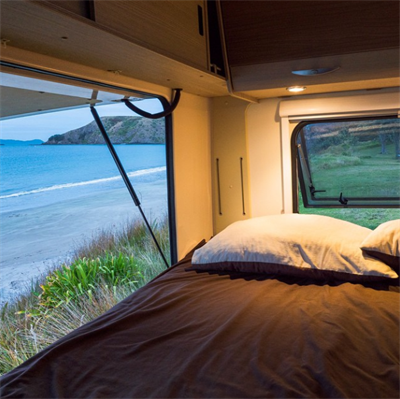 Most Wilderness motorhomes are equipped with thick memory foam mattresses for the ultimate in comfort. Clever European design with innovation like drop down beds creates separate sleeping areas and in most of the fleet, you can avoid the novelty – which can wear off quickly – of having to make up the bed every night. A curtain can be pulled across the sleeping area to give children or friends their own space.
Other considerations include:
Automatic or manual transmission – all of the new Wilderness motorhomes are automatic.
Fuel type and efficiency – the Wilderness fleet has high performing diesel engines maintained for maximum efficiency (and to minimise harmful emissions). Diesel fuel is more economical than petrol (though diesel does incur a NZ road user tax).
Floor plan versus size – compare floor plans carefully as some smaller motorhomes can actually feel roomier with design features like swivelling cab chairs. The Wilderness fleet is European designed and built by recognised leaders in motorhome innovation, with award-winning compact style.
Manoeuvrability – you simply won't see gigantic motorhomes in New Zealand because they're not suited to our winding roads. We know the local conditions and the Wilderness fleet has been selected to provide safe, comfortable handling while maximising interior space.
Age – an older campervan may not have every bell and whistle but may still offer good value. Wilderness campervans are between new and 7 years old, with an average age of 3 years.
Tank capacity for water & waste – the holding capacity of most Wilderness vehicles is larger than average. An indicator will let you know when it's time to find a dump station. And don't worry, it's quick, easy and does not require a hazmat suit.
Budget Stretchers
Check our specials if you're flexible and consider travelling off season.
Like anything else, with a motorhome rental you get what you pay for. A Wilderness camper is reliable, well-maintained and well-equipped.
Final Thoughts
Talk to people about their motorhome experiences.
The Rankers website is an independent, unbiased travellers' website that can help provide information and reassurance while you choose. Wilderness is proud to have consistently been a finalist or winner in the campervan category.
Don't be afraid to ask us for advice. Our priority is for you to have a fantastic experience.
Once you've made your choice, you can look forward to a great New Zealand motorhome holiday. And we promise you won't meet any bears.